Beyoncé and Jay-Z Have Been on an Art-Buying Romp All Around New York
When these two buy art, they shut down the entire gallery.
---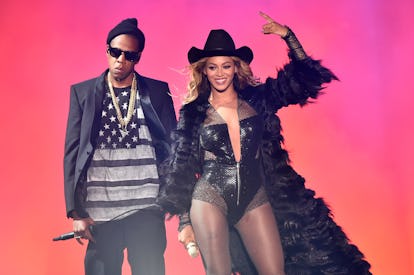 Larry Busacca/PW/Getty Images
Congratulations are in order for Beyoncé and Jay-Z, as the pair seems to have found an excellent babysitter for their three children, which include, of course, two newborns. In the space of less than a week, Beyoncé went backstage at Dear Evan Hansen, then crashed Rihanna's Diamond Ball along with her husband and Leonardo DiCaprio, which included taking in a performance by Kendrick Lamar (and presumably the glorious sight of Rihanna working her angles to get a good selfie with him in the background).
It doesn't seem like the couple partied too hard, though, given that the next day, they were in the Hamptons, at the Bridgehampton Golf Club for The Bridge, a mini art fair on a golf course that brought out respected galleries like Canada, Karma, David Kordansky, Marlborough Contemporary, and David Zwirner at the same time as an annual local car show. Once there, Beyoncé, in a boldly hued dress she topped off with an Off-White belt and sneakers, and Jay-Z, in track pants and a Raf Simons hoodie, were not shy: They hopped aboard a golf cart, and Beyoncé even stopped to admire the cars on show, saying her hellos with a popsicle in hand.
Avid art collectors, Jay-Z and Beyoncé are known to buy blue-chip names like Damien Hirst, Andy Warhol, Richard Prince, David Hammons, and Jean-Michel Basquiet—whom Jay-Z has both rapped about and dressed as for Halloween, alongside Beyoncé's Frida Kahlo. Not that their taste always lines up: Jay-Z once bought a black-and-white photo by the artist Laurie Simmons, of a pistol with a pair of legs. Beyoncé sent it back, replacing it with a similar Simmons piece featuring a perfume bottle rather than a gun. (Maybe these differences in taste explains why they recently bought a home so big, they can each have a private wing.)
But Beyoncé in particular has also made a point to support younger emerging artists. She tapped Awol Erizku, a 28-year-old artist, to take her internet-breaking pregnancy announcement photos, and Mason Poole, an L.A.- and Paris-based photographer with only 4,000 Instagram followers, to take her first photos with her twins Rumi and Sir. (Beyoncé's mom, Tina Knowles, is, after all, a notably knowledgable art connoisseur, as is often evidenced on Instagram, where she once expertly publicly guilt-tripped her daughter Solange and simultaneously name-checked the artist Kara Walker.)
It's no surprise, then, that in the last few days, Beyoncé and Jay-Z also made a point to stop by an exhibition by Sadie Barnette, who is in her early thirites, at Fort Gansevoort in New York—though being Beyoncé and Jay-Z, "stopping by" means shutting down the Meatpacking District gallery and getting a private tour of the exhibition, "Compland," before it even opened.
The title is a reference to both Compton and Oakland, and the show is a continuation of Barnette's ongoing examination of the 500-page surveillance file the FBI kept on her father, Rodney Barnette, who founded the Compton chapter of the Blank Panthers in 1968. Beyoncé and Jay-Z took a particular interest in the enlarged reproductions of the files, and also reveled in Barnette's glittery purple homage to Prince, whom both had a connection to. (Beyoncé even wrote the foreword to an upcoming book about Prince, out next month.)
Still, despite the exhibition's dark overtones, the pair kept the spirit of their recent art-buying forays light: both took time to enjoy Barnette's recreations of '70s California living rooms stocked with Hello Kitty accessories, including Hello Kitty-adorned cotton candy. Whether for Blue Ivy, Rumi, Sir, or herself, in the end, Beyoncé decided to take a bag home with her—and make her bodyguard hold it.
Related: Jay-Z Finally Reveals the Meanings Behind the Twins Sir and Rumi's Names
Go Behind the Scenes with Beyoncé on Her W Cover Shoot: