Beyoncé's Twins: All the Important New Information You May Have Missed
Such as: Who was born first?
---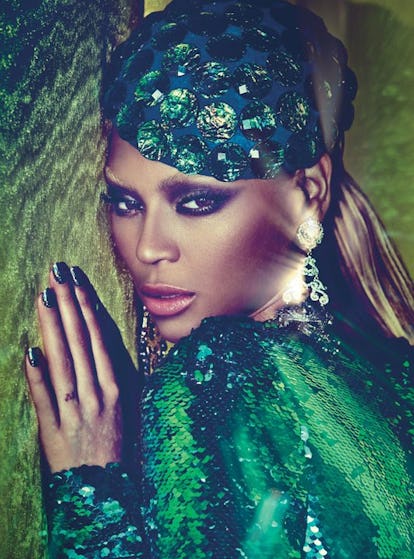 Photographer: Patrick Demarchelier Stylist: Alex White
In the midst of this bleak summer, two children were born to our cultural queen Beyoncé and we have patiently awaited more information ever since. Last week, Beyoncé shared the first photo with her twins, little girl Rumi and little boy Sir, but so far has given us little more information (in fact, she's kept us more up-to-date on her post-pregnancy fashion choices) instead. While the official Knowles-Carter household as remained mum, we still have two other reliable celebrity children news leakers to fill us in—namely, TMZ and Grandma. Here's all the latest we know about lil' Rumi and Sir.
Which twin was born first?
According to the birth certificates scooped by TMZ (the same outlet that first broke news of the twin's names), Rumi was born first while Sir was delivered shortly after. The certificate also lists their official time of birth: June 13th at 5:31 a.m. So, now you have that information for all of your amateur astrological needs. (Their moon sign is Aquarius, while their rising sign is also Gemini.)
Wait, does this mean that the Carter twins share a birthday with America's most famous of twins, Mary-Kate and Ashley Olsen?
Yes, yes it does. They also share a birthday with "Captain America" Chris Evans, sitcom star Tim Allen, Jackass person Steve-O, Weezer frontman Rivers Cuomo, and RuPaul's Drag Race winner Violet Chachki. It's a very, very interesting day for celebrity births.
Which doctor had the honor of delivering them?
Well, Dr. Paul Crane, according to TMZ. He's also the birth doctor of choice for the Kardashians. Not only did he preside the birth over all six of Kris Jenner's current grandchildren, he also in turn delivered all of Jenner's children as well. Yes, Sir and Rumi were delivered by the same man who delivered Kim. In fact, The Hollywood Reporter has dubbed him one of L.A.'s top gynecologists. He remains pretty humble about it. "You have to accept the notion that you're really just a high-priced servant," he once told the Reporter. "In fact, you're not even that high-priced. You're in the same ballpark as the person's hairdresser."
Is Blue Ivy a good big sister?
Yes, and that's coming from no less a trusted source that grandma herself, Ms. Tina Knowles Lawson.
"She's very proud and very excited," Knowles recently told Entertainment Tonight. "She's a good big sister, she really is."
Which is very good news, but, also, imagine for a moment where Knowles Lawson answered that question any other way for Entertainment Tonight.
Ok, well, what does Rumi mean?
Amidst rumors that Rumi is named after 13th century Persian poet Jalāl ad-Dīn Muhammad Rūmī (better known as just Rumi), Ms. Tina also dropped some lines from the poet's work onto her Instagram. Which should more or less confirm that.
Though, in the same ET interview, Knowles said she'd let Beyoncé herself explain the real meaning of the twin's names.
Ok, but what about Sir?
No one knows exactly yet.
What are their middle names?
They do not have any listed on the birth certificate, which is a change from Blue Ivy (whose middle name is, of course, Ivy). Though, Beyoncé and Jay-Z always have the option of legally adding them later on.
Should we expect more?
Well, Beyoncé did once devote an entire Tumblr blog to pictures of then newly-born Blue Ivy, and after the release of her initial pregnancy picture she posted a whole lot more online as well. So, we assume that there is probably more to come.
Related: Beyoncé's Post-Pregnancy Dress Is By the Men's Wear Designer Palomo Spain
See What's Trending in W Video: