Beyoncé Reveals Twins with Madonna and Child-Style Instagram Post, Internet Melts
The BeyHive is rejoicing on Twitter.
---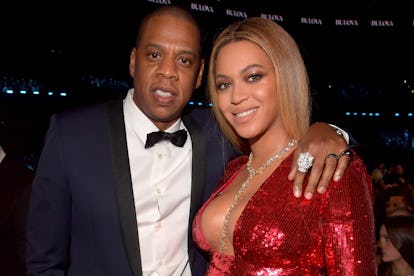 Lester Cohen/Getty Images
Ring the Alarm. You know what, don't even bother ringing the alarm, because the BeyHive has already runneth over with joy this Friday morning, following Beyoncé's resplendent Instagram photo introducing the world to her twins, Rumi and Sir Carter.
Beyoncé by now has mastered the art of the baby photo announcement. Once the territory of respectable tabloids like People magazine, celebrities used to publish the first pictures of their children via definitive, highly choreographed dances with the celebrity press, so as to make their children available to the public once and never again.
Beyoncé, on the other hand, has bypassed the middle man altogether, choosing to announce her pregnancy via elegant photographs by the artist and photographer Awol Erizku, and now, posting on her Instagram a Madonna and Child-style portrait showing off her newborns with husband Jay Z. This time she chose the photographer Mason Poole.
The pop star took to social media late Thursday night to share a dramatic photograph, not unlike the pregnancy images, that showed her draped in lavender and fuchsia robes and teal underwear and veil cradling her one month olds. The singer captioned the historic image, "Sir Carter and Rumi 1 month today. ??❤️??????????" confirming rumors of the babies names, their birthdays, and their star signs (Geminis, of course).
Predictably, with 104 million followers on Instagram and many more fans worldwide, the internet had a conniption that ranged from deranged ecstasy to unbridled joy.
They first, of course, reacted to the over-the-top theme of the photo itself:
They began to, ever so carefully, to dissect the names:
And eventually agreed that Beyoncé just slays. (Did you really think you'd make it through a full story on Bey without seeing the word slay?)
And lest we forget this incredibly important fact that one day history books will note, post-apocalypse, as the turning of the tides:
Related: Jay Z Continues to Unpack His Infidelity, Says Marriage to Beyoncé "Wasn't Totally Built on the 100 Percent Truth"