Beyoncé Saw Dear Evan Hansen on Broadway, and the Cast Had a Meltdown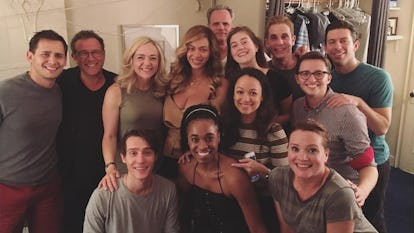 kristolynlloyd/Instagram
No longer will the cast of Dear Evan Hansen be left tap, tap, tapping on the glass to get Beyoncé's attention, because the singer, apparently, is far from immune to the charms of America's favorite 17-year-old socially awkward compulsive liar. That's right: Beyoncé took a break from raising her three-month-old twins Rumi and Sir Carter to attend Thursday night's performance of the hit Broadway musical—and the cast reacted in an appropriately dramatic manner.
Several of the Tony Award-sweeping show's performers documented the life-changing moment on social media. Ben Platt, who plays the titular high schooler, posted a sweet photo on Twitter in which he clutches his hands to his chest and exchanges fawning looks with Beyoncé backstage after the show. "It happened," he captioned the pic, which you can bet is already in the process of being blown up and framed at the Kinko's nearest New York City's Music Box Theatre. Platt also posted the photo on Instagram with an alternate caption: "The alien called me an alien and I'm no longer living."
Kristolyn Lloyd and Laura Dreyfuss, who play Evan's classmate and love interest, respectively, both shared a group shot of the entire cast crowding around Bey, all looking as thrilled as someone who just found same-day Dear Evan Hansen tickets for less than $600 on Stubhub. "Hi I met Her. K bye," Lloyd wrote on Instagram. "I'm not okay," Dreyfuss captioned the photo, before tweeting the same sentiment for good measure. Lloyd also shared a video on Twitter of her cast mates crying and having a collective heart attack in "the aftermath" of Beyoncé's surprise backstage visit. Words fail, indeed.
This isn't the first time the singer has caused mayhem on Broadway. In 2015, at the height of Hamilton's (still extremely high) popularity, Beyoncé paid that Tony Award-winning cast a backstage visit after an October show. In a series of tweets afterwards, the musical's creator and star Lin-Manuel Miranda shared that Bey had showered praise on Jonathan Groff, who originally played the laughably pompous King George in the show. "I'm stealing your walk. I love your walk," she reportedly said, adding, "When you turned away still facing the audience? You were your OWN turntable. Love it."
It's anyone's guess what tidbit Beyoncé will be borrowing from Dear Evan Hansen, but perhaps an influx of blue-striped polo shirts and plaster casts into her wardrobe, and a moving remix of "You Will Be Found" on her next album.
Related: Robert Pattinson Explains How His Iconic Photo With Beyoncé and Death Grips Came to Be
Fall Fashion Advice from a Very Young Stylist: