Robert Pattinson Explains How His Iconic Photo With Beyoncé and Death Grips Came to Be
Even he couldn't resist hitting her up for a photo.
---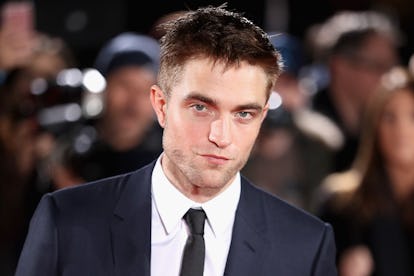 Chris Jackson/Getty Images
Despite being one of the most recognizable actors of his generation, Robert Pattinson is a man of mystery. The intensely private Harry Potter alumni often keeps his fans guessing as to his inner thoughts and home life. But in a recent AMA with Reddit, Pattinson let his guard down and gave fans a rare glimpse into his world. Specifically, he provided a much-needed backstory to one of 2013's most surprising photos: a group shot of himself standing alongside Beyoncé and beloved art-punk band Death Grips. And, it turns out, the origin story is just as strange as the actual photo. It involves red wine teeth stains for starters.
"The photo of us and Beyoncé came from when we went to her concert drank so much red wine that we all had black teeth and I was trying to find a place back stage to get all the stuff off my teeth and bumped into Beyoncé so we took a picture," Pattinson explains. Never mind that he's more of a rosé guy, as he also revealed that's his go-to drink at a bar.
As for how he ended up in the photo with Death Grips, Pattinson explains that he met them too through his own fandom. "Death Grips were one of my favourite bands for years," he says. "I played thru the walls once in my house on new years eve and people went from 0 to insane so quickly I knew they were something really special. My speakers all blew up from the song too. Then they randomly were sitting next to me in a restaurant a year later eating salads which kind of surprised me. I started talking to them and they were awesome. we initially were gonna do a video together, and then almost started doing a movie. but through the process became really good friends. the song came about when Zach recorded that bit of guitar on his phone then made it into birds. When he played it to me it was maybe one of the most proud moments in my life."
The song he's referring to is "Birds", which appeared on the bands 2014 album Government Plates. Thus Pattinson is included in a small but varied group of Death Grips collaborators that also includes Björk and Les Claypool.
There is a lot to chew in that story, so much so that the fact that Pattinson makes music might almost escape those who aren't intimately familiar with the actor. Apparently, that wasn't a one-off: "I make music quite a lot still," Pattinson reveals. "I just don't really know what to do with it. Music industry is pretty rough." No doubt he's received some advice from his significant other, musician FKA Twigs.
If you're wondering what other kind of music is usually playing in Pattinson's house, the actor shared that he has one album currently on repeat: There's No Place Like America Today by Curtis Mayfield. Pattinson is also a fan of the experimental electronic artist Oneohtrix Point Never, which a fan recommended to him within the AMA. "I hadn't [listened] before, but I love it now," he said. Incidentally, the musician provided the score to his latest film Good Time. Presumably, D'Angelo is a staple for him as well, as Pattinson revealed that the R&B artist is the one person who's caused him to feel starstruck.
Pattinson also shared his thoughts on going from big budget films like the Harry Potter and Twilight franchises to independent ones. "The hope is to make every movie a blockbuster I guess," he said in response to a fan asking if he's intentionally avoiding bigger productions. "But I'm always on the look out for projects across the budget spectrum. Larger budgets just get a bit scarier though because the stakes get exponentially higher and more people involved are afraid to relinquish control." Still, he has nothing but good feelings towards the movies that gave him his breakthrough: "It's a lovely feeling," he said about being a part of Harry Potter. "It was genuinely a really special experience working on it. and ended up being really life changing for me…I'd be a Hufflepuff even if Harry Potter wasn't a book."
Pattinson put his sense of humor on display elsewhere too. When a fan asked, "What's your life like outside of acting?," he replied "sucks." When another fan asked if he's ever thought about joining social media, he replied "only in dark moments." Perhaps most notably though, Pattinson finally addressed his strange undercut from 2014: "If you try it , you will understand why." We'll have to take his word for it.
Related: Robert Pattinson, Welcome to Your Rob-naissance
See What's Trending in W Video: