Robert Pattinson, Welcome to Your Rob-naissance
His performance in Good Time could be the one that redefines his post-Twilight career.
---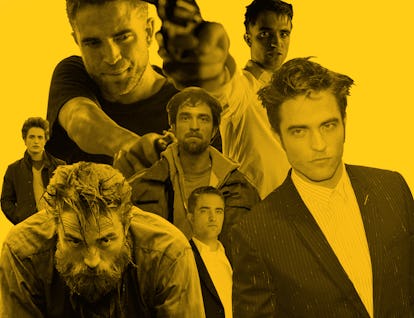 Robert Pattinson was cast in the first Twilight movie when he was 21, and spent the next four years fending off teens at promotional events in shopping malls. Today, Robert Pattinson is 31, and spent his summer, so far, at the receiving end of a six-minute standing ovation at the Cannes film festival, and receiving the Hollywood Foreign Press Association while presenting at its annual banquet at the Beverly Wilshire hotel. There, he was glad-handing his way to, it would seem, an eventual (gasp) Golden Globes nomination for his performance in Good Time, his movie coming out this Friday that has brought about this sudden, near-nostalgic yearning that is quickly becoming a Rob-naissance.
It's not hype: Pattinson is a revelation in Good Time, the Safdie brothers' breakneck, breathless thriller that never lets up. Taking place over the course of a single, twisty evening, the movie feels like a grittier, uglier, contemporary version of Martin Scorsese's After Hours, only it's not the coked-up 80's amping up the pace, it's Pattinson's manic, crazy eyes, his even crazier choppy, bleached hair, and the greased wheel of his crazed mind scheming the next move. As a low-level con man who robs a bank to save his brother, the movie boils down to, basically, Rob Pattinson on the run. It's thrilling to watch—and it has been maybe even more fun for critics to write about. There's nothing like an actor fulfilling a potential once sidelined by the tyranny of the teen heartthrob industrial complex to set Hollywood and its observers' hearts aflutter (see: Jared Leto).
It's also a true movie star performance, one that Pattinson has been shying away from since Twilight. In films like Maps to the Stars and The Rover, he has subjugated himself to comparatively quiet, secondary roles, while allowing Julianne Moore and Guy Pearce to chew the respective scenery. His charisma seemed to really seep through in The Lost City of Z, but even that was a slow-burning performance in support of Charlie Hunnam. Throughout this phase—let's classify it as: Rob Pattinson, overqualified character actor—he's stuck to a time-tested formula of any ambitious star (including, it must be said, Kristen Stewart) trying to escape the prison of teen idolhood: work with interesting, daring directors, and let them wash the movie star off you until you resemble an actor again.
In the service of this de-sensitization of Robert Pattinson as we once knew him, filmmakers like David Cronenberg (Maps to the Stars, Cosmopolis), David Michod (The Rover), Werner Herzog (Life), and James Gray (Lost City of Z) have brutalized him physically, made him daft and witless, worked to un-flatter his looks, and suppressed his charm to the point of near-muteness. It took Josh and Benny Safdie, New York filmmakers who have basically made a very Safdiesque New York film, except that Robert Pattinson happens to be in it (many of the other actors are street-cast), to make him, as this new GQ cover profile hammers home, come alive again.
And the reviews have been excitable (the movie currently sports a 92 percent "fresh" rating); Pattinson's performance has been described by critics as possessing "an unpredictable force"; a "shifty intensity"; and as "some of the best work of his post-franchise-journeyman career."
Whether this acclaimed post-heartthrob star turn bodes a Leo-nian shift towards prestige or a Leto-nian weirdo arc remains to be seen, but it appears we're now on the cusp of a Rob-naissance (as silly as that sounds). Welcome back, Rob Pattinson. You look pretty good, even when you're slumming it.
A Photographic Guide To Everyone Kristen Stewart Has Dated
Michael Angarano and Stewart first started dating in 2005 after meeting on the set of the film Speak when they were 17 and 15-years-old, respectively.

Getty
The pair broke up in 2009 after four years of dating, shortly after Stewart filmed the first Twilight film.

Getty
Stewart began dating Twilight co-star Robert Pattinson in 2009, shortly after the premiere of their first film together.

Getty
The couple dated for nearly four years, breaking up in 2013—a full two years after the final Twilight film.

Getty
Stewart and Pattinson's breakup came on the heels of paparazzi pictures that insinuated that Stewart was having an affair with her Snow White & The Huntsman director, Rupert Sanders.

Getty
In 2016, Stewart had a short-lived romance with the French singer and Gucci-muse Soko.

Paul Hubble
The pair were seen out and about together before splitting in the spring of the same year.

Getty
Stewart's first public relationship with a female was in 2014 with producer Alicia Cargile.

Getty
The pair dated for two years before splitting in October 2016.

Getty
After breaking up with Cargile, Stewart stepped out with singer St. Vincent at a CFDA/Vogue Fashion Fund Show.

Getty
St. Vincent, also known as Annie Clark, had just had a major break-up of her own, splitting with longtime girlfriend Cara Delevingne.

Getty
Late last year, Stewart was spotted out with Victoria's Secret model Stella Maxwell.

Getty Images
Maxwell, who previously dated Miley Cyrus, has been spotted visiting Stewart on set—including a recent night out where they crashed a wedding.

Getty
See what's trending on W video: