James Franco or Jared Leto: Who Is Hollywood's Leading Eccentric Bachelor?
A really hard look at Daniel Desario v. Jordan Catalano.
---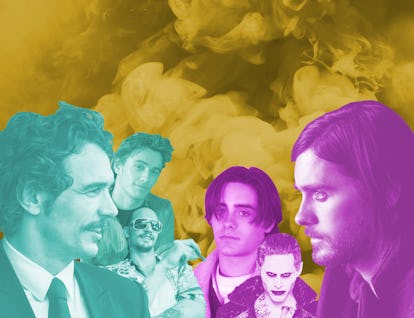 Whether you love to hate them or hate to love them, there's something undeniably mesmerizing about James Franco and Jared Leto, two successful Hollywood leading men who sort of have no business being where they are at this point.
Few actors have enjoyed careers more varied or bizarre than those of Franco and Leto. Stranger still is that both actors have followed near-identical, yet equally unlikely trajectories, parlaying breakthroughs as alt-teen heartthrobs (Franco in Freaks and Geeks, Leto in My So-Called Life) into eventual Oscar nominations (and in Leto's case, a win).
The similarities don't end there. Both front rock bands (Franco has a Morrissey-inspired band, Daddy, and of course Leto has Thirty Seconds to Mars) and have fronted Gucci campaigns, both have tried their hand at directing, both have been comic-book villains (Franco as Harry Osborn in Spider-Man and Leto as the Joker in Suicide Squad), both have (allegedly) had sexual encounters with Lindsay Lohan, both are objectively beautiful, single white men whose names start with "J." And the casting announcement of either actor in any project tends to elicit, these days, a unique existential apathy that manifests itself in an eye-roll accompanied by, "I guess that makes sense."
A unicorn is by definition singular, and yet here we are presented with two. It only seems fair that we examine one in the context of the other, and vice versa. Here's our breakdown of James Franco v. Jared Leto, aka Desario v. Catalano. May the best A-list eccentric bachelor win. And may the husk of Johnny Depp be revived soon.
Bad Boy Teen Heartthrobs
Franco
Despite the fact that it only lasted a single magical season, Freaks and Geeks remains up there as one of the most beloved high school TV shows of all time. It's also responsible for launching the careers of several beloved actors, most notably Jason Segel, Seth Rogen, and, yes, a young James Franco. His Daniel Desario was a quintessential high school bad boy; handsome, smooth, flunking and prone to leather jackets. With those squinty eyes and the devilish grin, Franco brought an undeniable star charisma that transcended the high school genre (my mother swooned at the time).
Leto
While My So-Called Life, arguably the angstiest teen drama to ever hit the small screen, doesn't necessarily age as well as Freaks and Geeks, one thing has stood the test of time: Jordan Catalano. Daniel Desario may have been a quintessential high school bad boy, but Jordan Catalano was the quintessential high school bad boy. Where Desario was simply failing classes, Catalano was straight-up illiterate. Where Desario had a secret heart of gold, Catalano was a brooding, choker-wearing emotional assassin. Viewers would have begged Claire Danes to kick that pioneering fuccboi to the curb if it weren't for Jared Leto being the puppy eyed alt-boy of our wildest dreams. There's a reason why Catalano memes still permeate our Instagram feeds. Plus, he leans great.
Winner: Jordan Catalano.
Oscar Moments
Franco
When 127 Hours came out in 2010, we were still far from our James Franco saturation point, so the notion of watching the actor saw off his own arm over the course of an entire movie did not feel like a nightmarish prospect. The true story of a mountain climber who gets trapped under a boulder, the film demanded a lot from the actor. Franco delivered, earning an Oscar nod for Best Actor. He was ultimately beat out by Colin Firth, who won for The King's Speech, but again, if you ask my mom, she would say that Franco was robbed.
It's also worth noting that there was a fervent campaign to land Franco a nomination for his portrayal of Alien, the cornrowed rapper-gangster based on Riff Raff, in Spring Breakers. This would have placed him opposite Leto for Best Supporting Actor in 2014. It didn't work—and too bad, because that may be the role of his lifetime.
Leto
The phrase "Oscar winer Jared Leto" still sounds a little off, but the actor did deserve his Best Supporting Actor statue in 2014 for his transformation into Rayon, the trans HIV victim who became a heroine in Dallas Buyers Club. Leto was the favorite to win, but and held off challenges from Michael Fassbender (12 Years a Slave) and Bradley Cooper (American Hustle). Plus, he looked incredible in his white tux and his acceptance speech was exceptional.
Winner: Leto.
Sustainability
Franco:
Ever since Freaks and Geeks, Franco has held a coveted place in the Judd Apatow/Seth Rogan comedy apparatus, appearing in just about every noteworthy Rogan bro-down of the past decade (there have been a lot). And while we loved him as a brain-dead drug dealer in Pineapple Express, nothing beats Franco's portrayal of himself in This is the End. One of the things that makes James Franco tolerable, even lovable, is his ability to make fun of himself. It's a talent that ages very well. (Also, look out for him in HBO's new David Simon show The Deuce this fall. A 70's porn 'stache suits Franco better than almost everyone.)
Leto:
Jared Leto is the common thread of the movies you loved in college: Requiem for a Dream? Check. Fight Club? Check. American Psycho? You get the picture. But his comeback success with Dallas Buyers Club aside, it's unclear how Leto's career will fare going forward. What he does have is a bankable franchise in Suicide Squad, which was crushed critically but still made a ton of money internationally. And have you heard? Wonder Woman's success just revived the entire D.C. universe, which is planning to bring all its franchises together in the Marvel model. There will probably be another decade of Jared Leto as the Joker.
Winner: Franco, barely.
Side Hustle
Franco:
Is there an art form that James Franco hasn't dabbled in? There was his Renaissance-inspired video piece commissioned by Sotheby's, his "performance piece" at Yale (which was really just a taping of General Hospital), his countless art books, his Psycho-inspired solo exhibition at Pace Gallery in London and, of course, his poorly received homage to Cindy Sherman at Pace New York. The list goes on. Then there's his band, Daddy, a Smiths-inspired indie outfit (Franco also directs their music videos, natch), clothing line (featuring screen prints of Polaroids Franco took himself) and Gucci campaigns, not to mention the countless films he's written and directed (none of which are particularly notable, or even available at this point). Oh, and did we mention he also has four Masters degrees and two PhDs?
Leto:
While Leto isn't as prodigious a multihyphenate, his primary side gig is probably bigger and more successful than all of Franco's combined. Thirty Seconds to Mars, which Leto co-founded with big brother Shannon way back in 1998, is no music writer's favorite band, but they've been consistently successful for almost two decades. They've produced four studio albums that have sold over 10 million copies worldwide. Apparently, they also hold a Guinness World Record for most shows played to promote a single album. Leto has, of course, directed a handful of videos and documentaries for the band, too. Meanwhile, he's an Alessandro Michele-era Gucci muse, even spawning a meme over his unbridled excitement over a green coat.
Winner: The fact that Leto maintains a fully-fledged other career is impressive, but we've gotta give this one to Franco, the ultimate side hustler.
Dating History
Franco:
Since 2011, when he broke things off with longtime girlfriend the actress Ahna O'Reilly, James Franco has never been definitively linked to anyone romantically, which is bizarre in and of itself—it's not as if he isn't eligible. He famously appeared on Lindsay Lohan's leaked list of conquests, sure, but later denied having slept with her. He's rumored to have seen a handful of similarly attractive famous women, like Lana Del Rey, Amanda Seyfried, and Agyness Deyn, but has never made any of those relationships red-carpet official. As a result, his sexuality has been a subject of constant speculation. Last year, in fact, in an interview with Jerry Saltz in New York, he defined himself as "a little gay."
Leto:
Jared Leto's dating history is extremely predictable. He dated Cameron Diaz for about four years (pre Justin Timberlake). He's been linked on and off to both Scarlett Johansson (who could forget the photo of him looking at his phone as she kissed him) and Ashley Olsen. He's been pictured making out with Paris Hilton and rumored to have hooked up with Lindsay Lohan while they were shooting Chapter 27 (yes, when he was fat). He seems to have a thing for attractive blondes. Groundbreaking.
Winner: Franco. Mystery is good.
Eccentricity
Franco:
James Franco has 138 acting credits on his IMDB page, and the vast majority of them are ridiculous_. But even his wackiest onscreen moments (Oz the Great and Powerful, anyone?) don't compare to some of his offscreen antics. Remember the time he appeared on a red carpet with a fake tattoo of Elizabeth Taylor on his scalp? What about the time he wrote a story for _Vice_ about a fake sexual encounter with Lindsay Lohan (this came after he appeared on a leaked list of Lohan's conquests)? How about that other time when he threw himself a Bar Mitzvah? Surely you remember the many, many, many naked selfies? To be a true Hollywood eccentric, you've got to be a bona fide freak on and off camera, and Franco definitely fits the bill.
Leto:
In case you haven't heard, Jared Leto is a method actor, which means any time he's preparing for a role he's going to do engage in some weird behavior. During production for Suicide Squad, he sent his costars animal carcasses and anal beads. He ballooned his weight to play John Lennon's killer in the poorly received Chapter 27 (giving himself gout in the process) and then shrunk way, way, way down for Dallas Buyer's Club (he also waxed just about everything). But Leto's (frankly annoying) behavior is consistently related to his roles. Aside from occasionally hanging out with Terry Richardson, Leto seems relatively low-key.
Winner: Franco.
The Verdict
While he's still waiting on that Oscar, James Franco is Hollywood's ultimate eccentric bachelor, if you like genuine weirdos. Despite the fact that he's done just about everything, we still don't know what he's going to do next and—miraculously and most importantly—we're still interested.
See James Franco's W screen test: