Wonder Woman Banks $100 Million Domestically, the Best Opening Ever for a Female Director
Patty Jenkins' 'Wonder Woman,' which opened on Friday, earned $100 million at the box office in its opening weekend, the best debut ever for a female director.
---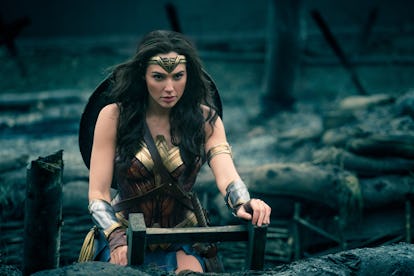 Clay Enos/Warner Bros.
Wonder Woman is officially living up to her name. Since the Patty Jenkins–directed film about the kick-ass female superhero — played by the inimitable Gal Gadot — debuted on Friday, not only has it been praised by critics and comic book fans alike, but it has also become the biggest box office opening ever for a female director, according to Box Office Mojo.
The box office reporting site revealed on Sunday its estimations for the film's first-weekend profits, pegging the domestic total at just more than $100.5 million and the international total around $122.5 million. The film's earnings make Jenkins the first female director to have a $100 million debut and propel her directly to the top of the list of biggest box office openings by female directors, where she far surpasses previous record holder Sam Taylor-Johnson, whose Fifty Shades of Grey raked in $85.1 million domestically in its debut weekend in 2015. According to Box Office Mojo, Wonder Woman ranked 16th on the list of comic book adaptations' opening weekends — sixth if you don't count sequels — and could end up taking in around $300 million throughout its theatrical run.
And beyond financial success, Wonder Woman has also received favorable reviews from both professional critics and amateur moviegoers. The film is currently "Certified Fresh" on Rotten Tomatoes, with 93 percent favorable reviews from critics and a 93 percent positive audience score. The movie also received an "A" rating from CinemaScore, which polls North American audience members throughout a film's opening weekend to assign a comprehensive crowd-sourced grade to every theatrical release.
Wonder Woman's success was clearly not impacted in the least by the negative response of some men to a few theaters' plans to host women-only screenings of the film. The backlash immediately followed an Alamo Drafthouse theater in Austin's announcing two special screenings of the movie exclusively for women, complete with female theater staff, projectionists, and cooks. Several men outraged over being left out (for once) immediately took to social media to cry sexism and complain about the screenings, to which Alamo Drafthouse responded in a statement to the Washington Post, "That providing an experience where women truly reign supreme has incurred the wrath of trolls only serves to deepen our belief that we're doing something right." Hear, hear!
Related: Gal Gadot: Wonder Woman on the Red Carpet and Beyond