James Franco and Maggie Gyllenhaal Are Here to Show You What the '70s Porn Scene Was Like in The Deuce
There are no less than two mustachioed James Franco's in the trailer for the new HBO series, where Maggie Gyllenhaal also shows up as a sex worker named Candy.
---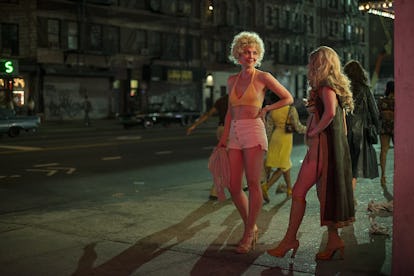 Paul Schiraldi
Last year, if you somehow ended up in the bedroom of Maggie Gyllenhaal, you would have found yourself facing a surprisingly sexy nightstand, stacked with titles like Porno Star by Tina Russell and Ladies of the Night by Susan Hall and Bob Adleman (admittedly sandwiched between a copy of Middlemarch.) As a new trailer for HBO's The Deuce reveals, though, Gyllenhaal was simply getting into character: The series, which Gyllenhaal also produced, stars her in the role Candy, aka a sex worker named Eileen Merrell, who has both a bleach blonde mop of hair and far-reaching ambitions—the latter of which leads her to getting involved in the then burgeoning porn industry, too.
After all, the series—which premieres in September, and was created by David Simon of The Wire and the novelist George Pelecanos—takes place in the Times Square of '70s and mid-'80s, where much of the now billion-dollar sex industry was born. The show follows its legalization and, of course, popularization—amid the threat of drugs, HIV, and, as ever in New York, real estate issues.
Not that Gyllenhaal had to go it all alone. James Franco has been equally tied up in his work with the series, both with his role as an executive producer and his not one, but two appearances in the cast, thanks to the fact that he stars as both of the series's main characters: the twin brothers Vincent and Frankie Martino, who also end up falling in with the mob.
Those duties also means that we see not one, but two Franco's sporting handlebar mustaches. Along with the various knit shorts, afros, and tight leather jackets also seen in the trailer, it looks like we'll have no shortage of '70s fashion this fall, even now that Baz Luhrmann's The Get Down has been cancelled. (Here's hoping The Deuce doesn't also go the way as HBO's previous stab at the decade, Vinyl.)
See Jake Gyllenhaal Confess His Cinematic Crush: