Exclusive: Maggie Gyllenhaal on How She Explains Donald Trump to Her Daughters, and Why Brands Have the Right to Make a Political Statement
In Apiece Apart's new women's portrait series, Maggie Gyllenhaal adds another role to her resume.
---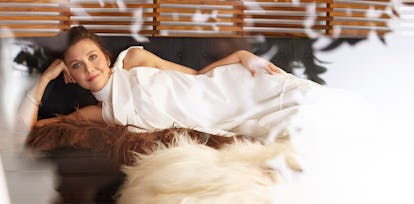 Tim Hout
Maggie Gyllenhaal plays many roles: actress, activist, philanthropist, wife to Peter Sarsgaard, mother of two daughters, big sister of Jake Gyllenhaal, Honorable Woman, and Park Slope Food coop cashier, to name a few. Somehow, she makes it all look effortless, and like she can't avoid doing anything but. In other words, if you're Maggie Gyllenhaal, why wouldn't you take the time to talk about "oil and imperialism" at the 2002 Independent Spirit Awards, eat organically, and resist the patriarchy?
Gyllenhaal's latest endeavor is working with the rising fashion label Apiece Apart on its women's portrait series, which seeks to highlight women who represent the identity of the brand. Founders Starr Hout and Laura Cramer are public and active supporters of Planned Parenthood through their life and work, and Gyllenhaal immediately connected to both their style and mission beyond the fashion world.
How does the Apiece Apart brand fit with your personal style?
I can put their clothes on early in the morning, quickly, half asleep, on the way to drop my kids at school and feel elegant in them all day. Honestly, most of the time that's what I'm looking for these days.
Did the shoot take place at your home? If not, where?
The shoot was at my friends Jamie and Olivia's store, Matter: A wish list of beautiful design.
What is a typical evening at home like for you?
We usually cook and have dinner together–give the kids a bath, help with homework, get them to bed. Then I'll hang out with my husband for a while.
What do you make for dinner alone?
I'm never home alone at dinner time. If I were, I'd order sushi.
How did you become such an avid supporter of Planned Parenthood?
Making it impossible or even difficult for women to have abortions and access to contraception is the most direct and deepest form of sexism. I have two kids. I can imagine that it's pretty hard to finish law school or pay back your student debt, or figure out who you are with a child from an unwanted pregnancy. And the cultural agreement we make (if we have sex) is that an unwanted pregnancy (either from carelessness, confusion, passion, rape, failed contraception, etc.) can be terminated. No one wants to have an abortion. It is a last resort, of course. But, If we want to support women, we have to support the right to abortion.
Did you attend of the Women's Marches around the country? If so, what was that experience like for you?
Yes, I was in D.C. with my feminist girlfriends! It was amazing. Driving down from New York we'd pass cars and rest stops full of women in pink pussy hats. (At first I didn't know what they were!) Trump had just been inaugurated and within a few hours he removed the Civil Rights page, the Climate Change Page, and the LGBTQ page from the White House homepage. So everyone felt mobilized and angry at the same time. And it was all expressed at the Women's March with a kind of unity I've never seen before. And it continues to be amazing how much power the resistance has. We have actually changed policy (look at the Muslim ban and the health care bill). I think it's possible that the overwhelming and engaging resistance to Trump's terrifying presidency could be a triumph for democracy. We as Americans won't lie down and take corruption, racism, stupidity, sexism, and disregard for the constitution. We resist!
How are you talking to your children about Trump, if at all?
To my five-year-old, we talk about Trump as a bully, who doesn't know much about being president and who isn't curious. And we talk about how people (even children) have a lot of power when they join together, even against someone who seems terrifying. To my ten-year-old, I'm pretty candid. We talk about bigotry and sexism. We talk about what you do when people make laws you think are unjust and elect leaders you think are corrupt. Do you follow them anyway? Or does it give you an opportunity to grow your mind? To consider what you truly believe in. And what will you risk to protect it? (Which is also something I talk about with my friends.)
We listened to Matilda (the musical based on the Roald Dahl book) the other day and I cried. A group of kids finally defeats Miss Trunchbull (a powerful bully) by standing up against her together. They sing "We are revolting children, we live in revolting times." I think kids growing up these days are going to have to be like that. Ready to REVOLT!
Have you seen the recent ad Pepsi decided to pull because of the controversy surrounding it? How do you feel about brands/companies trying to make a political statement? Is there a right way to do it?
I'm not sure why, but I haven't wanted to watch it. I think it's everyone's right to make a political statement; an actor, a bus driver, a corporation. That is democracy. And then we have to accept the consequences of our politics. I also think it's important to say things so that people who disagree might be able to hear them and so you might possibly change someone's mind; otherwise it's just ego, really. I also think it's important to remember that we make political statements by staying silent, too.
What's the last thing you saw or did that made you smile, or inspired you?
Just saw LCD Soundsystem's first show back. It was mind-blowing.
What are some cultural touchstones you consider a part of who you are today?
Silkwood, Copenhagen, La Dolce Vita, Virginia Wolfe, Days of Abandonment by Elena Ferrante, Film Forum, A Woman Under the Influence, West Side Story, Gillian Welch, Another Country by James Baldwin, Patti Smith, Anna Karenina by Leo Tolstoy, and Nick Cave.
What was the last great thing you read?
The Argonauts by Maggie Nelson and Sula by Toni Morrison.
What is something you consider underrated?
Anna Leigh Ashford and Austin Pendleton.
What is something you consider overrated?
Doughnuts.
Watch Jake Gyllenhaal reveal his favorite birthday memory, below.