Julia Roberts Told Busy Philipps She Loves Her Instagram Stories
Busy Philipps is the sweetheart of America's sweetheart.
---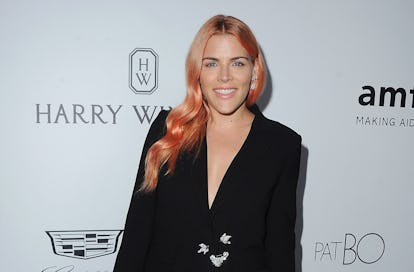 Jon Kopaloff/Getty Images
While Selena Gomez may lead the pack in terms of number of followers on Instagram, Busy Philipps, star of Freaks And Geeks, Dawson's Creek and Cougar Town, and best friend of Michelle Williams, is the reigning queen of the platform's "Stories" feature. Her candid tales of celebrity life, mom life, and general Busy-ness are charming, addictive and entertaining, like that time she and Michelle got drunk and dyed Michelle's hair.
Last month, [The New Yorker](https://www.newyorker.com/culture/persons-of-interest/how-busy-philipps-became-the-breakout-star-of-instagram-stories) called Philipps Instagram Stories' "breakout star," and on Friday, October 13, she earned an even more covetable seal of approval: that of Julia Roberts.
The two stars ran into each other at the 2017 amfAR Gala in Beverly Hills, and Busy recounted the interaction to her followers. "You guys, I don't even know how to explain to you what just happened to me on the red carpet of the amfAR gala except that Julia Roberts came up to me and told me she's a fan of the Instagram stories," she said. Hey, you and the rest of America, Julia. Busy reacted about as calmly as anyone would expect, which is to say, not calmly at all. "You guys, Julia Roberts! I like couldn't take it. I started shaking and laughing maniacally like a crazy person," Philipps said, according to JustJared.
It's likely that this isn't the first time Roberts and Philipps have ever crossed paths. Hollywood's a small town, and Philipps is married to screenwriter Marc Silverstein, who wrote the story for Valentine's Day, in which Roberts appeared. So, there are connections between the two actresses. Still, this particular chat was especially blessed. "I cannot think of a better thing to have happen to me the night before my 20-year high school reunion than have Julia Roberts approach me on a red carpet and tell my she's a huge fan. I won," Philipps added.
In other words, Busy Philipps is officially the Julia Roberts of Instagram Stories.
Though, there is still one mystery left to the story: Roberts doesn't have a public verified account on Instagram. Does that mean she keeps a secret Instagram feed?
Related: Julia Roberts Gives a Rare Interview About Fashion: "I Love It"
Julia Roberts, Jennifer Lopez, and More Actresses Who Define Aging Gracefully
Singer, actress, and dancer Jennifer Lopez looked half her age at the 59th Grammy Awards, wearing her hair sleek straight and middle-parted with a lavender smoky eye and luminous skin.

Photo by Getty.
Natural beauty Halle Berry has tried every hairstyle in the book–from her signature pixie, to long, flowing waves–and they all work for her.

Photo by Getty.
As the face of anti-aging skincare brand SK-iii, it's no surprise that Cate Blanchett has flawless skin. Case in point: the actress' radiant complexion at the 88th Annual Academy Awards.

Photo by Getty.
Brunette beauty Sandra Bullock has been in the public eye for decades, and always loves an understated, glamorous look on the red carpet.

Photo by Getty.
South African beauty Charlize Theron stunned at the 89th Annual Academy Awards wearing her hair in an elegant up do with light golden smoky eye and a satin pink lip.

Photo by Getty.
Jennifer Aniston has a go-to look: golden hair, sun-kissed skin, eyeliner, and a glossy lip. And it works for her.

Photo by Getty.
Actress Gabrielle Union always wows on the red carpet, with her bright smile and glowing complexion.

Bennett Raglin/Getty Images
Actress Kate Winslet poses at the EE British Academy Film Awards wearing her hair in tousled curls with creamy, porcelain skin and a satin red lip.

Photo by Getty.
Always radiating with luminous, sun-kissed skin and golden waves, Kate Hudson attends the 2017 Vanity Fair Oscar Party.

Getty.
Actress Amy Adams made her cinematic debut in the '90s, and is still a red carpet favorite today.

Pascal Le Segretain/Getty Images
Reese Witherspoon always knows how to keep her look timely and fresh, as she proved here at the 2017 Vanity Fair Oscar Party.

Getty.
For Eva Mendes, her luscious brown waves and luminous, sun-kissed skin have always been a red carpet staple.

Getty.
Angelina Jolie may no longer try daring hairstyles like a buzzcut, but she has maintained her classic beauty flawlessly.

Photo by Getty.