Julia Roberts Gives a Rare Interview About Fashion: "I Love It"
"I don't follow fashion per se…"
---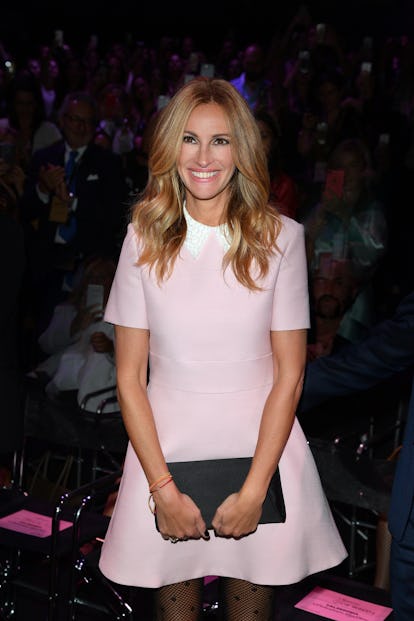 Daniele Venturelli
America's resident Most Beautiful Person, Julia Roberts, has kept a relatively low profile in 2017—save for the aforementioned honor bestowed upon her by People Magazine in April. Which is not to say the actress has not been keeping busy—come November, she'll return to the big screen in the film adaptation of Wonder. She also has been named as the face of Italian lingerie giant Calzedonia yet again, starring in the new fall campaign for the brand, which just opened a brand new flagship on Fifth Avenue. The gig also saw Roberts sitting front row at the brand's first ever Leg Show, which highlighted Calzedonia's tights collection in Venice, Italy. Here, Roberts talks her favorite pieces from the brand, her love of fishnets, and how her red carpet style has changed over the years.
When it comes to shopping for hosiery or legwear, what is the most important thing to look for?
Fit and quality.
What are three pieces from the brand that you think all women should own?
I love the stockings with the dots that I wear in the commercial—they are my personal favorite. I also wear The Calzedonia classic fishnet stocking quite a bit and I have lots of their style of leggings. I almost always wear leggings when I travel. They are comfortable and easy to dress up.
How important are undergarments when it comes to your red carpet ensembles?
It is like a cherry on a cake sometimes.
How would you describe Italian style? What about it appeals to you?
Italian style to me is always the vision of Sophia Loren. Relaxed, comfortable and heart-stoppingly beautiful.
Looking to the fall, is there anything you are particularly looking forward to wearing?
Fall is such an invitation to stockings and legwear. I look forward to that.
Is there any one thing you would never wear, or trend you cannot get behind?
There are a number of things, but it doesn't need to be pointed out.
How fervently or not do you follow fashion?
I don't follow fashion per se, but I love it.
What have you learned about your personal red carpet style over the years?
You have to wear what you like and not what you get talked into!
Related: The Designer of Julia Roberts's Dress in Pretty Woman Also Designs Swimwear
Natalia Vodianova Has a Girl Crush on Julia Roberts in "Pretty Woman"