The Designer of Julia Roberts's Dress in Pretty Woman Also Designs Swimwear
Georgiana Huddart of the brand Hunza G is bringing the 80s back with her covetable designs.
---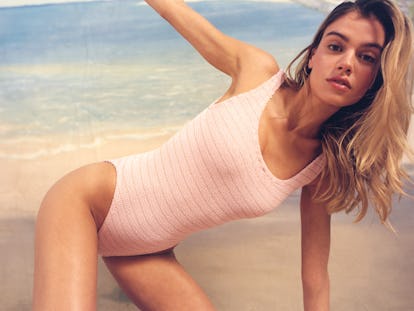 Hunza was born in 1984 under the direction of designer Peter Meadows and quickly became an icon of the Nineties when their cut-out minidress famously worn by Julia Roberts in Pretty Woman. Thirty years later, creative director and designer Georgiana Huddart has collaborated with Meadows and relaunched the brand as Hunza G, in turn refreshing the brand's original eighties classics. The playful colors, ruffles, bows and high-cut styles have gained amassed some new fans including, most prominently, Rihanna. Here, the designer talks about the brand, her favorite beaches, and more.
What is your favorite beach?
Xucla in Ibiza.
What is your insider secret?
Cala Xucla has the best Gambas and this amazing secret cave that you can swim around the cove into.
What is your favorite thing to go pre and post beach?
Before the beach, it is always nice to have a long breakfast. Post-beach, I always like to go somewhere for an afternoon drink—normally an aperol spritz—before heading back home.
Do you prefer the pool or the beach and why?
I think you cant beat the beach if it's a good one. I love a beach that is cove-like with rocks you can jump off. My brothers and sisters spent all of our childhood rockpool-ing and eating sandwiches filled with sand, so it is very nostalgic for me.
How does your favorite beach inspire your work?
Colors are always amazing on a good beach. The seaweed, the sea life, the sea itself. Nature is always the best inspiration.
How would you style your swimsuit from the beach to a night out?
Always with a pair of denim shorts and some high-heeled espadrilles; it may be boring but its pretty much what I wear all summer.
What is your ultimate do and don't at the beach?
Don't wear too much makeup or jewelry; I think it looks really out of place. Don't ever wear anything heeled. Do wear things that are easy and look relaxed and functional. And I always wear a bandana tied as a headband.
Which swimsuit reference has influenced you most?
I always loved the "Wicked Games" video by Chris Issak with Helena Christensen.
What is your favorite memory at the beach?
Building a sand car with my brothers and sisters—I was the driver. I was a very bossy eldest child so it was perfect.
What are you reading this summer?
I am currently re reading Catcher in the Rye and just finished a book by William Boyd called Sweet Caress.
What are three songs on your summer playlist?
Anything by Sam Cooke, Van Morrison or Al Green.
Related: Riley Keough Is on Her Way to Becoming Logan Lucky Director Steven Soderbergh's New Julia Roberts
Natalia Vodianova Has a Girl Crush on Julia Roberts in "Pretty Woman"