Drake Wears Rihanna-Designed Socks, Proves He's Still the Ultimate Bad Girl Riri Fanboy
Work, work, work, work, work, work.
---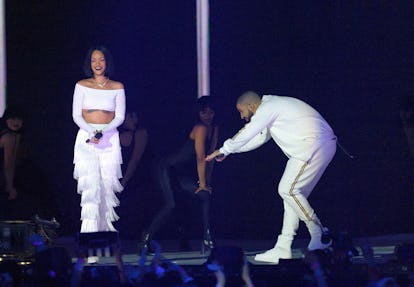 Karwai Tang/Getty Images
Rihanna, musician, 2014 CFDA Style Icon, and two-time winner of the Met Gala, has recently become as much of a name in the fashion industry as music. She has always made a point of championing lesser-known designers throughout her career, including students like Isabel Hall and soon-to-be breakout stars like Matthew Adams Dolan. She's also never shied away from a theme party (ahem, the Met Gala). And with the debut of her Fenty Puma line last year, she's become an acclaimed designer in her own right—and sometimes she even takes the opportunity to hawk her own looks on the red carpet.
But only so many of those looks are so good, they're worth printing on socks. One of those looks, it seems, was the red, green, and yellow crocheted dress she wore for the "Work" music video with Drake. Last week, Rihanna unveiled a new collection of socks for Stance, with whom she's collaborated for several years, featuring images of her most iconic looks. There are several standout looks in the "Work" video—that pink fur coat, anyone?—but it was that Tommy Hilfiger dress that made its way onto one of Rihanna's Stance socks. And, from there, made its way onto the feet of none other than Drake.
The Toronto rapper, who features on "Work" and in its accompanying video, posted an Instagram Tuesday picturing him in repose. He leans back on a couch, a glass of something on ice close at hand, clad in a Drakkar Noir t-shirt, track pants, and Rihanna Stance socks. "Trabajo," he captioned. Drake, hard at work, wearing "Work" socks.
Of course, Drake has a perfectly acceptable justification to be wearing Rihanna's likeness on his feet: He shared writing credit on "Work," which was nominated for a handful of Grammys and won the iHeartRadio awards for R&B Song of the Year and Best Collaboration. At the same time, Drake demonstrates, yet again, that he'll never truly be over Rihanna, will he? The couple reportedly first met eight years ago at the Lucky Strike bowling alley in New York (an encounter that Drake immortalized on his track, "Fireworks"), and their relationship has been on and off ever since, with Drake, more often than not, pining after Rihanna. (But then again, aren't we all?) During a performance for her Anti tour last summer, Drake joined Rihanna on stage, telling the crowd, "Shout out to the most beautiful, talented woman I've ever seen. She goes by the name of Rihanna."
"I'm gettin' my heart broken," he added. Rihanna, however, was last attached to the Saudi gazillionaire Hassan Jameel. At least now, his heartbroken feet will be warm.
Related: Rihanna Put Her Most Iconic Looks on Socks, So Now You Too Can (Maybe) Pull Off Her Toughest Ensembles
Petra Collins would like to sleep in a room that is one giant bed, with Rihanna if possible: