Kylie Jenner Announces Birth of Daughter on Instagram
And apologizes for keeping us in the dark.
---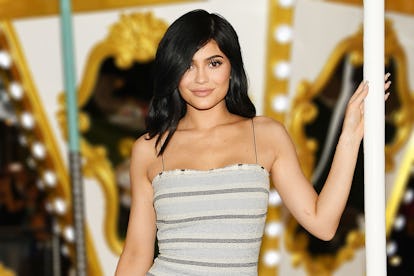 Denise Truscello/Getty Images
After months of speculation, Kylie Jenner not only confirmed that she was pregnant, but that her baby girl arrived on February 1st. There was no major reveal on Keeping Up With The Kardashians, via magazine cover, or by any other spectacular fashion. Jenner simply announced the birth by updating Instagram and Twitter. "There was no gotcha moment. No big paid reveal I had planned," she wrote. "I knew my baby would feel every stress and every emotion so I chose to do it this way for my little life and our happiness."
The initial text posting, in which she apologizes for keeping things a secret for the past nine months, was also quickly followed up with an 11 minute video of some footage from her life over the past nine months. It includes Jenner tenderly embracing her partner and the baby's father Travis Scott on a beach. The video also contains the first public footage of none other that Chicago West, the newest daughter of Kim Kardashian and Kanye West.
Turns out that most of those silly conspiracy theories that had circulated around the web for the past year were just that: silly conspiracy theories. Though, Jenner does still live the world in the dark about the child's name.
Travis Scott also had his own way of announcing the birth of his daughter on Twitter:
Reports first surfaced that Jenner was with child in late September, yet the 20-year-old beauty mogul never confirmed or denied the news herself — neither did Scott or any members of her famous family — leaving the world to rely on quotes from anonymous "sources" about the status of the star's supposed pregnancy and to search for vague baby hints among her infrequent postings to social media. And even though Kylie clearly hoped to maintain her privacy during this time by staying far, far away from any red carpets and avoiding public outings, there has been much fervor over sightings of the reality star, including a fake photo apparently involving a body double.
And Kylie's new addition isn't the only one. Kanye and Kim Kardashian West welcomed their third child via gestational carrier; Chicago West was born on January 15. Meanwhile, yet another baby cousin is still on the way. Khloé Kardashian is currently expecting her first child, with NBA player Tristan Thompson. Keeping up with the Kardashians just keeps getting harder.
Related: Chicago West Makes Public Debut in Kylie Jenner's Pregnancy Announcement Video
A Celebration of Kylie Jenner's 20 Years of Not Letting the Critics Get Her Down