Kim Kardashian West and Kanye West Reveal the Name of Their New Baby
What could possibly follow North and Saint?
---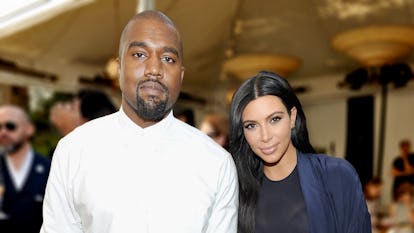 Getty Images
Ever since Kim Kardashian West and Kanye West's new baby daughter was delivered via gestational carrier, everyone has been dying to know her name. And no, she was not named after a famed fashion house.. What stroke of nomenclature ingenious, we wondered, could possibly follow North West and Saint West? Well, Friday we got the answer, via a post on Kim Kardashian's app, and it certainly wasn't Louis Vuitton West as some had assumed. he third child of Kim Kardashian West and Kanye West, born January 15, 2018 at 12:47 a.m., weighing 7 pounds and 6 ounces, is named…
…Chicago West.
Of course, the meaning behind the name is easy to discern. Kanye was raised in Chicago and often reps his city, most specifically in his song "Homecoming":
Every interview I'm representin' you, makin' you proud Reach for the stars so if you fall you land on a cloud Jump in the crowd, spark your lighters, wave 'em around And if you don't know by now, I'm talkin' about Chi Town
Incidentally, the child will most likely go day-to-day by the nickname of "Chi," as in "Shy." Chicago West would also not be the first celebrity scion to go by a city name. There's Brooklyn Beckham (sone of David and Victoria), Paris Brosnan (son of Pierce), Kingston Rossdale (son of Gwen and Gavin), Milan (son of Shakira), and Bronx (son of Ashlee Simpson and Pete Wentz). Maybe Kanye just wanted to make sure his own city got props in the celebrity baby name department.
Related: That Kylie Jenner Pregnancy Photo Was Fake, But Thirst For Details Remains Very Real