Paris Brosnan, Pierce Brosnan's Stylish Son, Is Now A Runway Model
The stylish surfer-turned-model recently turned heads at the Dolce and Gabbana fall 2018 show in Milan.
---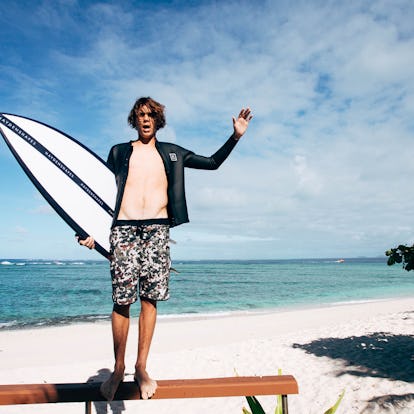 Photo by @paris.brosnan.
Paris Brosnan, the stylish and youngest son of 007's Pierce Brosnan, has always been destined to make charismatic waves, especially after the 16-year-old scion just walked in his first runway show for Dolce & Gabbana. Of course, Dolce & Gabbanna is no stranger to casting Hollywood scions on the runway—the Stallone sisters and Luka Sabbat once walked in their Spring 2018 show in Milan—so it's no surprise that Brosnan would be a new member of the class for Fall 2018.
His initial runway look of a long, floral velvet jacket over blue and white pinstripe pants was followed by a sportier look—a striped baseball shirt and pants over a white shirt that read "love is love." His runway appearance in Milan is not his first foray into fashion since signing with Next Models, however—last October he appeared in a spread for GQ Korea while wearing Prada and appeared on the November cover of Vanity Teen.
The Brosnan family doesn't only have one model on its roster—Paris' older brother Dylan, also works as a burgeoning model and musician, playing in a band called Raspberry Blonde. Though he may be part of the new generation of scions taking over the runways in Milan, Brosnan appears to be a California surfer teen at heart. His Instagram, which features endless photos of him catching waves at the beach, positions him as a prime example of just a regular dude who loves to surf.
If posting photos of his father as the '90s iteration of the world's most famous special agent, James Bond, and his dad's psychedelic paintings is any indication of Brosnan's predilection for celebrating his dad on Instagram, we might even want to look forward to how he documents his dad's participation in the upcoming movie musical Mamma Mia, Here We Go Again!, reprising his role as Sam Carmichael (and reprising his vocal chops, as well).
Like many teen scions who grow up under the southern California sun, Brosnan shared his view at Coachella during a performance by Future last April, so it might be worth keeping an eye out for the Coachella festival style Brosnan will likely be sporting (and posting about) this spring.
Related: Lori Loughlin's Teen Daughters Have Nearly a Million Instagram Followers