Lori Loughlin's Teen Daughters Have Nearly a Million Instagram Followers
The Full House and Fuller House actress still has both of them beat, though her beauty vlogger daughter is quickly catching up.
---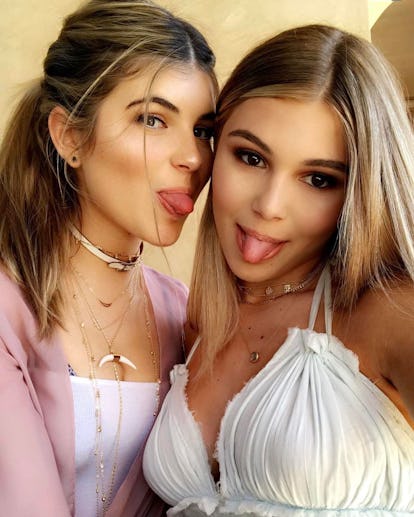 Courtesy of @bella
Mary-Kate and Ashley may have declined to join the cast of Fuller House, but Lori Loughlin, who plays Rebecca, aka John Stamos's wife, apparently had no reservations about joining the series's follow-up, which is why she ended up at the Netflix's post-Golden Globes party on Sunday night—along with a doppelgänger. She also brought her daughter Olivia Jade, who's already being mistaken for her mom's twin.
Olivia definitely does have other things in common with her mom: At just 18, she's a beauty influencer with around two million followers across platforms, getting started early on her career just like Loughlin, who began working as a print model at just 11 years old. It wasn't long before she moved on to a three-year stint on a soap opera at just 15, and, of course, eventually to Full House. Once the show ended, she divorced the investment banker she'd been married to—and kicked off her new life by spending her Thanksgiving eloping with Mossimo Giannulli, the fashion designer you may recognize from the aisles of Target, which carries his line Mossimo, or from bowling snapshots posted on the Instagram account of the pair's other daughter, Isabella Rose.
Just one year apart in age, Olivia Jade has over a million YouTube subscribers and over 700,000 Instagram followers, whereas Isabella Rose is a 19-year-old important enough to, even in this era of Hadids, has somehow nabbed the enviable Instagram handle @bella. (Their mom still has both of them beat, though, with 1.4 million Instagram followers of her own.)
Predictably enough, Olivia's YouTube provides the most insight into the family's life. In addition to informative vlogs like a "Flawless Skin with No Makeup Tutorial," a roundup of the best beauty products of 2017, and Q&A sessions with themes like "What It's Like to Have a Famous Mom," there are also regular appearances from her mom, usually in the form of Olivia's annual quiz session, "Teaching My Mom Slang Terms." The 2017 edition starts with Loughlin dragging Olivia for always vlogging, making a wild guess that "thot" means "too hot," and accusing her daughter's generation of "ruin[ing] the word 'daddy.'"
Whereas Olivia's Instagram features plenty of glam shots and photo sessions with her mom when they "got called twins allllllll night," Bella's tends to feature her and her friends. Still, the pair understandably have similar taste in #tbt's: Both are quite fond of posting throwbacks of her mom from her Full House days.
Related: Mary-Kate and Ashley Olsen Have Been Excused From Joining the Cast of Fuller House After Successfully Ignoring "Three Years of Invitations"
Noah Cyrus Would Call Her Sister Miley If She Had Car Trouble, Her Dad Billy Ray If She Needed a Laugh: