Kylie Jenner Has Resurfaced and Is Reportedly Taking Lamaze Classes, But Where on Earth Is Travis Scott?
Jenner picked her best friend Jordyn Woods to be her birthing partner instead.
---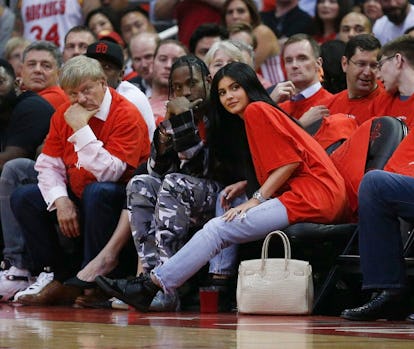 Bob Levey/Getty Images
On Thursday, after months of her disappearance from the public eye, we finally got a glimpse at Kylie Jenner for the first time since September. She was wearing a notably baggy sweater that may or may not have been showing off her bump, as she's reportedly due to deliver her long-rumored baby any day now. Anonymous source after anonymous source has been offering reported updates on the pregnancy for months before the sighting, and that has only picked up since she was spotted out and about this week.
The latest from TMZ's sources is that Jenner, looking to keep things private, is taking online Lamaze classes, the birthing technique that aims to keep childbirth smooth by raising the mother's comfort and confidence through stretching, breathing exercises, massages, walking, and hydrotherapy. One of its six "healthy birth practices" is to, while going through labor, "bring a loved one, friend or doula for continuous support." According to the sources, that role has fallen to Jenner's best friend, Jordyn Woods, who's reportedly acting as her partner—and was in fact with Jenner when she was spotted with her mom earlier this week.
If that's true, though, it begs the question: Where is Travis Scott, Jenner's boyfriend and reportedly the father of her baby, in all of this? Indeed, while we've heard report after report about, say, Jenner's future as a mommy blogger and the real reason she hasn't revealed her pregnancy to the public, Scott, who earlier this month would neither confirm nor deny Jenner's pregnancy, has managed to stay almost entirely off the map. (Even though he's still maintaining a social media presence and giving interviews, unlike Jenner.)
Sure, Scott has been on tour during most of Jenner's reported pregnancy. Now that he's returned, though, he still seems to be keeping his distance from his girlfriend, even on Christmas and New Year's Eve—to the point that it's been rumored Jenner wants him to "step things up," which Kanye West also reportedly told Scott to do at the end of the year in a "serious man to man talk."
In a recent interview with Billboard, when the reporter asked Scott about the rumors that he's having a child with Jenner, he responded, "I don���t want to talk about that. They're just guesses. Let them keep fishing." Indeed, the Jenner news today is about her birthing techniques, but for Scott, it's about his new features with T-Pain and Migos, the latter of which just released their sophomore album, Culture II. Unfortunately for him, though, none of that seems to have stopped the flow of Instagram comments that read pretty much like this one: "you better go home n take care of ur pregnant girl n ur kid."
Related: Kanye West Allegedly Told Travis Scott "To Step It up" For Kylie Jenner
A Celebration of Kylie Jenner's 20 Years of Not Letting the Critics Get Her Down