Kylie Jenner Has Finally Been Spotted Out In Public
She was seen for the first time since September with her mom and best friend, Jordyn Woods.
---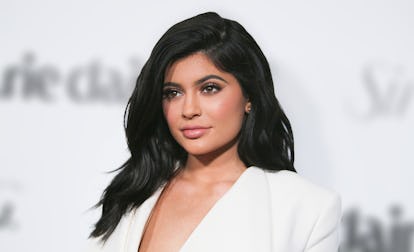 David Livingston/Getty Images
Though there's been no shortage of false alarms and rumors along the way, in reality, we haven't actually seen Kylie Jenner in the flesh—or, at least as captured in the lens of a TMZ camera—since September of 2017. That dry spell has finally lifted on this holy day of Thursday, January 25, in which TMZ published a photo and video of Jenner out in the wild. Seeing as she was followed by a pack that included her mom, Kris Jenner, and her best friend, Jordyn Woods, this really seems to be Kylie this time—not just another random, perhaps Photoshopped 20-year-old spotted in CVS.
Jenner's return to the public eye was not nearly as glamorous as you would expect: The crew was in fact spotted on a rough, dirt-covered terrain, inside a construction site in Hidden Hills, aka the Los Angeles enclave that's also home to Drake's YOLO Estate. Jenner could have been planning out future mansions for herself and her long rumored baby, but the locale was definitely an abrupt departure from Jenner's more recent appearance, a Calvin Klein campaign revealed earlier this week that saw Jenner posing alongside her family members—and obscuring herself with some strategically placed blankets. (As for her sighting on Wednesday, her baggy, somewhat bulky sweater definitely has served as confirmation of a significant bump for some.)
What seems like an endless number of sources have offered details about the pregnancy, and if the rumors are to be believed, Jenner is due to give birth this month, having kept her pregnancy a secret because she's lived a life in the public eye—something she'll reportedly return to when she switches gears and becomes a mommy blogger.
Still, countless questions remain: Did Jenner, with the help of her mastermind momager, wear a baggy sweater just in case she was spotted to add fuel to the fire, or have we finally gotten that long-awaited confirmation? With her cosmetics company already set to be worth $1 billion by 2022, has she been spending her months closeted indoors planning a multimillion-dollar blogging haven for her new family with Travis Scott? At this point, you can only decide for yourself—see a photo of the excursion here, or watch this shaky, creepy video of Jenner "labor[ing] a bit" to get into an SUV:
Related: A Close Examination of the Kardashians's New Calvin Klein Campaign, Including Kylie Jenner and Some Strategically Placed Blankets
A Celebration of Kylie Jenner's 20 Years of Not Letting the Critics Get Her Down