Drake Is Giving His YOLO Estate in L.A. a $300,000 Upgrade
This bachelor palace with its grotto and remote-controlled waterfalls needs even more YOLO, apparently.
---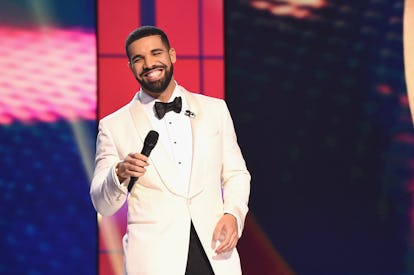 Michael Loccisano
In between such major life events as ending a fling with J. Lo, throwing himself a Bar Mitzvah-themed birthday party, and staying so true to Rihanna he's taken to wearing the socks that she designed, it turns out that for the last 10 months Drake has been keeping busy in even more ways extracurricular to, you know, his career. In fact, according to building permits obtained by TMZ, he's been making renovations to his Los Angeles home, so that it can finally be shown the respect its name, the YOLO estate, deserves.
His bedroom, already 1,695 square feet, is now getting remodeled, including an addition of 98 feet. Indeed, his redecorating approach seems to be more is more, seeing as he even selflessly made an addition to the maid's room, too. There's actually quite a good chance that you'll soon be able to peek inside his rooms, as well as the new spa he's adding and the remodeled kitchen: the renovations—which, all in all, will cost $342,752, at the very least—include adding 68 windows to the property.
After discovering the Hidden Hills home through a quick Google search—"What are the world's craziest residential pools?"—Drake purchased it for $7.7 million in 2012, making the updates long overdue. Its multimillion-dollar pool, complete with a grotto, remote controlled waterfalls, and 80-foot water slide were apparently already around pre-Drake, though he has done his part by adding a swim-up bar and a pair of stone elk statues, presumably to look out for (or at least accompany) the statues of women in bikinis in the water down below. (Also on the grounds are a horse stable (horse-less so far), a giraffe statue, a tennis and a sand volleyball court, and—wait for it—a mechanical bull. You can see most of it here.)
Drake's "Hotline Bling" Gets Reimagined by 13 Celebrities:
It's no wonder, then, that a fan broke into the home twice last year, and Drake eventually gave up on replacing all the stolen "YOLO Estate" signs. Unfortunately, however, there are rumors that the renovations will include destroying the home's trademark grotto. There's no word yet on whether Drake's also thinking of getting rid of the bookshelf which swings open to reveal his bedroom when he hits a switch, though the odds seem quite good that he'll keep that one—it was just a few years ago Drake told Rolling Stone just how much he "delights" in showing it off to the women who make it inside the depths of the estate.
Related: Drake Has Been Collecting Hermès Birkin Bags for His Future Wife