Drake Has Been Collecting Hermès Birkin Bags for His Future Wife
The Grammy winning media mogul tacks on "Hermès Birkin bag collector" to his ever growing list of attributes.
---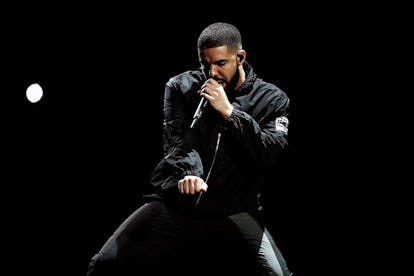 Lagerhaus/Getty Images
When you hear the name Drake, what's the first characteristic that comes to mind? Musician? Definitely. Actor? Sure! Now, the Grammy winning media mogul has also tacked on "Hermès Birkin bag collector" to his ever-growing list of attributes.
The Hollywood Reporter cover star revealed he's got a huge Birkin bag collection, but they're not for him, nor are they for his mother, whom he loves to dote on publicly. In fact, Drake's been collecting Birkins to give to the woman who ends up becoming Mrs. Graham. After gifting Bella Hadid with a lavish 21st birthday party in October before celebrating his own day of birth in style, it's clear that Drake's generosity knows no bounds.
"There's very few things in this world, tangible things anyway, that hold their value and sort of appreciate as the years go on, so it was one of those things that I started collecting as well for the woman I end up with one day. So I have a fairly vast collection of Hermès to offer somebody at some point in life," said a grinning Drake in his interview with THR.
In addition to collecting Hermès Birkin bags, the hip hop superstar has kept his eye on an even more expensive prize: the first edition of Harry Potter and the Sorcerer's Stone, which runs about $160,000 on the market. Drake told THR that it often surprises people to discover his obsession with Harry Potter, but if the theme of his most recent birthday party is any indication, it's not so shocking that he'd love the wizarding world's most iconic bildungsroman.
Known for his eight year stint on Canadian soap Degrassi: The Next Generation, Drake also claims he wants to act again, and receives at least one script per week from various studios, all of which so far he has turned down. He and Future have reportedly been in conversation with A24, the studio lauded for its distribution of indie darlings such as Lady Bird and The Florida Project, one of Drake's favorite films of the year. Drake also revealed that he's a night owl who creates his best work after dark, and still wants to make music until he can't anymore. Until then, he plans to keep churning out hits, create some visual digital content, and collect more Birkins for the woman he hopes to fall head over heels in love with one day.
Related: 27 Over-The-Top Holiday Gift Ideas to Shop (Or Lust Over) Now