Rihanna Skipped Drake's Childish Birthday Party, Deflates His Attempt to Become a Man
All the immature ways Drake dealt with his ex's absence at his "re-bar mitzvah."
---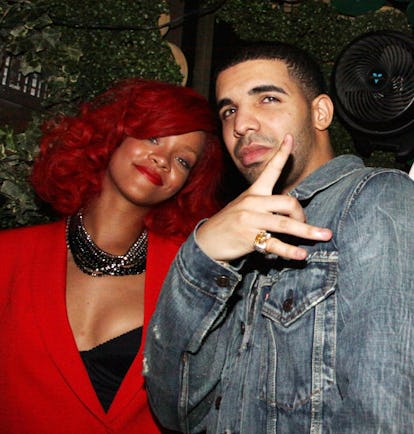 Johnny Nunez
This week, Drake did exactly what the zodiac told him to do—he threw a big party. Taking the inverse of his 31st birthday and turning it into a 13th birthday bar mitzvah extravaganza, October's Very Own Scorpio threw himself a "re-bar mitzvah," and celebrated his transition from boy to man with a long list of famous friends that included Leonardo DiCaprio, Tobey Maguire, and Jamie Foxx. One celebrity, however, was noticeably absent from Aubrey's Re-Bar Mitzvah, and he is crushed about it. That's right, Rihanna reportedly did not show up to her ex-boyfriend's birthday party.
There are a few potential reactions Drake may have had to being snubbed by Rihanna at his own birthday bash, one of which likely included an emotional moment in the bathroom, wherein he pointed in the mirror and talked himself out of shedding tears in the club, but if anyone knows it's more than okay to cry at your own party, it's Drake. Judging by how much he posted on social media that night, he also probably checked his phone every five minutes in anticipation of a "HBD" text from Rihanna, which was likely never sent at all because she's busy being a beauty icon and building an empire!
While he is allegedly "heartbroken" over the fact that his former flame did not make an appearance, Drake resisted the temptation to buy a billboard as a personalized invite to Rihanna, and eventually did what any scorned lover who plans an elaborate birthday party with a cute theme only to be jilted by an ex would do—he flexed on Instagram to make it look like this party was the best he ever had.
Draped in an "icey" jacket by Tom Ford, Drake was on his best behavior while he cheesed the night away, DJ'ing for the crowd before serenading his guests with a duet with his father, Tennessee musician Dennis Graham. Who cares if your ex doesn't show up to your party, when you can eat pizza and Dippin' Dots out of a box with your face on it while your best friends exalt you just for being you?
Photos of Drake as a young Aubrey adorned the inside of Poppy, a Los Angeles nightclub where the re-bar mitzvah birthday bash took place, while the outside was rebranded as "Papi," after Drake's nickname and Instagram handle "champagnepapi." He was also gifted with 31 bottles of champagne, one for each year of his blessed life.
As the video his dad posted to Instagram shows, it looks like everyone really did have a good time, regardless of Rihanna's absence. If any tears were shed in this club, they were likely of the joyful variety. Mazel Tov and "More Life" to you, Drake.
Related: Rihanna, National Icon of Barbados, Is Getting a Street Named After Her