Rihanna, National Icon of Barbados, Is Getting a Street Named After Her
Who wouldn't want to live on Rihanna Drive?
---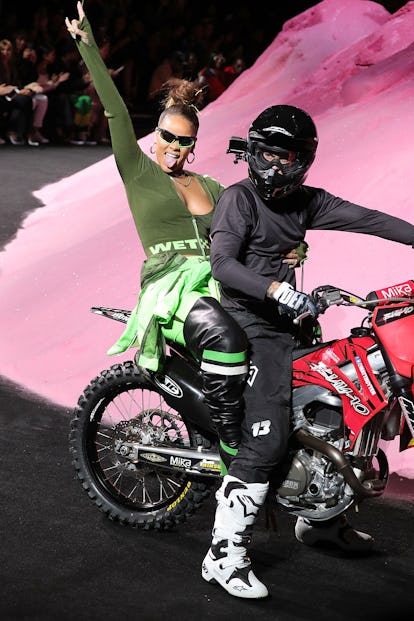 Paul Morigi/Getty Images
Rihanna is the most visible Barbadian on the planet. In 2008—before Fenty x Puma, before her Stance sock line—she had already been named an honorary ambassador for Youth and Culture by then-Prime Minister David Thompson. This, for context, was circa Good Girl Gone Bad. Next month, she'll be granted an even bigger honor: On November 30, Barbados's Independence Day (commemorating their independence from the United Kingdom in 1966), Westbury New Road will be renamed Rihanna Drive in the musician-slash-fashion-and-beauty mogul's honor.
Rihanna grew up on Westbury, a street in the Barbadian capital of Bridgetown, so it's a fitting homage to Barbados's most famous export. (She relocated from Barbados to New York after signing with Def Jam in 2005, though she maintains a $22 million, five-bedroom condo in the luxury complex One Sandy Lane.) Rihanna Drive is certainly an improvement on Westbury New Road, which is a snooze of a name, but it's not nearly so thrilling as "Shut Up and Drive, Drive, Drive," a street name proposed by Jezebel, or perhaps Fenty x a Traffic Jam by Rihanna, in honor of the influx of tourism she's brought to the neighborhood where she grew up.
Rihanna, however, did not have a driver's license as of 2012; in an interview with E! News at the time, she mentioned she didn't have time to study for the written portion and would rather go in for her test totally prepared. Though she apparently hasn't offered a more recent update on her license status, this could explain why she rode as a passenger at her latest Fenty x Puma show during New York Fashion Week—albeit on the back of a motocross motorcycle, rather than a car. She may be getting a road named after her, but it's not clear whether she will be able to cruise down it behind the wheel next time she's home for Crop Over.
Lili Reinhart of 'Riverdale' on pop culture obsessions like boy bands and 'Lizzie McGuire':