Shopping With Drake and the OVO Crew at Their New SoHo Store
Drake is not here to pop up. We go inside the third October's Very Own store, which opened its doors December 10 in New York City.
---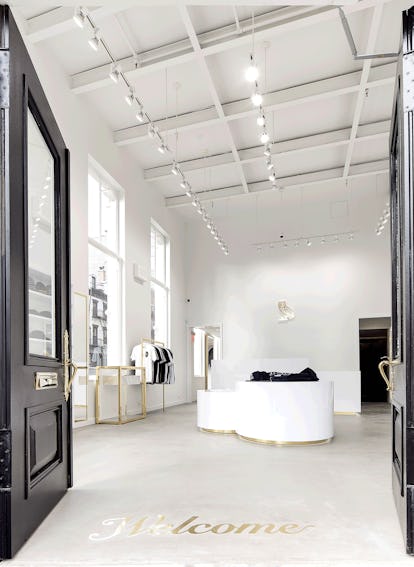 Drake is not here to pop up.
On December 10, he and his partner Oliver El-Khatib opened their third October's Very Own flagship in New York City, following stores in Toronto and then Los Angeles earlier this year. Naturally, lines formed around the block, rivaling Bape and Supreme nearby. Much like a popular music venue, only five people were let into the small yet luxurious space at at time, which, of course, created even more hype. Two weeks later, the line had finally dissipated and customers were free to come and go as they pleased, but selfies were still being taken outside the store's pristine all-white façade.
Founded in 2011, OVO has grown into its own respectable luxury brand (and music label) that runs far deeper than merch. This is due largely in part to Drake's own tasteful personal brand, which can be described in one word: plush. For example, a defining moment for fashion in 2015 was Drake flaunting both Acne Studios cashmere and OVO sweats in the Hotline Bling music video, which has received over a billion views to date. Today, the 'hotline bling pink' can still be found on everything from an OVO beanie to a soft flannel shirt.
Conveniently located across the street from the stylish Jewish haunt, Mile End Deli, the OVO storefront competes with other established brands like A.P.C. and Billy Reid, which are also nestled on the cobblestoned Bond Street in SoHo. The brand's name is tastefully pasted in small gold lettering on the lofty windows, which wrap around the entire space, adding even more brightness to the all-white gallery inside.
Upon entering, customers are greeted with a gilded "Welcome" written in the brand's signature font on the floor. Musical artists like Future play over the speaker system, but not too loudly, and the brand's owl logo hangs over the register, but high up so that it's not too ostentatious. Most recently, the brand teamed up with Canada Goose (they're a crew of very proud Canadians) on a collection of exclusive coats and hats. But in keeping with the brand's mission, $1,195 parkas hang in a display case next to $32 beanies, which are treated with equal care.
Overall, the store successfully finds the richness in minimalism. It has just enough of Drake's opulence to get fans in the door, but is clearly trying to be its own serious player in the fashion industry. Or, at the very least, stop you in your tracks as you're running through the streets of SoHo with your woes.
The Mix Since the beginning, the brand has offered both affordable basics like t-shirts and beanies in addition to high-priced luxury items like flannel shirts, bomber jackets, and embroidered hoodies. Most recently, October's Very Own launched a collaboration with Canada Goose on exclusive hats and parkas, which run for $1,195.
The Design Located in on the corner of Bond and Bowery in a landmarked building—which fittingly used to be both a theater and a bank—the brand had to get a permit to paste all-capital gilded letters on the large windows that wrap around the pristine, all-white façade. Ornate French stairs lead up to the entrance, where "Welcome" is also written in the brand's signature cursive. It is far from gaudy, however. Inside, the walls and ceiling are gallery white, with bright lights and gold finishing for a slight pop of luxury.
Pièce de Résistance A mirrored, black marble room in the back for special collaborations guarded with a velvet rope.
The Tribes Men (and women) who can do both, 'Hypebeast' kids coming straight from the Bape store, tourists, high-rolling New Yorkers with a closet full of luxury sweatpants, honorary members of the OVO family, Canadians.
Best-Sellers Anything from the "Hotline Bling" video, we imagine.
The A-List Drake, obviously.
The Basics 54 Bond Street, New York, NY; open Monday through Wednesday 12:00 p.m. to 7:00 p.m., Thursday through Saturday 12:00 p.m. to 8:00 p.m., Sunday 12:00 p.m. to 6:00 p.m.; visit octobersveryown.com.
Watch the OVO New York team video, below.