Jennifer Lopez Sort of Explains What That Whole Thing with Drake Was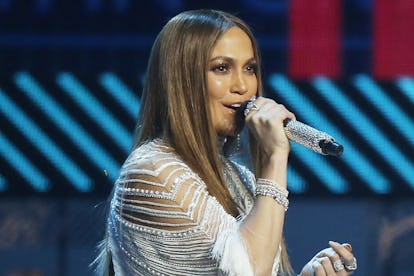 Michael Tran/Getty Images
Jennifer Lopez used to call Drake on his cell phone, late night when she needed his love — at least, that's what she says now.
Yes, even though Drake and J.Lo, the celebrity couple no one was ever quite sure was a real couple, is over, Jennifer seems to have shed new light on the under-wraps relationship. As first reported by Hollywood Life, the pop diva apparently referred to Drake as a "booty call" while on stage at her Las Vegas show.
In a video recorded during the concert, J.Lo can be seen working it for the crowd, as per usual, when the music slows down, and a little musical interlude that sounds suspiciously like Drake's hit "Hotline Bling" plays. Lopez stops dancing and with her hand on her hip, says, "Huh, booty call," loud and clear for all to hear.
This isn't the first time the rumored former couple has acknowledged the speculation surrounding their old romance. In March, Drake dropped the track "Free Smoke," off More Life, in which he mentions — you guessed it — hitting up J.Lo via text. "I drunk text J.Lo / Old numbers so I bounce back / Boy Wonder gotta bounce back," Drake raps in the song.
To be fair, it's not completely apparent whether Jennifer, who is now dating baseball legend Alex Rodriguez, is on stage calling out Drake or just making reference to the song "Hotline Bling," which is, obviously, a song completely about booty calls. But as the owner of the most famous booty in the biz, it's safe to say Lopez likely knew exactly what she was doing by including the track in her own performance. After all, we know when that hotline bling, that can only mean one thing.
Check out J.Lo's shout out for yourself in the video clip below:
RELATED: Jennifer Lopez: Women Get More Confident as They Get Older
Jennifer Lopez's Boy Toys, from Diddy to Drake, Have Never Been Able to Measure Up to Her Style
JLo may have started seeing David Cruz when she was just 15, but she went on to date her first love for a full decade, making for plenty of '90s fashion moments even after they split up, like this tank dress in 1995.

Ron Galella/Getty Images
Even though JLo met the actor Wesley Snipes when filming a sex scene she later publicly called "horrible," she went on to date Snipes briefly after filming wrapped, this time keeping showcasing a bit more demure '90s fashion.

Tom Wargacki/Getty Images
Long before JLo's first husband Ojani Noa threatened to release a sex tape of her last year, the pair met in a Cuban restaurant where he was a waiter, making for a year-long marriage that saw JLo in body con dresses and blue eye shadow while he opted for hot pink button-ups.

S. Granitz/Getty Images
Fresh from divorcing Noa, JLo broke out the thigh-skimming dresses and started straightening her hair for her fling with music executive Tommy Mottola—also a recent divorcé, who was rebounding from Mariah Carey.

Jeff Kravitz/Getty Images
In their two years of dating, JLo and Diddy hardly shied from the opportunity to coordinate outfits, matching in white (but sadly not in crop tops) for events like the 2000 VMAs.

WireImage/Getty Images
Diddy reprised the all-white look at the Grammy Awards later that year, while JLo busted out a green Versace dress now so iconic, it has its own Wikipedia page.

Scott Gries/Getty Images
Cris Judd was the first of several back-up dancers JLo ended up having flings with, and definitely the first she married, marking a two-year relationship full of early aughts style and hairdos like a mop of floppy curls.

Ron Galella, Ltd./Getty Images
Bennifer met on-set of Gigli in 2002 and dated for the next two years, until calling off their engagement in 2004—a time full of plenty of t-shirts and off-color ties for Affleck, and fur and floor-length, high slitted gowns for JLo. (Not to mention all her crop tops alongside Affleck in the video for "Jenny from the Block."

James Devaney/Getty Images
Post-Ben, JLo found her groove with Marc Anthony, whom she was married to for seven years, having twins named Max and Emme before divorcing in 2011, a year that nonetheless saw JLo looking her best in silver Emilio Pucci sequins at the Grammy Awards.

Larry Busacca/Getty Images
That same year, JLo was rumored to have had a fling with another mustachioed man: her What to Expect When You're Expecting costar Rodrigo Santoro, whom she made plenty of red carpet appearances with, like in this sheer gown at the film's L.A. premiere.

Kevin Winter/Getty Images
Other than a few sneaky dinners, JLo and Bradley Cooper were rarely seen in public together, but they made enough appearances together—even front row at Tommy Hilfiger—for JLo to bring out the thigh-high boots.

Theo Wargo/Getty Images
JLo's real beau post-Marc Anthony, though, was another, much younger backup dancer named Casper Smart, whom she dated all the way up until 2016, when she wore this much more sophisticated take on her Diddy-era head-to-toe white.

Jesse Grant/Getty Images
Though things were never confirmed between the pair, it's hard to imagine there wasn't tension (or at least plenty of sweat) between JLo and the Dancing with the Stars star Maksim Chmerkovskiy. (As her first husband Ojani Noa can attest, JLo does seem to love a hot pink button-up.)

Lester Cohen/Getty Images
It seemed entirely possible that JLo and Drake's much buzzed about relationship had continued into 2017 until this week, when the first song on Drake's new album made it pretty clear things have ended with the lyrics "I drunk text J. Lo / Old numbers so I bounce back." Still, the Instagrams of their short-lived time together live on, blurry as they are, but clear enough to show the pair at least shared a love for bling.

Courtesy of @jlo
Things appear to still be starting out for JLo and Alex Rodriguez, which seems to be why the pair left dinner separately in Miami—and why JLo pulled out an eye-catching, tight-fitting dress in what now seems to signal a serious move for her: all-white.

Courtesy of @extratv
Drake's "Hotline Bling" Gets Reimagined by 13 Celebrities: