Kylie Jenner Reportedly Wants Travis Scott, Rumored Father of Her Rumored Baby, To "Step Things Up"
Again, still no confirmation on this pregnancy.
---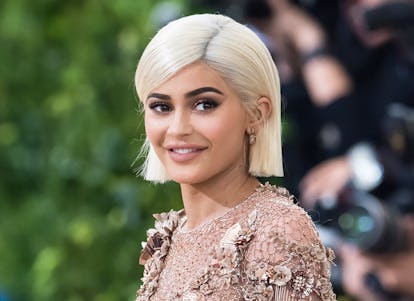 Photo by Gilbert Carrasquillo/GC Images
The Kardashian-Jenner family might be the first in modern history to capture the public's imagination not because there's a single shred of mystery there, but because there isn't. We know absolutely everything about them—whether you care to or not—and yet the coverage never ceases. So while possibly-pregnant sisters Khloé Kardashian and Kylie Jenner are keeping themselves out of the spotlight (aka only posting cryptic Snapchats, naturally) and the public in the dark, there is still, somehow, an endless stream of information about what they're up to. Kylie, for instance, according to multiple outlets has spent the past few months chilling at home and wishing her boyfriend could spend more time with her, like pretty much any other 20-year-old on the planet—except of course, she's a multimillionaire with a beauty empire.
As one source told People, "Kylie wants to keep a low profile…she…is doing her best to stay out of the public eye." She should probably tell that source to stuff it, especially since they continued, "She doesn't want to be photographed. At the moment, she wants more privacy. She has family and friends come to her house instead so she has company. She's very excited about the baby, though. She talks about the baby nonstop."
Added another source, "She wants Travis [Scott, a rapper and her likely co-parent] to be around more and help [with] preparing for the baby. But he only has a few more tour dates left, and then he's off for the holidays…Kylie is hoping he will step things up once the tour is finished."The source continued to say that Kylie is "getting bored spending so much time at home." Luckily, there are plenty of Snapchat filters to keep her busy during these final weeks of her still-unconfirmed pregnancy.
Related: Kardashian Fans Insist Kylie Jenner's Pink Christmas Tree Has a Secret Meaning
A Definitive Ranking of Kardashian Christmas Cards, From Least Kardashian to Most Kardashian
Mispelling of Khloe's name aside, this card is most definitely the least Kardashian thanks to one notable exception: as if Kris Jenner would ever miss a photo opp nowadays.
While this was years before Kim was running around with Karl Lagerfeld and Riccardo Tisci, you can still see the pain in her eyes over having to wear ill-fitting, matching motorcycle jackets with the male-heavy Jenner clan.
A Kardashian never misses the chance for a full-scale, glam-squad heavy photoshoot. The fact that they skipped a prime opportunity for the 2009 holiday card in favor of an outtake from Khloe's wedding is very off-brand.
As everyone who has caught a glimpse of Keeping Up With the Kardashians or paged through an Us Weekly in the past decade knows, this family is not without some serious drama. The party-themed, all smiles 2012 card is just a little too happy.

Courtesy of Celebuzz
Another all-white card, but at least this one comes with some angst (Hi, Khloe) and tense smiles that nod to some underlying drama. Bonus points for a tiny baby Kendall Jenner and an appearance from Santa.
Here we have some high glamour Kardashians, as we've come to know and love—at least, until the Yeezy athleisure movement came in full-force. The fact that Kim's shade of red is just slightly off from the rest of the clan is a great easter egg.
The 2013 David LaChapelle-lensed card was a tipping point for the family, as they went from "delightfully zany" to just "full-on insane." There are just so many things to look at here—which, truly, could be said about the family in general.
A distinct departure from the bonkers previous card, once Kim and Kourtney started building their own brood, they let the kid's take center stage in the family's holiday card. A cute thought, but if rumors are too be true, the concept might be a little too crowded come next year.
You want drama? Glamour? Welcome to the 2010 Kardashian family card. This was the first year to let each sister's individual style stand out, a nod at many fashion empires to come.
2011, however, was the card to end all cards. Case in point? It was in 3-freaking-D. Your Christmas card could never. But hey, what are Kardashians if not ahead of their time?