Kanye West Allegedly Told Travis Scott "To Step it up" For Kylie Jenner
Meanwhile, Kylie just wants him to be around on New Year's Eve.
---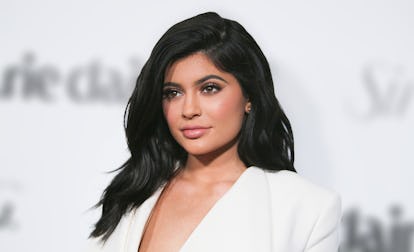 David Livingston/Getty Images
Lately, the entire Internet seems to be waiting for Kylie Jenner to confirm her alleged pregnancy with boyfriend Travis Scott, particularly after sister Khloe Kardashian broke news about her own baby-to-come..
Fans, who have been playing detectives, were disappointed when Jenner was MIA from the family's annual Christmas card—particularly after she didn't make her suspected grand appearance on day 25 of the series from the shoot, shared by Kim Kardashian on Instagram. Jenner herself shared a photo on Christmas Day, except instead of it being a shot confirming her first pregnancy, it was of her Love magazine cover, snapped by sister Kendall Jenner. "Merry Christmas!" Kylie captioned the post, which features countless comments addressing her silence on the news.
Everyone has a theory when it comes to why the 20-year-old has yet to speak out regarding the rumors—and now, comes a report with insider information, alleged by HollywoodLife, that Jenner is "trying to pressure" Scott, 25, to be by her side on New Year's Eve—the problem, however, is that, following a show in Las Vegas the night before, the rapper is due to perform in Miami on the 31st. Jenner, however, wants her boyfriend "to go straight from the stage to a private jet and fly home to be with her" instead of partying with his friends.
Reports also claim that Kim is backing her sister, with the alleged insider sharing that "Kim has made several comments to Travis recently about how he needs to fly right back from Miami to be with her sister. He hasn't said either way if he'll do it. He's being pulled in two directions right now because his boys all want him to party with them after the show."
Kim may have also solicited help from husband Kanye West at the family's annual Christmas party on Dec. 24, which both Jenner and Scott attended—even posing together in the photo booth, a close-up headshot of the two that has been making the rounds.
"Kanye had a serious man to man talk with Travis about becoming a father at the Christmas party this week," said a source close to the Kardashians, alleged the site. "It was an emotional conversation as Kanye explained to Travis how wonderful it is becoming a father for the first time, how his whole life is about to change for the better. […] Kanye made it clear to Travis that he needs to step it up big time. Kanye is protective of all of his family and wanted Travis to know that he better not let Kylie down in anyway once the baby arrives, 'cause Kanye will be watching."
It's been noted that Jenner has been holed up at home—and it's true that while the reality star is usually seen out and about in countless paparazzi shots, she hasn't been snapped in months (other than that extremely blurry, zoomed in photo from September at BFF Jordyn Wood's birthday, where Jenner is seen in what appears to be an oversized sweatshirt). And while the little mogul—she is Forbes' youngest high-earning celebrity of the year with a net worth of around $50 million thanks to Kylie Cosmetics—doesn't owe it to anyone to share news of her possible pregnancy, Jenner has been fueling public interest for years on social media and for over a decade on Keeping Up with the Kardashians, as well as on her own spinoff, Life of Kylie. Frankly, it's very likely that she's holding off to officially break the news herself, if she can, the only way she knows how—on television of course.
Related: Where in the World is Kylie Jenner