Kim Kardashian Announces KKW Beauty Collection with Mario Dedivanovic
Two libras, one eyeshadow palette.
---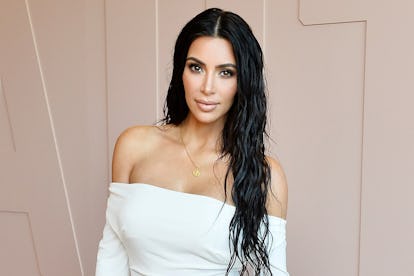 The countdown is on for Kim Kardashian's collaboration with her longtime makeup artist Mario Dedivanovic, and the beauty duo has finally given fans a taste of what they can expect from the new KKW x Mario collection. Kardashian took to Instagram on Monday to share a photo of herself wearing metallic blue eyeshadow, which is completely different than the pink-and-nude tones that make up the rest of her KKW Beauty line. The reality star revealed that this would be one of the shades in a new eyeshadow palette she worked with Dedivanovic to create, and there's a special reason why this particular color was included.
She wrote on Instagram: "A Metallic cobalt blue called Libra is a shade in our palette. @makeupbymario & I are both Libras & this shade of blue is special to us because I would fight against color & one time when I was on my phone & not paying attention he did a blue eye & I freaked out but then looked in the mirror I loved it! We fight over which look we should do all the time but this blue eye reminds me to trust him lol."
Kardashian and Dedivanovic also both shared a promo video for the upcoming collection, showing off the entire 10-shade palette. In addition to the blue "Libra" shadow, there will also be shimmery gold, bronze, nude, burgundy, and copper tones, as well as matte versions of the same colors. According to their posts, KKW x Mario will go on sale April 5.
The makeup artist and mogul have been working together for nearly a decade, and they have collaborated in the past on legendary makeup masterclasses. In a series of heartfelt Instagram posts on Monday, Dedivanovic paid tribute to the reality star, crediting her for much of his success in the past 10 years. "The past decade with Kim has been incredible. We've grown together, set trends, inspired and impacted an industry along the way. Through all her milestones and achievements and through her rise to global superstardom she has taken me along the way and impacted my life greatly, helping me to achieve unparalleled success of my own as a celebrity makeup artist," he captioned one of the posts, showing photos of his calendar from the day the met and the Vogue covers they've worked on together.
Related: Dishing with Kim Kardashian's Go-To Makeup Artist Mario Dedivanovic