Dishing with Kim Kardashian's Go-To Makeup Artist Mario Dedivanovic
Get yourself some Vaseline and other beauty insights from the man known for the hashtag #makeupbymario.
---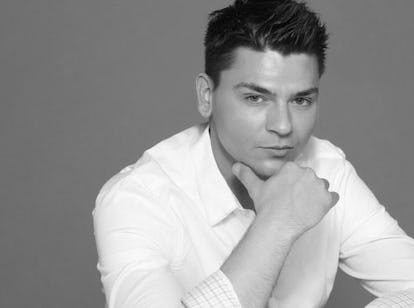 He paints Jennifer Lopez, Chrissy Teigen and, of course, the all-mighty K – Kim Kardashian. Mario Dedivanovic is also a social media star on his own. His obsession with beauty started early and is still going strong. Bet you five bucks he hits 2 million Instagram followers by the time you read this.
What's your first beauty memory? In the early '90s, my big sister got married and I'll never forget walking into the room after her hair and makeup had just been done. I was 11 or 12 at the time and couldn't stop staring at her perfectly made up face. She looked like a real life doll.
Who was your first beauty icon? Linda Evangelista. She remains one of my favorite beauty icons. I'm obsessed with her face.
What's always in your kit? 100 pounds of makeup.
What would you do/use to complete a look in five minutes? Concealer, curl lashes, apply mascara, a bit of bronzer on eyes and face and a lip.
What's your favorite off-label use for a beauty product? Vaseline. You can dab a bit onto cheekbones or eyelids for a gorgeous healthy glow.
Which beauty product do you just not 'get'? CC, BB, DD creams. Too many creams!
Which beauty trend do you not 'get'? "Lip contouring." The one with all the lines drawn on the lips. I don't think it's necessary or effective.
Which discontinued product do you mourn? Armani Cream foundation.
What trend do you look back on with regret? Overly tweezed and/or thin brows.
What is your first go-to product or one you can't live without? I can't live without The Beauty Blender.
What are you currently obsessed with? Adele. She is perfection – her voice, her music, her face, her makeup.