8 Beauty Tricks from Kim Kardashian to Amp Up Your Routine
It's easier than you think.
---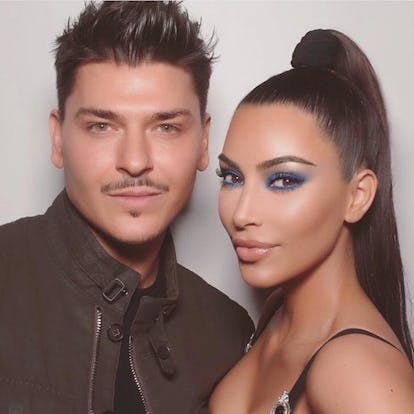 @kimkardashian
For Kim Kardashian, maintaining her status as one of the most recognized faces in the world of beauty and wellness can't be easy. From vampire facials to round-the-clock glam squads, a lot goes into her regimen. Yet while the social media mogul has been known to indulge in luxurious beauty treatments, her everyday routine is actually simpler than you think. Here, a closer look at Kardashian's best—and most achievable—beauty tips of all time.
Body Oil
The mother of three revealed to her fans on Snapchat that she uses body oil before exercising to prevent cellulite. "I heard if you put it on before you work out, you get really firm skin and no wrinkles."
Lasers
The secret to keeping her hands looking youthful? It's all about cool lasering for Kardashian. "Did cool laser on my hands to keep hands looking young!" she revealed on Snapchat.
Waist Trainer
Kardashian shared with W that her best-kept beauty secret is the infamous waist trainer. "Wear a girdle or waist trainer! I wore them a lot after I had my babies. I will even work out in them when I want to slim my waist out."
Microdermabrasion
"Microdermabrasion is such a good treatment option for anyone with sun damage, discoloration, acne scars and other blemishes," Kardashian noted on her KKW app. "I love doing this type of treatment during the spring and summer, as the sun can be SO damaging to the skin. This at-home tool deeply exfoliates the top layer of your skin to reveal brighter and smoother skin."
Exfoliating
At the U.S. launch of Madonna's MDNA skincare line in Los Angeles, Kardashian said that she inherited her low-maintenance exfoliating routine from her mother, Kris Jenner. "My mom learned you should exfoliate your face with a hot washcloth at every washing. She's seen the same facialist since she's been 18 years old." The reality TV mogul also pointed out the importance of staying hydrated: "I'm really big on moisturizer. I'm really big on the scent rose. I have rose mist by my bed. I'm a moisturizing freak. I'm a hydrated mom on the way to school."
Wrinkle Prevention
Kardashian took to her KKW app to recommend the use of retinol for preventive wrinkle use. "To combat wrinkles, you should begin using products that contain retinol. When using a retinoid, you must wear sunscreen every day. And, because the skin around the eyes is the thinnest and first to show signs of aging, it's also important to introduce a moisturizing eye cream to your skin regimen."
Contouring 101
When it comes to all things beauty, the makeup mogul is best known for her contouring technique. She shared with Allure in 2012 her step-by-step process: "I put on all my foundation first. I powder my face, then I put on concealer… and blend it with a pink egg-like sponge, the BeautyBlender. Then I contour all here—think of a three. I go cheekbones, under chin, then the top."
DIY Hair Color
Kardashian, who has experimented with different hair shades from pastel pink to platinum blonde, posted on her KKW app a DIY hair tip for a subtle change. "I wanted to fade my hair from a bright pink to a baby pink. I bought acidic vitamin C tablets, crushed them up and then put the powder into my shampoo. I left the shampoo on my hair for 20 minutes and rinsed. I was hoping my hair would eventually turn back to blond, but it left my color a slight pink tone, which I ended up loving!"
Selena Gomez, Kim Kardashian, And Adriana Lima Share Their Favorite Beauty Rules To Break
For singer Zendaya, a balance of drinking water and a consistent routine is key. "Just 'drinking more water' does not replace a skincare routine. It's good for you no doubt, but it will not make all your blemishes disappear overnight, especially for those with problem skin," she said.

@zendaya
Self-made beauty guru Kim Kardashian believes that, "the beauty myth that your brows should always match your hair" isn't something you have to follow. "I completely disagree. It can be more flattering if your brows are darker than your hair to warm up your face. Dark brows can be bold especially if your hair is platinum."

@kimkardashian
For Mexican actress Eiza Gonzalez, her beauty routine is all about staying natural, sharing that the use aggressive treatments and laser on your skin can be harsh and that "there's so many homemade remedies that will give equal result, but will just take a bit longer."

@eizagonzalez
Victoria's Secret Angel Romee Strijd doesn't believe that,"caffeine is bad for you skin, or that less is more when it comes to moisturizer."

@romeestrijd
For Big Little Lies actress Zoë Kravitz, her message is simple sharing that,"More makeup does not = more beautiful."

@zoeisabellakravitz
Brazilian beauty Adriana Lima believes that you don't, "need a facialist or dermatologist to have healthy and glowing skin".

@adrianalima
Model Sara Sampaio believes the beauty rule,"that you can't wear an eye and lip at the same time" should be broken. "You should always do whatever makes you happy—and there's a lot of cool make-up looks that include both!"

@sarasampaio
Less is more for model Bianca Balti. "People tend to say that the "more is better" but I disagree, we should all let our natural beauty shine, using makeup that enhances our natural glow and features is what is beautiful."

@biancabalti
Singer Selena Gomez shares a liberating beauty message, telling her fans," The beauty myth- an obsession with physical perfection that traps modern woman in an endless cycle of hopelessness, self consciousness, and self-hatred as she tries to fulfill society's impossible definition of flawless beauty. I chose to take care of myself because I want to, not to prove anything to anyone."

@marissa.marino