Eiza González's Beauty Routine Consists of Rock Climbing, Getting Regular Blood Tests, and Staying Far Away from the Sun
She also wears men's cologne and drinks green juice.
---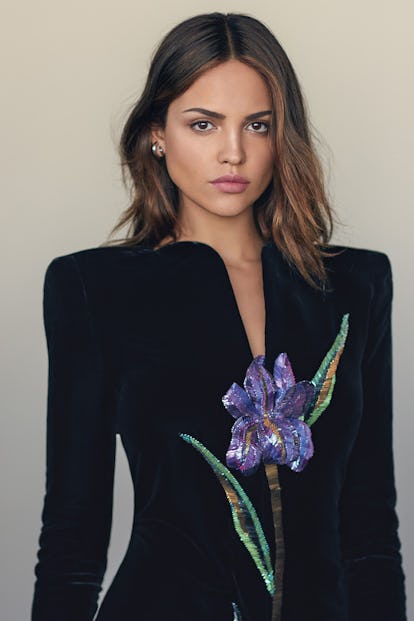 Saint Laurent by Anthony Vaccarello dress; Charlotte Chesnais earring. Photograph by Bruno Staub, Styled by William Graper; Hair by Ramsell Martinez for R+Co; Makeup by Stoj for Diorskin at Streeters; Digital Technician: Morgan Acaldo; photography assistant: Scott Turner; fashion assistant: Lucy Gaston; Production by Joey Battaglia at Rosco Production
Eiza González may get dolled up on the red carpet and on screen, but off-duty the 28-year-old actress rarely wears makeup. "My life motto outside of set is self-love," she says. "Love my skin, my hair, my body and be good to it. And keep it simple." That being said, González is anything but low-maintenance. The Baby Driver star believes in regular blood tests, high-intensity workouts, and a strict haircare routine. Here, she reveals the details of her beauty routine.
Good skin starts with:
Water! It's inexpensive and truly underestimated.
Best advice from your dermatologist:
Never suntan! Ten minutes in the sun on a daily basis is good to get vitamin D, but sun tanning is terrible for your skin. It dehydrates your skin, creates sunspots and can give you skin cancer. Protect your skin and always put on SPF. Also, you will accelerate your aging process. We never want that!
Best advice from your facialist:
Don't pick. Keep your hands away from your face. The less picking, the less long-term damage to your skin.
SPF of choice:
I love the Neutrogena Sport SPF. I'm always doing high-intensity workouts outdoors and I used to sweat off my SPF. This one is incredible and it's waterproof and stays all day long.
Makeup miracles:
Concealer, and I'm obsessed with the Neutrogena MoistureSmooth color sticks; cherry pink during the day and deep plum for going out.
Most underrated product:
Aloe Vera and coconut oil.
Never leave the house without:
Honestly, just a lip or maybe curling my lashes, but I try to not wear makeup on a daily basis.
A good hair day starts with:
Healthy hair!!!! I die over Olaplex. I change my hair color pretty often, but my hair colorist Matt Rez saved me from burning it down and takes care of it so much. After care is important. I sleep with Olaplex in my hair every time I can.
My hair colorist always says:
Don't over style. Healthy hair is evident and when you are working your hair goes through so much. My life motto outside of set is self-love. Love my skin, my hair, my body and be good to it. And keep it simple.
Nails must be:
Tom Bachik is a nail extraordinaire. He does my nails most of the time. It's all about balance. Give your nails a little breather every once in a while. I almost never use acrylics. Last time I did I ripped two of my real nails off. Fight scenes and fake nails don't get along.
Beauty from the inside out:
This is my forte. I'm obsessed with health. I get a blood test every six months to narrow down what could be causing fatigue, exhaustion, dark thoughts and obviously eventually how to be in my top shape. Blood doesn't lie. From vitamins that I'm lacking to natural foods, it's an educated guide to connect my physical internal and external look. Educating ourselves on what our body needs specifically to me is key because we spend so much time feeding our bodies the wrong things and over loading on vitamins can also be counterproductive.
Exercise obsession:
Julian Bah, my trainer, is what people would call a BEAST. I discovered and understood my key when I met him. He helps me elevate my testosterone levels with exercise and caters exactly to what my body needs. He's my nutritionist/guru of body. Also, I love outside activities. Rock climbing and surfing are two of my favorite things in life.
Drink of choice:
Green juice never goes wrong. If there's one thing your body can never get enough of it's greens. It helps with inflammation, eye sight, energy, and purifying your skin. The perks of green juice are endless and you can find incredible options nowadays .
A woman should smell like:
This is my secret (not anymore). I wear men's cologne. You can never go wrong. Women love it and men like it.
Appointment you'd love to nab:
Facial at Afterglow in Beverly Hills. I work with pretty incredible makeup artists like Amy Oresman, Patrick Ta and Vincent Oquendo, but I would love to work with Peter Phillips. Colorist Matt Rez is the best out there. He's in Mèche and he's equally talented but cares deeply for his clients. I'm so lucky to work with some of the best hairstylists. Adir Abergel and Bridget Brager have made some of the coolest looks I've ever seen from shaving Kristen Stewart's hair to the most beautiful up dos on any red carpet.
TSA-friendly essentials:
Blankets. Always. Anything cashmere to travel.
In-tub must-read:
Any neuroscience book is the death of me. I'm currently obsessed with The Moral Landscape from Sam Harris. He's a controversial writer addressing science and religion while talking about the deep undertaking of your brain.
Best advice from mom:
Be kind always. No matter the circumstances. Nothing prevails in life, but if you keep your moral compass in line your heart will always be full.
Best-kept beauty secret:
Protecting your skin from the sun.
Beauty myth you'd like to debunk:
The need to use aggressive treatments and laser on your skin. There's so many homemade remedies that will give equal result, but will just take a bit longer.
Definite doppelgänger:
Blanca Padilla. I remember the first year she did the Victoria's Secret Fashion Show, I was at a bar watching and she walked down the runway and everyone looked at me. All I said was, "I wish I had that body, guys. Come on!!!!"
Related: Meet Eiza González, Baby Driver's Scene-Stealing Outlaw