Meet Eiza González, Baby Driver's Scene-Stealing Outlaw
Among all the famous men—Jon Hamm, Kevin Spacey, Jamie Foxx, Ansel Elgort—in the new action-musical, the unknown 27-year-old Mexican actress is a revelation as a gun-toting bank robber.
---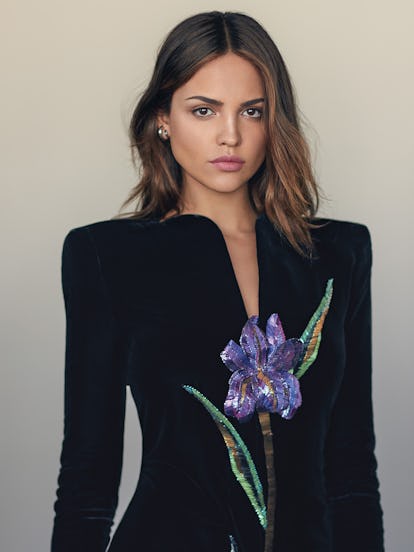 Photograph by Bruno Staub, Styled by William Graper; Hair by Ramsell Martinez for R+Co; Makeup by Stoj for Diorskin at Streeters; Digital Technician: Morgan Acaldo; photography assistant: Scott Turner; fashion assistant: Lucy Gaston; Production by Joey Battaglia at Rosco Production
There are a lot of ways Darling, Eiza Gonzalez's character in the new heist film Baby Driver, could be defined by the men who surround her. She's the sole woman on a four-person bank robbing team. She's married to Buddy, a fellow bank robber played by Jon Hamm. Even her code name, Darling, is a diminutive. And her fate sets off a string of events that leads to the final confrontation between Hamm's character and that of Ansel Elgort, playing a prodigious getaway driver (a "devil behind the wheel," Kevin Spacey's character calls him in the movie), code name: Baby.
And yet Baby Driver defies action-movie machismo. While there are fiery car crashes in spades, Darling is there slinging guns and robbing banks with the best of them, even if they are all men—and she does it in pink fur and gold doorknocker earrings that shout her name. She and Buddy form an inseparable, Bonnie and Clyde-esque duo, complete with matching "his" and "hers" tattoos inked across their jugulars. Their relationship, both personal and professional, is a balancing act, fueled by a healthy cocaine habit that keeps them coming back heist and heist again.
"That's why that relationship works in the movie, because they both see each other as equals," Gonzalez said. "I didn't want to be just a side piece."
The heist crew comprising Elgort, Gonzalez, and Hamm is rounded out by Jamie Foxx as a particularly cold-blooded robber named Bats, so called for his demented nature. Much of Baby Driver plays out on the road, from its vertiginous opening chase sequence with Baby, Buddy, and Darling to its closing scenes with Baby and Deborah, the diner waitress played by Lily James with whom Baby falls hopelessly, helplessly in love. Much of the shoot also took place inside those same cars, which presented its share of logistical challenges—and thrills.
"That face of fear on all of us is real," Gonzalez said of director Edgar Wright's practical stunts, in which the actors rode in cars with stunt drivers. "No acting in there."
Though she had shot guns on the set of Robert Rodriguez's From Dusk Till Dawn, in which she played Santanico Pandemonium, the role originated by Salma Hayek, Gonzalez had never fired machine guns like the ones on Baby Driver. "I didn't want to look weak next to them," Gonzalez said, admitting she was daunted by the prospect of walking onto a set with such "forces" as her well-established male co-stars.
But, as she reminded herself: "No one gifted it to me," she said. "I worked hard for this I proved myself."
Indeed, at 27 and already with more than a decade of experience onscreen in both the U.S. and her native Mexico, Gonzalez has become a proven talent. She began acting as a teenager, enrolling in an extracurricular program as a form of therapy shortly after the sudden death of her father in a motorcycle accident. At 16, after a grueling process that required no fewer than 12 auditions, she landed a coveted role as the eponymous lead of Lola, érase una vez, a Mexican remake of an Argentinian musical telenovela.
"Everyone wanted to get that role," Gonzalez recalled. Lola lasted a year; from there, Gonzalez went on to the telenovelas True Love and Sueña Conmigo, another musical, before the director Robert Rodriguez tapped her for From Dusk Till Dawn. The role, her first in English, also marked her transition from "the innocent, good, sweet girl," as she defined her telenovela characters, to more adult parts like Baby Driver's Darling.
"I went through this whole show discovering a lot of things that I had never done before," Gonzalez said. "I was like, 'Oh, I can do this, too, and not be embarrassed of it. I can be bad or evil on screen, and be sexy, or be more connected to my femininity."
Her role in Baby Driver put all this together. The film is just one of several new films, like the Charlize Theron action movie , that have thrillingly defied the conventions of their genres., that have thrillingly defied the conventions of their genres.
"I wanted to make her not the stereotypical character," Gonzalez said of Darling. "For me, that's the most important thing as a woman, and as a Latina—I think we have an obligation to educate the world."
Gonzalez has already begun work on her next project, the Robert Rodriguez-directed, James Cameron-written sci-fi movie Alita: Battle Angel, based on the '90s manga series Battle Angel Alita. Currently slated for a 2018 release, it also features Mahershala Ali, Michelle Rodriguez, Christoph Waltz, and Jennifer Connelly. But aside from the names attached to the film, Gonzalez is not giving away anything else about it.
"No! It's James Cameron. There's no way," she said. But, she assured me, "it's going to be really epic."
Charlize Theron still feels bad about the time she punched Teri Hatcher in the face: