Ansel Elgort Doesn't Want to be a "Hollywood Douche Bag," Even If You Think He is One
"I'm super easy to hate," the actor-DJ-artist told Billboard in a new cover story. But he's Ok with it.
---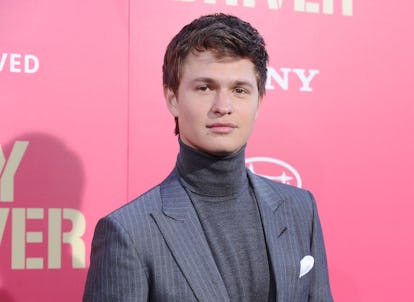 Jason LaVeris/Getty Images
Goofy heartthrob though he may be, there are plenty of reasons to poke fun at Ansel Elgort. To start, there's the fact that for the last few years, Elgort has also been moonlighting as Ansølo, an EDM DJ whom even Elgort himself has said is guilty of repeatedly "making the same 128 bpm club record."
There's also his wardrobe, which usually has him looking like the boy with the most merch, as well as occasionally a stray who walked off the set of Edward Scissorhands. Then there are all of his Instagrams canoodling with his ballerina girlfriend Violetta Komyshan, not to mention the way he sometimes talks about women. And lastly, there's the fact that he's one of the privileged New Yorkers currently gentrifying the neighborhood of Bedford-Stuyvesant, Brooklyn, where he bought a house fit for four families before he even hit his mid-twenties using a "big bonus" from The Fault in Our Stars.
If all that has you starting to get even just a bit annoyed—an emotion which, by the way, he has the perfect photo of himself for, thanks to his Anselfie emoji app—Elgort himself sympathizes. "I'm super easy to hate," he said in a new Billboard cover story, which follows him bounding around New York with Komyshan. "But it's fine. It's hard to be liked and successful."
That keen sense of self-awareness might just be why the actor-DJ-singer extraordinaire, who is eager and earnest enough in the rest of the story to merit adding "puppy" to his ever-growing list of hyphens, gifted us with so many gloriously uncensored quotes in the rest of the story that put him in serious competition with fellow wordsmith and multihyphenate teen id Jaden Smith. Take, for example, Elgort's delight at being able to bounce a basketball on the herringbone wood floors of his cavernous bachelor pad: "My whole life, I lived in an apartment where I couldn't bounce a ball without getting into trouble. Now I can bounce a ball!"
It's quickly clear that free dribbling isn't all Elgort loves: "extremely solid" lunch places like Le Pain Quotidien, bar mitzvahs that are "lit," painting tiny warrior miniatures, "going ape s–t" at EDM concerts, jumping up and down, and showing off videos of himself jumping up and down, are all high up there, too.
But most of all, Elgort seems to love being being Ansel Elgort, especially as he's been working harder and harder toward making his career "uncategorizable," with the preternatural self confidence found in only the best of scions. (His father is the pioneering fashion photographer Arthur Elgort.)
10 Reasons to Follow Goofy Heartthrob Ansel Elgort In 2017
His father is the famous fashion photographer, Arthur Elgort
He has a beautiful girlfriend named Violetta Komyshan, who is a dancer
He has friends like Jaden Smith and Joe Jonas
He loves basketball and you can often find him court-side
Or doing any physical activity, really
He rides the subway (incognito) just like us
He wears very small swim trunks
He has a very simple beauty routine
He knows how to make good use of a paparazzi photo
Still, even as he launches a new singing career and prepares to break even more hearts with his already acclaimed role as a Wayfarer-wearing, "soft-spoken badass" in Edgar Wright's upcoming film Baby Driver—Warren Beatty and Steven Spielberg have already declared themselves major fans—Elgort is doing his best to stay immune to celebrity.
He didn't even recognize Frank Ocean when the singer approached him at the Met Ball to appraise his rendition of "City of Stars" from La La Land, even if Elgort usually keeps company with a roster of musician friends like Ed Sheeran and the Chainsmokers.
Elgort seems to take criticism of the latter particularly personally: "I've also been there. It becomes a meme to hate somebody. But don't be like, 'They seem like they're so bro-y.' They were never trying to fool anyone into thinking they weren't bro-y.'"
Having already landed himself millions of followers at age 23, though, Elgort, promises not to start furrowing his brow and wearing black suits on the red carpet. Instead, he's preferring to act more like his idols, "both leading men and character actors" like Joaquin Phoenix, when it comes to fame.
"I don't walk around calling attention to myself. It's important to be able to blend in; otherwise you turn into a Hollywood douche bag," he said. "I'm sure plenty of people think I am one, too."
Related: The Elgorts in Africa: Exclusive Images From Sophie, Ansel and Arthur's Breathtaking Safari
See Ansel Elgort and 3 More Young Stars Share The Best Advice They've Ever Received: