Elizabeth Banks Called Out Steven Spielberg For Lack of Female Leads in His Movies
Elizabeth Banks wasn't afraid to criticize America's Hollywood uncle, Steven Spielberg, for his dismal track record with casting female leads.
---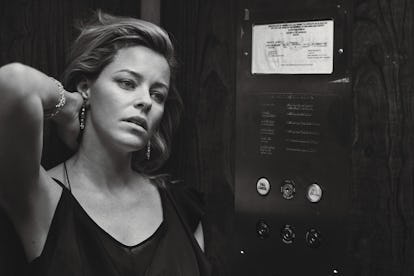 Who doesn't like Steven Spielberg? The guy is Hollywood personified. He can change go from big-budget blockbuster to prestige Oscar dramas like few others, and there's probably few people alive who wouldn't consider at least a few of his films for a spot in their personal top 100. He's basically America's beloved show business uncle.
Yet, that doesn't mean Spielberg is above criticism. AActress and fellow director Elizabeth Banks recently called out a big blind spot in the Spielberg oeuvre: a stunning lack of female leads.
Banks was an honoree at last night's Women in Film Crystal + Lucy Awards in Los Angeles, and used her speech to call out Hollywood's boys club. "I went to Indiana Jones and Jaws and every movie Steven Spielberg ever made, and by the way, he's never made a movie with a female lead," said Banks, according to Deadline. "Sorry, Steven. I don't mean to call your ass out, but it's true."
She also took the opportunity to call out men who might not want to see female-lead films and even parents who are hesitant to take their sons, saying, "I grew up going to see amazing movies with amazing men at the heart of them and no one dragged me screaming and kicking to see these movies. They are great movies. Tell great stories and invite people into the stories. And this woman in the audience [of a panel discussion Banks was a part of], said, 'Do you have children?' At the time, I did not. And she said, 'Well, I have two boys. And it's nearly impossible to get them to be excited about a movie about girls."
As for the Spielberg call-out, Deadline did point out that someone in the audience yelled out that he directed The Color Purple, and there was some confusion in the moment whether he directed or just produced, but in fact he was the director. The 1985 movie starred Whoopi Goldberg. He also directed the Goldie Hawn-starring The Sugarland Express all the way back in 1974, but those films are the exceptions that prove the rule. They were made 30 and 40 years ago respectively, and came before he became the most powerful of Hollywood power players, who could get anything made he wishes. It's not that Spielberg hasn't had strong female characters in supporting or ensemble roles in his movies, but it's telling he's made more films that had dinosaurs front and center on the poster than women.
Of course, Spielberg is far from the only Hollywood A-list director who has a bad female-lead track record. See Martin Scorsese's last movie with an actress receiving top billing: 1974's Alice Doesn't Live Here Anymore (starring Ellen Burstyn). Or Francis Ford Coppola's biggest contribution to female-led film (well, aside from raising his daughter): 1986's Peggy Sue Got Married.
The fact that there's so many male directors who have had great success with multiple films with female main characters (and that includes ultra-bro directors like Alfred Hitchcock and Quentin Tarantino) only makes directors who aren't into female-driven narratives even odder.
Well, at least Spielberg's next movie will star Meryl Streep, though she'll have to share top billing with Tom Hanks.
As for Banks, she's doing her part. Fresh off directing Pitch Perfect 2, she's set to helm a reboot of Charlie's Angels.
Elizabeth Banks Performs Drake's "Hotline Bling":