What to Watch, Stream and Listen to in June 2017: An In & Out Pop Culture Guide
Netflix, Sofia Coppola and, uh, Steve Harvey are dominating the cultural landscape of June.
---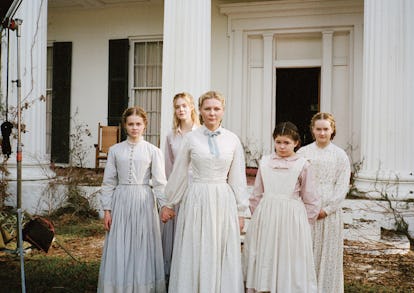 Courtesy of Sofia Coppola
In this special monthly edition of In & Out, we're looking a full month ahead and sorting through June's cultural calendar for you. Here's our picks for what you'll need to consume to keep up with polite dinner party conversation, what you'll be secretly binging late at night, and what's best to just avoid.
For daily In & Out content subscribe to the newsletter here.
What You Need to Know:
Film: June may be home to more than a few summer blockbusters, but this year its also home to the general release of a whole lot of buzzy films that previously conquered the festival circuit. First and foremost, there's The Beguiled, the film that got Sofia Coppola the best director award at the Cannes Film Festival last month. The Southern Gothic drama features Elle Fanning, Nicole Kidman and Kirsten Dunst as staff and students at an all-girls boarding school during the Civil War who all get a bit crazed when a wounded man (Colin Farrell) seeks refuge. That same day also sees the release of another female director's eerie festival hit in Ana Lily Amirpour's The Bad Batch. Suki Waterhouse stars alongside some surprising turns by Jason Momoa, Keanu Reeves and a barely recognizable Jim Carrey. Baby Driver, the most talked about film of SXSW, bows on June 28th and finds Ansel Elgort as a getaway driver trying to go clean (this also features a star-studded supporting cast in Kevin Spacey, Lily James, Jamie Foxx and Jon Hamm). Sundance standout The Hero (out June 9th) is mostly getting buzz for Sam Elliott's standout performance as an aging pot-smoking country singer. Raved about Portuguese film The Ornithologist also makes a limited American bow on June 23rd.
Television: What to make of Okja, the Tilda Swinton-starring creature flick from Korean auteur Bong Joon Ho that will premiere on Netflix? Does it belong in the television category as a made-for-TV movie or in the outright movie category? The jury openly grappled with a similar question when it premiered at Cannes, but since our movie category is already jampacked, we'll just place it here. In any case, you should see it on June 28th. Also of non-series note on Netflix, Oh, Hello on Broadway, a taping of the final performance of comedians Nick Kroll and John Mulaney's beloved play about two elderly Upper West Side residents, hits on June 13th. And, apparently because this month belongs to Netflix, Gypsy, which stars Naomi Watts as an unethical, sex-crazed Manhattan therapist, certainly seems intriguing.
Music: Much buzzed neo-R&B singer SZA makes her full-length debut with Ctrl on June 9th. Single "Love Galore" with Travis Scott is a smooth radio-friendly track, but for a taste of what she can really do check out lead single "Drew Barrymore." French band Phoenix, AKA Sofia Coppola's husband's band, finally returns that day as well with Ti Amo. Beth Ditto, the charismatic and big voiced lead singer of The Gossip, has treaded out on her own before (her 2011 self-titled dance EP had some under-appreciated club bangers), but finally makes a full-length solo statement on June 16th with Fake Sugar. There's influence of country and Pat Benatar running through the tracks that have been released so far; in other words, it might be the album Lady Gaga was trying to make.
What You'll Actually Enjoy:
Film: Hey, we still have one more festival hit leftover for this category: Sundance smash The Big Sick on June 23rd. It's an unconventional rom-com co-written and starring Kumail Nanjiani. He plays a character who forms a bond with his ex-girlfriend's father, played by a surprising Ray Romano, after she falls into a coma. As for more mainstream fear: there's bad girl comedy **[Rough Night**](https://www.wmagazine.com/story/rough-night-trailer), which find Scarlett Johansson, Zoë Kravitz, and Kate McKinnon dealing with a dead male stripper in Miami (who amongst us hasn't?). Look for it June 16th. Of course, obviously, if you haven't already seen the astoundingly well received Wonder Woman this weekend, make time for it sometime this month. Also of note on June 30th, Amy Poehler and Will Ferrell's The House, which finds the pair as a married couple running an illegal casino out of their basement. No early critical buzz on that, but it might be at least dumb fun.
Television: TNT's Claws finally gives Emmy-nominated Niecy Nash the juicy lead role she deserves as the owner of a mafia-connected Florida nail salon trying to go clean. You can thank producer Rashida Jones for that when it premieres June 11th. Netflix's GLOW also looks like bad girl fun, what with its campy '80s women's professional wrestling setting. When it debuts June 23rd it will mark Orange is the New Black creator Jenji Kohan's second series for the streamer. VH1's Daytime Divas, a satirical take on the behind the scenes drama of a View-type show premiering tomorrow June 5th, could provide a similar guilty pleasure, but early reviews mostly boil down to 'Well, Vanessa Williams is always great, isn't she?' For something completely different, there's Showtime's drama about '70s comedy, I'm Dying Up Here, which is produced by Jim Carrey on June 4th.
Music: Right, right, Katy Perry's Witness finally comes out June 9th, her supposed conscious pop reinvention, but perhaps it's Lorde's return the following week with Melodrama that people are more eager for.
What You Can Ignore:
Film: So many sequels this month, and if you're into these franchises, then by all means keep up. If you're not, well, there's more than enough other options. Still, we'll note there's yet another Transformers movies on June 21st (this one subtitled _The Last Knight, which probably does not indicate it's the last movie) and a third Despicable Me on June 30th. Amityville: The Awakening_ (somehow the 19th film in The Amityville Horror saga) also hits June 30th with Scott Disick-victim Bella Thorne in the lead role.
Music: Turns out Nickleback has a new album coming out this month called Feed the Machine, which really comes in handy for categories like this.
Television: So much cheap summer programing trash hits the networks this month in the form of bad reality television shows and primetime game shows and it really would be unfair to pick out just one as representative, so let's just just go with the very Steve Harvey-hosted show premiering this month. There's the return of Celebrity Family Feud in primetime on ABC on June 11th. Then, on June 21st, NBC has Little Big Shots: Forever Young, a spin-off of Harvey's toddler talent show Little Big Shots, except this one showcases the hidden talents of the elderly. If that wasn't enough for you, back on ABC and also on June 11th, there's the all-new Steve Harvey's Funderdome, which lets a studio audience decide which small businesses need an injection of cash. Yes folks, three Steve Harvey primetime shows this month. It's certainly June!
See What's Trending in W Video: