This Week, Ashley Benson, Jamie Foxx, Hailee Steinfeld, and Jeremy Piven Teamed Up for An Unlikely Collaboration
All the party pictures you missed this week.
---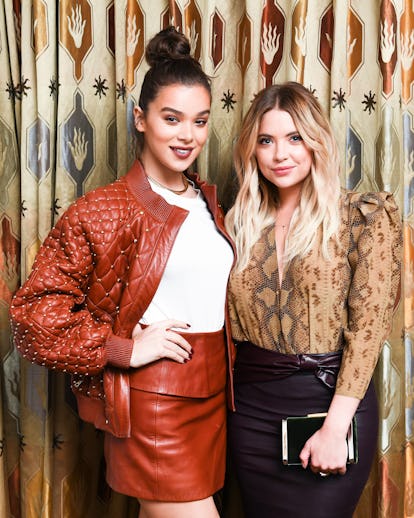 Billy Farrell/BFA.com
With Cannes wrapping up, celebrities returned stateside this week, where the parties raged on on both coasts. In Los Angeles, a surprising quartet of stars—Jeremy Piven, Ashley Benson, Jamie Foxx, and Hailee Steinfeld—launched a new line of affordable sunglasses, Privé Revaux, with a party at the Chateau Marmont. The collection, available on Amazon, clocks in at just $29.95 a pair—of course, if you follow any of the stars on Instagram, you are well aware of that at this point. Meanwhile, in New York, the Loewe Foundation celebrated the opening of its Craft Prize exhibition with a cocktail party that attracted designers and models alike, while the gala circuit charged ahead with the New York Botanical Garden's annual Conservatory Ball. And just across the pond, Alexa Chung feted the debut of her highly anticipated eponymous collection in London with a full-scale runway show and after party. Here, all the pictures from all the parties you may have missed this week.
Ashley Benson, Hailee Steinfeld, and Jamie Foxx celebrated the launch of their new eyeglass line, Privé Revaux, at the Chateau Marmont.
Also in attendance was A$AP Rocky, checking out the sunglasses which retail for $29.95.
Alexa Chung led the finale for the debut runway show of her namesake collection in London.
Constance Jablonski and Anja Rubik came out to support pal Sofia Sanchez de Betak with an intimate dinner at her home to celebrate her own new fashion collection.
Tory Burch attended the Loewe Foundation Craft Prize Opening Exhibition at Chamber, which showcases the work of 26 artisans.
The opening night also brought out a slew of models, including Vanessa Axente, Saskia de Brauw, Julia Bergshoeff, and Trish Goff.
Jerry and Jessica Seinfeld made an appearance at a charity event in New York City.
Roopal Patel attended ACRIA's Leap for Girls 2017 luncheon.
Linda Fargo caught up with socialite Becca Cason Thrash, both in their best and brightest, at the New York Botanical Garden's annual Conservatory Ball.
And Celine and Maxfield hosted premiered a new exhibition in the Prouve Structure Nomade at Maxfield in Los Angeles, for those who want their fashion with a side of art gallery.
Hailee Steinfeld's First Kiss Was On Screen: "Yeah, I Was Nervous!"