Ashley Benson On Pretty Little Liars, Skincare, And Doing Yoga In Costa Rica
The actress opens up about her favorite skincare products and beauty advice.
---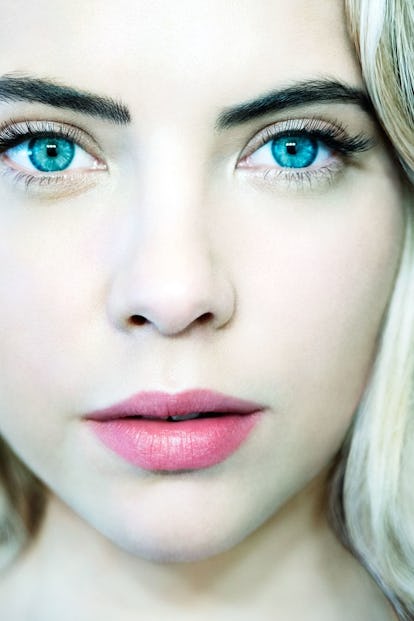 Photographer: Pari Dukovic, Stylist: Patrick Mackie
With her piercing blue eyes and luminous skin, Ashley Benson has truly perfected the "no makeup" look. As one of the leading ladies of the hit show Pretty Little Liars, Benson opened up about nearing the end of the series explaining, "It's been bittersweet and we are excited for the for the show to come to an end and I think it ended at a really good time."
As the hit show rounds out its final few episodes, Benson revealed, "We really did create an amazing family, so that's what I'm going to miss the most. The crew and everyone involved in the show were some of the best people I have ever met and worked with."
And as for life after Pretty Little Liars, the actress who recently moved to New York City, said, "I want to be specific in what my next move is, I want to get into film more just because I have been doing TV for so long."
Here, the star opens up about her favorite beauty products, exercise obsessions, and her ultimate spa getaway.
Your look in three words:
It changes all the time; it's a mix of edgy, a classic feel and comfy.
Medicine cabinet snapshot:
I have been using everything from Tata Harper. I use all the masks, serums and face wash and it has been so great for my skin. It makes you feel really fresh and gives you a glowy look, I'm obsessed.
Good skin starts with:
Tata Harper face wash, face cream and eye cream. It makes your skin look really healthy and have a glow, that's the look I like because I don't like to wear a lot of makeup.
Best advice from your dermatologist:
Always remember to wash your face.
Best advice from your facialist:
Don't touch your skin, especially if you have a breakout, it can make it worse and you can break out in other areas, so leave it alone as annoying as that is.
Makeup miracles:
Givenchy makes this great foundation, Photo'Perfexion Fluid Foundation. It makes your skin look very natural and it's a very light foundation which is nice for the "no makeup" look, which I tend to do a lot.
Most underrated product:
Coconut oil. I use it as a moisturizer, a hair mask, to remove eye makeup or all over my body for a sheen.
Never leave the house without:
I love always having a good brow moment, so I always make sure to put on eyebrow gel, concealer and chapstick.
A good hair day starts with:
I love Oribe, especially the dry shampoo if you don't have time to wash your hair. It really works well for me, because I have extensions from time to time so it helps make everything look really fresh.
My hair colorist always says:
I go into the salon a lot because I have been from blonde to brown quite a few times, so they always make sure to do treatments on my hair. I tend to put more oil on the parts that bleached, mostly my ends. Also, not putting a lot of heat on your hair, try it wear it as natural as possible because with the color and styling, my hair tends to break off a little bit easier because it's more fragile from years of hair and makeup.
Nails must be:
OPI Bubble Bath. It's so clean and chic.
Beauty from the inside out:
Workout, eat as clean as possible, and drinks lots of water. Even though I would rather have coffee and tea all day long than water, I've noticed that when I drink a lot of water my skin is better and everything about you feels better and hydrated.
Exercise obsession:
I love to box and do pilates and soul cycle. I like to do a mix so you are working out different parts and not doing the same thing everyday.
Drink of choice:
For smoothies, I'm obsessed with peanut butter. I'll get a smoothie with one banana, almond milk and a tablespoon of peanut butter for breakfast and it will keep me really full, it's so delicious. For coffee, I do black coffee with coconut milk.
A woman should smell like:
Anything from Le Labo. Right now, I'm obsessed with Molecule and get so many compliments from the scent.
Spa-cation at:
Perrey Reeves has this amazing yoga retreat in Costa Rica (The Sanctuary at Two Rivers). It's very quiet so it's a good place for you to do a spa retreat, the water is beautiful and they have a week long retreat, so it's one thing I really want to try and do this summer.
TSA-friendly essentials:
I keep a little care package for the plane, so I do hand sanitizer, wipes, Kiehl's eye mask, Sephora face sheet masks, and pimple cream.
In-tub must-read:
Right now, I'm reading Big Little Lies.
Best advice from mom:
Be confident, always wash your face, and never pop your pimples.
Best-kept beauty secret:
Sleep. I always try to get at least 8 hours at sleep, you always look more fresh when you have a good amount of sleep and you feel better.
Celebrity doppelgänger:
I get a lot of references to a younger Scarlett Johansson and little bit of Margot Robbie.
The Prettiest Red Carpet Looks by the Cast of Pretty Little Liars
Lucy Hale arrives at the 2010 MTV Movie Awards wearing a mini dress with chunky heels and a matching necklace.

Getty
Shay Mitchell attends the DKNY Spring 2012 fashion show during Mercedes-Benz Fashion Week.

Getty
Ashley Benson and Shay Mitchell arrive for the 3rd Annual Los Angeles Haunted Hayride VIP Premiere Night.

Getty
Lucy Hale, Troian Bellisario, Kat Graham, Ashley Benson, and Shay Mitchell attend the 2011 Young Hollywood Awards.

Getty
Ashley Benson arrives for Ubisoft Presents The Launch Of Just Dance 4 in a sheer top and ripped jeans.

Getty
Troian Bellisario arrives at the ABC Family West Coast Upfronts party in a sparrow-printed dress.

Getty
Ashley Benson, Lucy Hale and Troian Bellisario arrive at the Pretty Little Liars celebrates Halloween episode watch party.

Getty
Lucy Hale attends the 48th annual CMA Awards at the Bridgestone Arena in a stunning red gown.

Getty
Sasha Pieterse poses with the Choice TV Drama award for Pretty Little Liars at the 2014 Teen Choice Awards,

Getty
Troian Bellisario attends the 2014 Creative Arts Emmy Awards in a lace and tulle gown.

Getty
hay Mitchell attends the MTV EMA's 2015 in a cream gown with a matching choker.

Getty
Lucy Hale, Ashley Benson, Vanessa Ray, Ian Harding, Janel Parrish, and Shay Mitchell take home the award for Choice TV Drama Show.

Getty
Troian Bellisario, Shay Mitchell, Ian Harding, Lucy Hale and Ashley Benson pose in the press room during the People's Choice Awards 2016.

Getty
Shay Mitchell attends the Open Roads World Premiere of Mother's Day in a pale-hued dress.

Getty
Lucy Hale attends the celebration for Pretty Little Liars final season in a revealing crop top.

Getty
Ashley Benson attends the celebration for Pretty Little Liars final season in a lace-up jumpsuit.

Getty
Ashley Benson, Tyler Blackburn, Janel Parrish, Sasha Pieterse, Shay Mitchell, Ian Harding and Andrea Parker attend The Paley Center for Media's 34th Annual PaleyFest.

Getty
Shay Mitchell arrives at an event in Los Angeles in a revealing cut-out jumpsuit.

Getty
Lucy Hale attends a fan event in a mixed polka dot dress with bright blue pumps.

Getty
Troian Bellisario, Ashley Benson, I. Marlene King, Shay Mitchell, Lucy Hale, and Sasha Pieterse attend the Freeform 2017 Upfront.

Getty
Ashley Benson attends the 70th Anniversary screening during the 70th annual Cannes Film Festival at Palais des Festivals on May 23, 2017 in Cannes, France.

Getty
Lucy Hale attends the 2017 CW Upfront on May 18, 2017 in New York City.

Getty
Shay Mitchell attends the Warner Bros. Studio Tour Hollywood launches "Pretty Little Liars: Made Here" held at Warner Bros. Studios on June 14, 2017 in Burbank, California.

Getty
Troian Bellisario attends the 15th Annual Benefit Gala, 'An Evening Unmasking Eating Disorders' hosted by The National Eating Disorder Association at The Pierre Hotel on June 15, 2017 in New York City.

Getty
Ashley Benson attends the 2017 CFDA Fashion Awards at Hammerstein Ballroom on June 5, 2017 in New York City.

Getty
Lucy Hale attends The Tenth Annual Veuve Clicquot Polo Classic – Arrivals at Liberty State Park on June 3, 2017 in Jersey City, New Jersey

Getty
Shay Mitchell arrives at the 2017 iHeartRADIO MuchMusic Video Awards at MuchMusic HQ on June 18, 2017 in Toronto, Canada.

Getty