Sofia Sanchez de Betak Wants You To Wear Gaucho Pants And Poncho Vests This Summer
The art director explains the inspirations behind her new clothing line, Chufy, including her most extravagant vacation ever.
---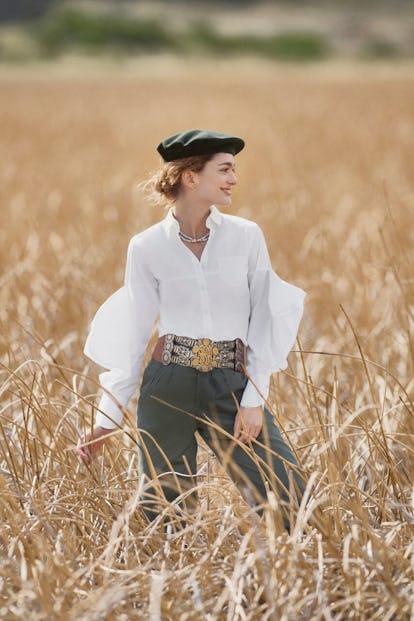 Growing up in Buenos Aires, art director and fashionista Sofia Sanchez de Betak would take weekend trips to the Argentinian countryside to go fly fishing and horseback riding by the river with her family. It's no surprise then that she chose Patagonia, the idyllic mountainous region at the southern end of South America as her inspiration and look book location for her debut ready-to-wear line, Chufy, named after her Instagram handle. "It's pure paradise, it's a place really close to my heart," explains the 32-year-old designer, who's collection launches tomorrow at Bergdorf Goodman. The collection features classic Argentinian styles she embellished with her unique touch, such as linen gaucho pants, wool ponchos, embroidered blouses, and leather accessories. As an ode to her explorative spirit, the shop will exhibit photos from de Betak's personal travels and adventures, highlighting the world's most mesmerizing destinations. Here, de Betak breaks down the new collection, as well as some of her fabulous vacations that inspired it.
Was there a particular item that inspired the collection?
My old and worn-in bombachas de campo (gaucho pants) my grandmother gave me years ago. I went on a riding safari to Kenya last year and everyone in the group wanted them!
What is the most versatile item from the collection, something you can wear anywhere?
The poncho vest, I take it everywhere, as it is warm and at the same time very fresh and easy to layer.
Favorite part about Patagonia?
The lakes district, I've been going there for ages and love its virgin beauty.
What kind of woman do you envision wearing the collection?
A very multifaceted woman, an adventurer with a wild urge for exploring, learning and having fun!
How has Argentina influenced your personal style?
It has a lot! It is the place where I grew up, so spending a lot of time in the Argentinian countryside has made me very sensitive to nature. I love riding horses, hiking, and fishing, and despite living in New York now, I always feel I look like I'm in the countryside.
How is the collection inspired by Patagonia?
It relates to different aspects of Argentina, it has some tango inspiration, some polo, some gaucho… I've brought in the Argentinian flag and the crest, as well as local animals such as the puma, the Hornero bird, and the condor.
What is your dream Argentinian vacation you are dying to do?
Argentina is so big and varied I still have a lot to explore! I would like to return to the north as I haven't been there in a while, Jujuy, Salta, Formosa… these provinces are very different to the rest of the country, and artisans have very strong aesthetics there.
What trip are you currently lusting over?
I would love to do the Trans-Siberian train, visit India or cruise the Amazonas in Peru.
What was your most extravagant vacation?
I am not the lavish type I have to say. I enjoy luxury, but not when it comes to exploring a new country; sometimes luxury pulls you away from the real world and you miss the interaction with the local customs, which is a shame when you've made it so far. To me a lush lavish holiday is that one where you are surrounded by only nature, no trace of civilization, good homemade food, a cozy fireplace, and no phone reception. I have had this kind of holiday in Patagonia, Turkey, Kenya and Japan.
What has been your most dreamy vacation destination Instagram photo?
Riding in the Masai Mara.
What is your post- plane hydration technique?
Lots of water, Clinique Moisture Surge, and Caudalie spray.
What is your standard travel outfit?
I always travel in my Mallorcan collection maxi dresses, and then slip on a pajama pant underneath
What are 3 of your main travel essentials?
My camera, sunglasses, and comfortable shoes.
Watch W's top videos, here: