Joan Smalls' Tips for Good Shopping and Bargaining in India
The supermodel goes on a shopping adventure in Goa, India, and shares her tips for walking away with the best bargains.
---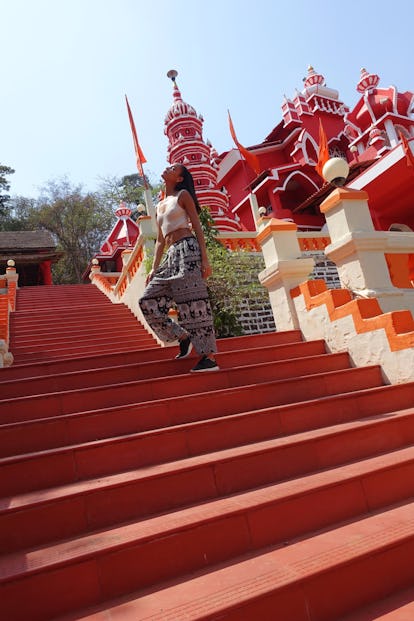 The first thing you notice when shopping with Joan Smalls is that she's very decisive. Like a highly trained assassin, she'll spot her prey immediately—in this case, a flowy, one-size-fits-all black and white striped sundress—make initial contact and then just yank it off the rack to hold it up against her 5'10 frame.
Then it's a careful dance—a stroll to take in the rest of the offerings, an occasional graze of another piece. But in the end, it's that first piece that ends up leaving the store with the supermodel, destined for a life living amongst other, carefully selected (if not gifted directly from the designer personally) garments that live in her closet.
It makes sense, once you think about it. Fashion has been Smalls' domain for a decade, since she signed her first modeling contract. Over the past ten years, Smalls, who is originally from Puerto Rico, has emerged as one modeling's biggest names, scoring endless magazine covers and advertising campaigns, a beauty contract with Estée Lauder, and, most recently, a gig as W Hotels (no relation to W magazine) first "Global Fashion Innovator," a role which will see Smalls making plenty of trips to the hotel's various properties across the globe and generally extending the halo of her supermodel beauty and profile
It's her first official assignment as ambassador that brought her to Goa, India, where the hotel chain recently opened W Goa, a new beachside resort, to check out the local fashion scene. Surprisingly, when you consider that this is a top model whose job takes her across the globe on a weekly basis, the trip also marked Smalls' first trip to India.
"It has always been on the top of my list of destinations because it's a place that's so rich with culture and beauty all around," she said.
But shopping is a universal language, and Smalls is fluent. As we went from shop to shop, that much was abundantly clear. "When I'm shopping in a foreign place, I'm looking for something that will always remind me of when I was there, [something] that creates lasting memories. It can be something so small, but it's still so significant," she said.
Over the course of our four-hour excursion, which included a stop for lunch and cocktails, as well as a roadside stop for fresh coconut water, Smalls morphs into something of a cultural anthropologist, talking to each shop owner that we encounter.
"The attention to details and their creativity certainly stood out," she finally concluded about what sets Indian shopping apart. "From the color of a wall to a dress being hung next to an art piece, it just created this special mood in the stores."
At the end of the trip, Smalls returned back to the hotel with two flowy dresses, "that just remind me of being in a tropical place and on vacation." The 96-degree weather on this particular day certainly was a contributing factor, as well.
Here, a guide to the best, Joan Smalls-approved shopping in Goa, India, just in time for your next trip:
The Anjuna Flea Market
Why: Held on Wednesday afternoons, this open air market is a must-go for natives and tourists alike. The outpost sells everything from fruit to electronics to jewelry, so come with an open mind and comfortable walking shoes—and the mindset to negotiate prices. "The sellers are very aggressive—and convincing at that," said Smalls. "It's more intense than New York City."
Shopping tip: Bargain, bargain, bargain—it's expected.
What to buy: Loose fitting pants and dresses will help to beat the heat, and typically ring in under ten dollars.
Paper Boat Collective
Why: The lifestyle concept store is filled with home goods to outfit every part of your house. Built in 2013 to showcase the work of Indian designers, the store is the place to go to discover up-and-coming artisans. The space itself is home-like in itself, with plenty of nooks and crannies to explore.
Shopping tip: Don't just stay inside. The entrance of the store features a relaxing porch covered in garlands and picnic tables, perfect for a post-shopping sit-down or Instagram opportunity.
What to buy: Ceramics are supremely popular in India, and the store's extensive offerings make it easy for one-stop souvenir shopping.
Flame
Why: German designer and store owner Martino Caramia has an eye for cutting-edge, yet wearable designs, which is evident in the shop's offerings—as well as the welcoming, open-air floor plan. "The merchandise is vibrant and color coordinated, which was a nice design touch, and made it much easier to shop and seek out those special fashion finds to being home," Smalls noted.
Shopping tip: Come hungry. The shop is situated in front of Thalassa, a popular Greek restaurant that offers some of the best views of the city.
What to buy: Bright colored sundresses that Caramia crafts using locally sourced fabrics.
Sacha
Why: A former writer and stylist for Elle and GQ India, Sacha Mendes founded her namesake store after living in Bombay for several years. The location itself is attached to her childhood home—where her parents still live. "It's a great backstory with more of a local feel to her pieces," said Smalls. As for those pieces? Cool, one-of-a-kind feeling separates and accessories you'd expect from a former stylist.
Shopping tip: Ask for Sacha. The store owner is filled with stories about life in Goa, and has a sense of personal style and laid back attitude that will make you instantly want to be her best friend.
What to buy: Jewelry is the way to go here, particularly the bold, oversized metal earrings. Phoebe Philo, take note.
Related: Joan Smalls explains what it takes to be a supermodel: