Bella Hadid's Makeup Artist On How To Achieve the Ultimate "No Makeup" Look
Makeup artist Vincent Oquendo breaks down how to the achieve the ultimate "no makeup" look.
---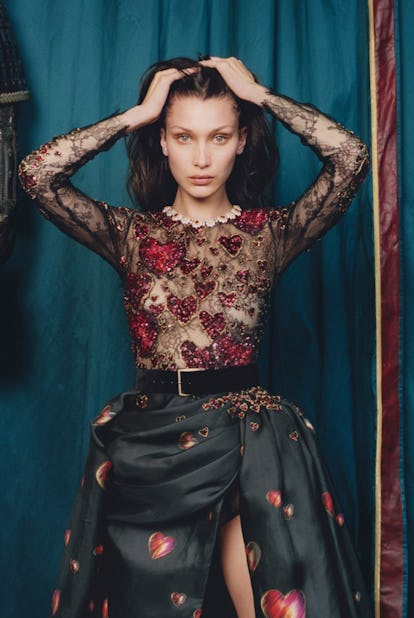 Photographs by Venetia Scott, Styled by Edward Enninful
With the winter season officially in full swing, simultaneously trying to achieve healthy and hydrated skin with an effortless makeup look can be the ultimate balancing act. Luckily, thanks to celebrity makeup artist Vincent Oquendo, whose impressive clientele of supermodels and A-list actresses ranges from the Victoria's Secret Angels to Bella Hadid and Lily Collins, is here to explain how to achieve just that. From his detailed skincare techniques to his current beauty obsessions, here, Oquendo breaks down how to pull off the ultimate winter "no makeup" look.
How do you prep the skin before makeup?
For me, I'm a big fans of tools. Typically most people wake up sort of puffy, especially actors and models because they are constantly traveling, so you want to increase circulation in your skin, and bring the blood to the surface level of your skin because it will give your skin a bit more life. [Facialist] Georgia Louise makes a couple of tools that give you a facial massage; one is this pink quartz Lift + Scuplt Butterfly Stone that you can keep in the refrigerator. The curves of it fit the curve of your face, so you use it under your cheekbone and jawline and it promotes lymphatic drainage which then is going to sculpt your skin and bring the blood level to the surface of skin. I find, as well, that whenever I use foundation after that or skincare, it tends to glide on a little easier. It's kind of like a morning stretch for your skin. Usually in terms of skincare, I'll use Dr. Barbara Sturm's Hyaluronic Serum. It works for any skin type because it's hyaluronic acid, and it just gives the skin that subtle glow underneath the makeup. After, you layer any moisturizer you want over it. I love Charlotte Tilbury's Magic Cream just because it's a basic moisturizing cream and it doesn't make the skin too greasy before makeup.
Does does makeup need to be heavier in the winter?
I don't necessarily feel like it needs to be heavier. I love maximum wearability—things that give you the most bang for your buck and it's not a lot of work. If I have a long wear foundation—Chanel just came out with one that I love and Dior has their new Forever Undercover 24H Foundation—I'll mix it with my moisturizer and buff on the skin with a fluffy brush so it kind of gives you this fresh, whipped veil of makeup over the skin.
What common mistakes do you see people make when creating the "no makeup" look?
The key thing about mastering a "no makeup" look is not that there's actually no makeup, but that it's done masterfully with precision. It's all about a balance. So when are having your meal, you have your salty and your sweet, and that's what gives you that well-rounded flavor and experience. For every glowy product, you have a matte product to balance it out. If I'm doing a matte eyeshadow, then I want to highlight the inner corner and lid with a satin finish eyeshadow. Let's say I'm doing the Nars Sheer Glow Foundation, I will put that all over the skin and now the concealer I choose is probably going to be the Laura Mercier Camouflage because it's a little bit of dryer texture. Otherwise, if I went with a glowy foundation and a creamy concealer, it's too much slip, so there's no grab. Then I'll take a loose powder and powder her T-zone, and then decide where I want to pop. I'll take a creamy highlighter and put that on the cheekbones, and then you can take a matte bronzer and sweep it under the cheekbones if you want a little bit of contour. It's all about the highs and lows.
How you create a natural, dewy and radiant glow?
It's all about maintenance. It's what you do when you are not on the red carpet. One thing that I'm known for is the prep, so that's masks and the massages and the exfoliating. I love Elizabeth Arden's 5-Minute Facial, and then I'll use exfoliating wipes which I get from CVS. Currently in my kit, I have the Burt's Bees Exfoliating Facial Cleansing Towelettes, I love it because it's natural and I'll scrub the lips with it too. I've also been using Dr. Barbara Sturm Skin Food. It's a multivitamin for your skin and it works; it makes your skin glow. I always use everything on myself first before I put it on my clients and I love it. At least if you do it a couple days before an event, you'll see a big difference and truly glowy skin really comes from within. I also really love facial steaming; Panasonic makes this small facial steamer and I'll put a couple of drops of essential oils in there.
How would you transform the look from the day to night?
Well it depends if you are an eye or a lip girl. Some women are lip girls, and if you are a lip girl, you have it very easy. You can just take a red lip and put that on; one of my favorite is Kyoto Red by Tatcha. If you are more of an eye girl, which actually 95 percent of my clients prefer eyes because once it's on, that's it. I love cream shadow, like Giorgio Armani Eye Tints. They have every color that you can imagine. I give it to all my clients so they have it as their secret weapon in their purse. I'll usually use that as base and build powder shadows over that because it will just extend the wear even further. I love the Charlotte Tilbury Color Chameleon Pencils; you have to work fast because once they set you can't move them. I recommend doing one eye at a time.
What is your favorite look for the winter season?
I've always been a really big fan of blush as eyeshadow. When I was a really young artist, I heard stories about François Nars taking his red lipsticks and using it as blush and eyeshadow, and I just thought that was so badass and rockstar. I just love that type of makeup; it's warm, it's sultry, it's sexy and light. I've done looks like that on Ashley Graham, and on Bella Hadid in that iconic red dress that she wore in Cannes. I used Dior's Diorific Matte Fluid Lip & Cheek Velvet Colour in a cherry red on her eyes, cheeks, and lips, and then I put the Dior Lip Glow over that. It's all those finishing things that you can do, but it all starts with the "no makeup" look, that's like bones of your look.
What are the five makeup products you should always keep in your bag?
A good eyelash curler; one of my favorites is from Tweezerman. Then a really amazing concealer. Some of favorites right now are by Clé de Peau, For darker skin tones, Nars Radiant Creamy Concealer is fabulous, and if you need an even darker shade, the Kevyn Aucoin Skin Enhancers have a great range of colors. Brows are so important. My favorite is the Anastasia Beverly Hills Brow Whiz. What I'll do is put on powder first with the chubby brush and then I will go in with the mechanical pencil because it's thin and precise. You could also use your smudger brush if you want that fuller brow look. Eyeliner pencils, because I am sucker for creating a full eye look and even f I don't have a cream shadow near by, better believe I'm going to grab a pencil and create a full eyeliner look with a pencil. It's how you blend it and buff. And black mascara always. Shiseido makes the best.
[#article: /articles/5a281369f46871653c88d349]||||||