How To Get Glowing Skin During Your Holiday Vacation
Celebrity Facialist Mzia Shiman reveals how to maintain healthy, luminous skin while traveling.
---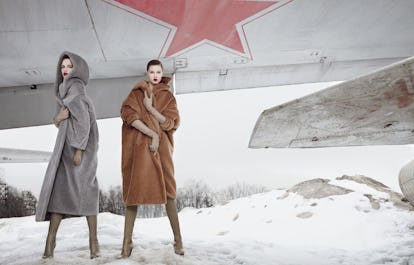 Photographer: Emma Summerton Stylist: Giovanna Battaglia
With only a few days left before the holidays, most commonly filled with last minute shopping and packing, staying on top on our skincare routine can be somewhat of an afterthought amid the holiday bustle. However, celebrity facialist and Victoria's Secret Fashion Show Skin Specialist, Mzia Shiman, whose clientele of top models includes Elsa Hosk, Ashley Graham and Bella Hadid that flock to her highly acclaimed Upper East Side spa regardless of the time year, proves that your skin doesn't have to suffer while traveling for the holidays. Shiman reveals that walking off the plane with luminous, glowing skin is as simple as maintaining your routine and keeping hydrated. From LED light therapy to oxygen infusion treatments, here Shiman breaks down how to achieve glowing jetsetter skin whether you are at home or at the spa.
As the holiday travels approach, what is best way to prepare your skin while traveling to maintain healthy, luminous skin?
Number one, hydration, hydration, hydration. We all have to be super hydrated. Product use is very important, plus intake tons of water and double the moisturizer because between being so busy with the holidays and traveling, we need to pay more attention to hydration. And hydration is super moisturizers, drinking lots of water, adding some eye cream in between the day, and even those spray bottles that everyone has, like Evian Facial Spray bottles, to spritz once in a while, just to let your skin have some hydration to open up. Hydration is everything because not only does it keep us young and youthful looking, but it's also very important because skin is like a sponge. When we travel, the skin becomes very dry and almost shrivels, it becomes very tight, so once you put oxygen, or any kind of special treatment or even at home use, like a good, hydrating moisturizer, skin just opens up and that's exactly what you want. We are so busy this time of year, we travel and we have parties, just remember hydration. It's the biggest secret and it's the easiest thing to do as long as you are willing to give your skin a little extra this time of year.
What are common skincare routine mistakes people make while traveling?
So when people travel, they tend to take a little less care of their skin and just use sunscreens, because no matter where you go are go, whether are going skiing or going to the Bahamas, you need sunscreen. Either way, you use sunscreen, but you always need moisturizers and everything else you typically use, so don't skip on those. Try to have an extra little bag to take everything you need, don't skip on moisturizer, don't skip on masks, and, again, the spray means a lot especially in hot weather. The wash is also is very important, when people are on holidays especially, with the sunscreen and all the sweat, to make sure that sunscreen is off your skin by the time you put your night creams on. Also, this time of year, eye cream is crucial. So before any product use, like moisturizer or serums, we do use eye cream. Eye cream supports the eye area and doesn't let other products travel to the eye area, so we need to do that just to protect the eye area.
What products or treatments do you recommend before, during, and after a flight?
I know that a lot people think that when they are on a plane, they should be using moisturizers. I'm against that. Prepare yourself with a really good moisturizer, but on the plane, I don't believe in adding more moisturizer because as soon as you walk into the plane, it's all recycled air, so it gets stuck on your skin. We don't want to repeat the moisturizer and seal in those bacteria, so do not touch the skin. Facial mist is fine because you're not actually applying and working into your pores, so drink tons of water and just put a facial mist on. You can moisturize your hands, you can moisturize your elbows, but leave the skin alone because you are not doing yourself a favor. Overall, if you are traveling less than five hours, leave your skin alone.
What is a go-to skincare routine before flying?
For those who haven't gotten a facial in the past week, they should simply wash their skin with a milk cleanser like Dermophisiologique's Hydracare 3 in 1 Cream Cleanser, instead of a drying, gell-based cleanser. After cleansing, when the skin is not too dry, always leave some moisture, spritz the toner, and right away apply the serum. And if I am traveling, I always double up, I would definitely apply a little more than I usually would do; we cannot be that shiny outside when we are walking around the city, but you can certainly be a little more shiny when you are going to the airport. Apply a little extra serum, a little extra moisturizer, and keep your facial spray in your bag.
How do you recommend combatting dry skin areas and patchiness?
I highly recommend LED light therapy. Most people who have dry patches or have signs of eczema or some kind of skin condition, so I would definitely recommend LED light therapy because it's very healing, it's only a 20 minute treatment, and it's not super expensive.
When it comes to facial treatments like laser facials, oxygen facials and micro-needling, what specific facial treatments do you recommend during the winter time?
Besides facials which are so important, LED light therapy and oxygen infusion are my number one treatments. Even people that don't come that often for facials, they would come back for oxygen infusion and LED light therapy and now we also have LED light therapy beds. LED light therapy is very important for dry skin people, I would do monthly treatments.
You have been working with the Victoria's Secret Angels since 2010. What are the biggest skincare concerns you find clients face right before a big event and what treatments do you recommend to combat those concerns?
The biggest concern of today is rosacea, believe or not, which involves dryness and genetics, and sometimes we just bring it on ourselves. We exercise more these days, so our skin flares up, and on top of it all, there's the weather, the makeup, and all these things that irritate the skin. After a workout, wash your face, put your cream on, and don't leave the gym without protecting your skin. After the skin flares up and it gets warm and hot with all the movement you are making, skin only calms down when you give it a little hydration, a little love and care, so it's very important that we protect our skin from every movement we do. Usually on location when I'm with the Victoria Secret's girls if there is a problem, I'm going to take care of it immediately, but most likely we only do oxygen infusion because these girls travel a lot. You can see Elsa Hosk and Martha Hunt, they're glowing, but believe me it was just oxygen infusion. Skin is like a sponge, you put in these amazing vitamins and hyaluronic acid, so as soon as it I start doing their face, it lifts everything.
What are your daily skin routine habits for healthy looking skin?
My number one concern is that people don't wash their skin at night. It's very important, that even if they come monthly for a treatment, they do their routines at home. Sleep is very important; how you sleep, where you sleep and how many hours you sleep. It's as important how you treat your skin before you go to sleep. At night, just like our bodies rest and relax, same thing with skin, whatever you put in there that's how you are going to wake up. Always wash your skin, and make sure your serum and moisturizer includes your neck. And at the end of the day, when you do this routine all the time, it pays off.
[#article: /articles/59fa00e154872b0a61cc0f7a]||||||