How the French Do Holiday Entertaining: 5 Effortlessly Chic Tips Straight from Provence
French pro-tip: Start with rosé.
---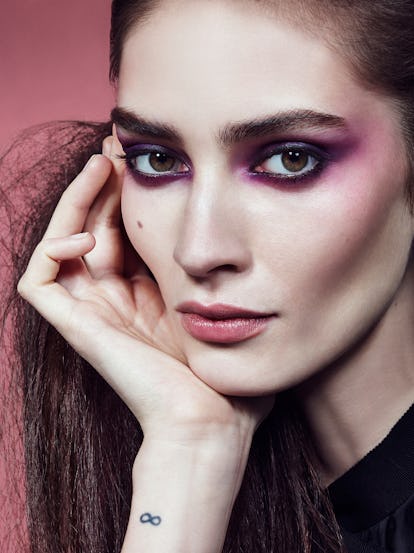 Photo by Nicholas Ong, styled by Caroline Grosso, Produced by Biel Parklee. Hair by Lucas Wilson for Bumble and bumble, makeup by Grace Ahn for MAC cosmetics, manicures by Gina Edwards for Chanel Le Vernis. Casting by Piergiorgio del Moro. Set Design by Hans Mahawaral. Model: Marine Dellew at the Society. Digital Technician: Matthew Thompson. Photography Assistants: Kris Shacchois, Matt Roady. Special thanks to Pier 59 Studios.
With the holidays right around the corner, filled with last minute shopping and decorating, adding the stresses of hosting a lavish soiree is no easy task. However, when it comes to effortlessly preparing for a festive dinner party, leave it to Shirin von Wulffen, co-founder of Bastide Aix-en-Provence—a clean, natural and non-toxic beauty brand, crafted in Provence—and wife of celebrity hairstylist Frédéric Fekkai, to pull it off without a sweat in the most French way imaginable. From crafty guest lists to ambience lighting to a classic glass of rosé, von Wulffen offers her best tips on how to host in style this season.
Create a lively and eclectic guest list
We always try to mix up the crowd—bringing in an artist, someone who loves politics, someone who loves travel, and so on. We don't try to keep the crowd all the same. It makes for more lively discussions this way, and we can bring people together that wouldn't normally meet.
Make a thoughtful seating chart
We always seat everyone and don't just let people choose their own seats. It makes the table feel more thoughtful, on why we chose to sit them with someone else that we think they should meet.
Set the mood with lighting
I learned this from my public relations days—the ambiance is everything! We dim the lights so it always feels cozy, and have candles all over the house, as soon as they enter, we have our candles lit. When we made our candles, we made sure they didn't smell artificial and would complement a dinner party!
Start with rosé
A tip from Provence we take with us everywhere—we always start with rosé before dinner, and often in a different room so we keep the crowd moving.
Have the kids help!
We love to get the whole family involved – we ask our kids to help serve appetizers or draw and write on the place cards. When we host, it's really about bringing people into our lives, and our lives are so much centered around family, so it's an authentic reflection of us. It's always great for guests to relax and makes for good conversation.
The 16 Best Beauty Buys to Gift This Year