Frederic Fekkai On What Makes Him Swoon
He's easy: just a touch of L'Heure Bleu by Guerlain.
---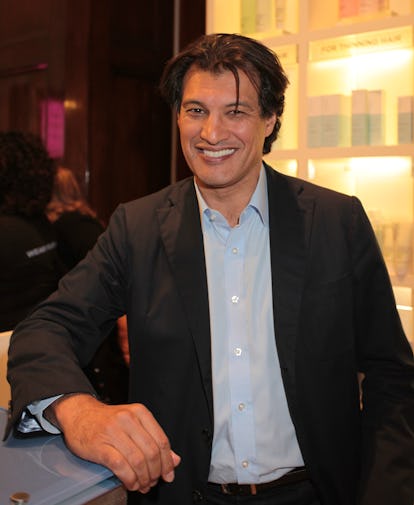 The dapper Frenchman Frederic Fekkai opened the namesake salon that launched his beauty empire nearly thirty years ago. He's come a long way from Aix en Provence. But, he says, the fastest way to his heart is still a quick whiff of L'Heure Bleu by Guerlain, the fragrance of choice of an old flame that was not meant to be.
What's your first grooming memory? It was in Aix en Provence, where I grew up. I remember this great barber that I got a shave from, and I was so intrigued. It was the first time I could have a reason to do it! I was about 17, and I loved the whole ritual: all the leather chairs, the ceramics, the old men sitting around, the barber slapping the cream on me, moving my head back and forth. And the fact that he had that leather sharpening blade right there! The whole experience was frightening and fantastic. To this day, I still remember the smell of the eucalyptus in whatever they used there, and the sound of the blades.
What was your first cologne experience? My first eau de cologne was called Pino Sylvestre. It was a beautiful green bottle shaped like a pine cone, and it smelled great. Like pine, of course. I loved it and I'm sure, if it exists, it's in the mass market somewhere. My uncle gave it to me for my birthday.
Describe your daily grooming routine: In the morning, after the shower, I use the shaving brush from Bass Brushes in Germany and shaving cream from Trumpers. It's very rich, and I put it all over my face and really massage it. I take my time. Then I use the razor from Harry's. They're fantastic, absolutely great. After that, obviously, I rinse, then I use a post shave balm from Aesop.
Do you shave every day? Every day. Except the weekend. In my hair, which I shampoo, obviously, with my shampoo.
Which one? I love the Shea Butter. It's the most hydrating and least heavy in my hair. Then I use my gel. I put it on and that's it.
If we opened your medicine cabinet, what would we find? All my eau de toilettes. I have approximately four or five. Pour Monsieur by Chanel, my old fragrance called Eau de Jour that is still made only for me. I wear Acqua di Parma Colonia and then I use something local from Provence, which is Amber.
How do you decide what to wear when? Amber when it's winter. Eau du Jour I use all year round, and Pour Monsieur I use mostly in the spring.
Do you wear a particular one for, say, a black tie or an important meeting? If I go to something very important, I'll use Eau du Jour. Because it's a strong signature, and it's the one that gives me confidence.
Is it your wife's favorite as well? She loves it.
If we pulled back your shower curtain, what would we find? All Fekkai, of course! But I use the soaps from L'Occitane, the shower gel from Caudalie, and the Peche de Vigne shower gel. Also, the shower gel from Aesop. We have a lot of their stuff.
Do you and your wife share the same products? Do you ever borrow? Yes, I saw her Clarins body oil, and now I use once it in a while, and the Caudalie is from her.
Is there one product you can't live without? My Glossing Cream. I use it because my hair gets thick and it keeps it in control.
What is your Dopp kit strategy? When I travel, I have my kit that I never touch unless I travel, so it's already set. I have, of course, my toothpaste, etc. By the way, in the last 24 months, we've switched to all things natural. For instance, we use CloSYS toothpaste and mouthwash with essential oils. It's great. I also put my Band-Aids in. I don't know why, but if I cut myself, I have them. Also, my Pierre D'Alun stone. It's fantastic. It looks like a crystal and it stops the bleeding right away. It tickles for a second, but that's okay.
Has your wife influenced your switch to all-natural products? She has. I was always inclined to, but she's been great. She changed all our bottles to glass, and our water is now filtered. We do our grocery shopping at the farmer's market and all that.
Is there a woman's fragrance that melts you? It's old fashioned, but L'Heure Bleu by Guerlain. I always thought it was so sexy. I discovered it on a woman I was madly in love with, but I knew it wasn't meant to be. She was so beautiful and so elegant and that fragrance on her was so amazing and powerful, in a good way.
What does your wife wear? She wears Jo Malone and Frederic Malle.
Are there any women's products you envy? Under eye concealer! I always use it on a photo shoot and then I see the pictures, and I say, 'Why don't I use this every day?!' There's a stigma to men wearing it. It's not fair! My god, it changes everything. I would love if there was one for men.
They've tried. I know. It's crazy.
Are there women's products you pity? Fake eyelashes. They bother me! I would be forever swiping them away.
Where do you get your hair cut and beard trimmed? Do you have a standing appointment? This is interesting, but I get my haircut with different stylists wherever I go, but also when I travel, I love to see what's out there. The last haircut I got was in London at the Ted Baker barbershop just because I wanted to check it out. It has all these great Turkish barbers. I went with my son and it was a great experience.
Which male celebrity do you think has the best hair? George Clooney. Of course, Brad has good hair, but I've got to say George.
What beauty look on women do you love? I love the nonchalant, nude natural color. For me, it's Jane Birkin when she was younger. I love Ines de la Fressange. Here, I also love the natural beauty of Jessica Biel, and Jennifer Lawrence. She's great—beautiful, natural. And also, obviously, Angelina Jolie puts on a great show. You can see she makes the effort, but it doesn't look like it.