Can the Right Pillowcase Cure Every Beauty Qualm from Acne and Wrinkles to Split Ends?
Kourtney Kardashian seems to think so. Dermatologists, however, are skeptical.
---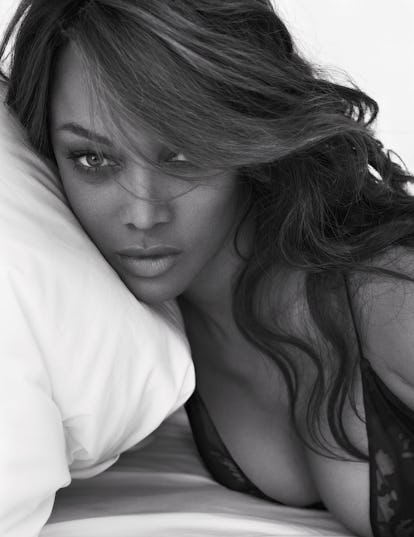 Photo by Mert Alas and Marcus Piggott, styled by Edward Enninful.
What are the three leading causes of skin damage? According to celebrity beauty guru Nurse Jaime, "The number one cause of aging is UV damage, the number two is smoking, and the third is sleeping on a traditional pillow." If your response is "huh?" you're not alone. But the fact is, the market for speciality pillowcases that promise to cure everything from acne to split ends is on the rise.
Not all experts agree that the answer is in the pillowcase, though. Dr. Jeanine Downie, a New Jersey-based dermatologist, is skeptical that a pillowcase alone can prevent wrinkles. While she agrees that sleeping habits can expedite or delay wrinkle formation, the development of sleep-induced lines, she says, depends on pressure and positioning—not the material you're sleeping on.
So, are these luxurious new offerings worth a try? We took the top three for a spin–and consulted the experts.
Slip pure silk pillowcase, $79-$99
The claims: This 100-percent pure silk pillowcase is touted as an anti-aging, skin-smoothing, and anti-bed head solution. Celebrity fans include Kourtney Kardashian, who credits Slip as her beauty sleep secret (her younger sister Kendall Jenner is also a fan, according to the brand's website.)
While conventional cotton pillowcases can tug on sensitive facial skin, Slip silk allows skin to glide and consequently minimizes sleep creases, which are said to cause wrinkles over time. Additionally, silk produces minimal friction, meaning less hair breakage and longer-lasting blowouts.
What the pros say: Like Dr. Downie, Dr. Elizabeth Tanzi, Founder & Director of Capital Laser & Skin Care and Assistant Clinical Professor, Department of Dermatology at the George Washington University Medical Center, is skeptical: "There have been no solid scientific studies to support the claim that silk pillowcases reduce skin aging," she says. Instead, both doctors strongly recommend snoozing on your back to avoid sleep creases come morning. "If sleeping patterns aren't changed," explains Dr. Tanzi, "sleep creases can become permanent."
As for claims of longer lasting blowouts and less frizz, Dr. Downie does recommend silk pillowcases for some extra hair TLC. Cotton pillowcases are super-absorbent and can suck moisture from the hair shaft, whereas "your hair actually retains moisture with silk," she explains.
Bottom line: While we can't promise Slip will keep you forever young, it can keep hair smooth and prolong blowouts. Also, this pillowcase heightens the tactile and aesthetic experience of sleep.
Similar products: shhhilk, DryBar Slumber Party
Skin Laundry Sleepcycle Pillowcase with Silver Ion Technology, $38
The claims: Regardless of how thoroughly you cleanse your face at night, microorganisms remains on your skin. Just as clothes become dirty when you wear them a few times, so do pillowcases; after days without washing, your sleeping surface can become a breeding ground for bacteria, which–needless to say–is hardly the key to a clear complexion. Skin Laundry's pillowcase is coated in an imperceptible yet highly antimicrobial silver ion spray, which can reduce up to 99.9 of acne-causing bacteria. The result: fewer breakouts and clearer skin.
What the pros say: Silver itself has been hailed as an antimicrobial substance for centuries, so it makes sense that derivatives of the metal can be found in beauty products. Dr. Downie notes many of her mildly acne-prone patients do notice improvements after using silver ion pillowcases, though the evidence is purely anecdotal at this point. "I'd need to see more clinical trials to assess their effectiveness," she explains. "For now, washing your pillowcase more often is probably a better option." Tanzi agrees, noting that more frequent washing (we're talking every few days!) effectively rids run-of-the-mill pillowcases of skin-sabotaging bacteria.
The bottom line: While "silver ion technology" may sound like a galactic gimmick, it has been proven to prevent microorganism reproduction and plenty of users have reported a noticeable decrease in breakouts. Plus, a pillowcase that requires less laundering is a huge selling point.
Similar products: Hygenie, SleepClean
Iluminage Skin Rejuvenating Pillowcase, $60
The Claims: This polyester pillowcase is infused with copper, which is said to be a natural skin rejuvenator due to its role in the synthesis of collagen (i.e. structural support for skin). According to the brand, the special fibers transfer copper ions into the upper epidermal layers to "support skin's natural self-renewal," thereby reducing the appearance of fine lines and wrinkles.
What the pros say: Tanzi explains that although copper is important in collagen synthesis, there is no solid scientific evidence that infusing it into a pillowcase makes a significant difference to dermal health. Downie adds that sleeping on a copper ion pillowcase can't turn back time or reverse lifestyle-related damage.
The bottom line: Proponents of this technology believe copper can absorb into skin and maintain youthful structure, though skeptics abound. That said, we're firm believers in using products that make you feel good—and this one is luxuriously smooth.
Similar brands: Night Spa Skin Revitalizing Pillowcase with Cupron Technology
10 Products That Will Transform Your Hair, Skin and Nails While You Sleep
Watch: Big Spoon or Little Spoon? Model Nina Agdal Answers the Important Questions