Celebrity Skincare Guru Nurse Jamie on Why At-Home Beauty Tools Are the Future
The Los Angeles-based nurse and aesthetician has a cult-following thanks to her unique approach to skincare. Here, she shares her secrets.
---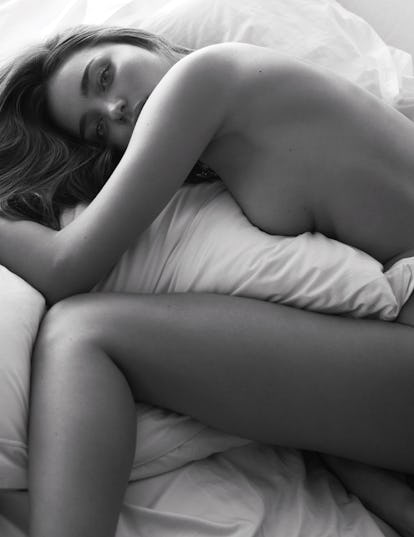 Over the past twenty years, Jamie Sherrill has become one of the most in-demand skincare gurus in Hollywood. But you may not know her name–she goes by the moniker Nurse Jamie, which is also the name of her line of cult-favorite beauty tools and potions, as well as her Los Angeles spa, Nurse Jamie Beauty Park. Before you ask–yes, Sherrill is, in fact, a nurse, but she's also a certified aesthetician, which means she can offer her devoted clients, who range from Jessica Alba to Ruby Rose, a wide-range of services that promise flawless skincare through some very unique methods that can be done both at home and in the office. "At Nurse Jamie Beauty Park, our vision is simple – to offer not only the best non-surgical beauty solutions available on the market, but also a customized combination of the most cutting-edge technical advances in anti-aging, skincare and beauty today," Sherrill explains. "High-tech tools, devices and home-based care are a big part of my regiment and I make everyone participate."
Here, Sherrill offers insight into the most in-demand celebrity beauty desires, and offers tips on improving your complexion at home.
You have a wide range of high profile clients, all unique with their own concerns and skincare regimens. What are the most common concerns you hear? Celebrities come in all shapes, sizes and ages, so everyone is going to have a different treatment plan. This year body sculpting is big — from banning the bra strap fat to firming the tush, while laser hair removal, Botox, fillers and glowing skin are year round trends. Those requests never go out of style.
What types of treatments are most requested before a red carpet appearance? Some are genetically blessed and don't really do more than an oxygen facial and an "electric facial" to be fully red carpet ready. But that said–we start to lose collagen production and skin elasticity starting at 25, so we will typically use a range of key technologies in lasers for skin texture and complexion. The ACELLerator at home beauty tool is ideal to help serums and product be absorbed for a lifting and tightening effect, and has a great anti-inflammatory property. You can use every day but specifically just before an event for a more open eye look or more defined cheek even if you just flew in! This works well for the face and body, so it helps with stretch marks and skin smoothing for waistline, hips and thighs. Trust me this is a celeb secret. If you don't believe me, do one side of your face for just one minute then look into a mirror.
But don't forget red carpet prep needs to happen every day, too. Eat well, sleep well on the right pillow, take off make-up at night and use good quality products with the best raw ingredients. Home care matters as much as in office does.
When your clients are on location for months at a time, what tips do you give them? Think "maintain, not reclaim" and always try to be preventative. Think of the rules of eating that are good for your body; most apply to your skin as well. It is the largest organ of the body so treat it like one. Be consistent with taking off makeup nightly and never with a washcloth. Use a hypoallergenic and antibacterial surface to cleanse your skin. Exfoliate regularly, manually or with a tool, but gently and consistently.
Invest in a beauty tool to help increase absorption of products like my Instant Uplift or ACELLerator Ultra. Just like the machines we have in office, they increase absorption and efficacy of your products while helping to improve and maintain tone. Also, wear sunscreen. It seems basic, but all helps. At-home devices are the future of beauty — you can have the best raw ingredients in the world, but as skin is the largest organ of the body its main function is to protect. The number one cause of aging is UV damage, the number two is smoking, and the third is sleeping on a traditional pillow. Use satin only and a shape that will help you train to sleep on your back, so that the most delicate areas around the eyes, cheeks and neck do not form permanent wrinkles.
It's the middle of summer. Other than sunscreen and hats, what other advice do you have for fending off skin discoloration? Use good quality products with the best raw ingredients. Old school skincare was to use aggressive products that caused chemical cell turnover reaction, which can make you more susceptible to sun damage. (Retin-A is so 1980s!) My opinion is to use retinol ingredients sparingly. Epidermal Growth Factor (EGF) – causes cell turnover and has significant effects on delaying the aging process – including preserving skin's cells and skin's overall vitality and radiance, without leaving you red, flaky, and shiny. I hate the shiny face – it kills me overtime I see I can spot the "glare" from across the room. The Nurse Jamie tools that you incorporate into your treatments seem to have a loyal following of their own. Like the Beauty Stamp, for example. How does that work? The Beauty Stamp may very well be the best investment anyone can make. A small pad features a cross section of micro needles in a grid that helps with micro exfoliation, opens channels for product delivery and efficacy and aids in the body process of collagen and elastin production. It is my triple threat. For day of events you need to focus on complexion and texture in a non-invasive way or only protocols with no downtime and no risk. Don't try something new with a high risk to low reward for the day of an event. Nothing worse than redness or inflammation when you are dressed to impress and need your face to match! What is your top selling tool? UpLift Massaging Beauty Roller. It has a huge celebrity following. Are there any foods or vitamins that you recommend for vibrant skin? A B12 Energy Shot. Close to a decade ago I injected Paris Hilton and Nicole Richie with it right in their bums on national television for The Simple Life, and in turn injectable vitamins became one of our most popular treatments…
What are the biggest skincare mistakes people make? Side sleeping and over exfoliating. We need to treat our skin like a silk fabric not a piece of leather. When you over exfoliate (physically and chemically) and with too much frequency it destroys the protective barrier that your skin has – once it is removed or compromised you are you exposing your skin to environmental toxins, sun damage pre-mature aging, acne, etc. It's very common.
What is your personal daily skin routine? Taking off my make-up–I can't go to bed with my make-up on. Period. The UpLift Facial Massaging Beauty Roller, EGF Stem Cell Complex–I don't go anywhere without this cream. I would bathe in it if I could–and I use my ACELLerator for 10 minutes each night on both sides of my face while I sit in bed. I practice what I preach. That way I can give them my best face – and tell them it is what I do and mean it! I've dedicated my life to skin and created my line for products that I felt that were missing in the marketplace. As a busy working mom of three toddlers – I'm proud to say that I'm my own client.
Related: Are You Obsessed with Crystals, Too? How Crystals Went From New Age Curiosity to Mainstream Sensation
10 Celebrities Who've Quit Botox and Fillers Throughout the Years
Watch: History of the Best of Celebrity Fashion in the Hamptons