How to Fight Dry Winter Skin like Kim Kardashian and Rosie Huntington-Whiteley
Dr. Barbara Sturm explains why your skin feels dry throughout the winter–and how to stop it.
---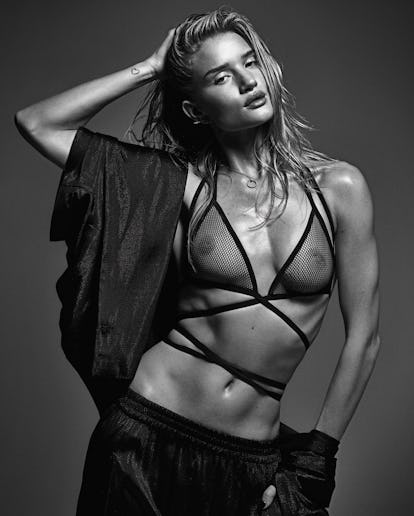 If you live in a cold climate, the winter season can be damaging to skin. Dry air and harsh winds can lead to dry, patchy and irritated skin. (Holiday party festivities that lead to alcohol consumption and less sleep don't help, either.)
But, there's no reason to start off the new year with sad, dry skin. Here, Dr. Barbara Sturm, the skincare guru to stars like Kim Kardashian, Rosie Huntington-Whiteley and Victoria's Secret Angel Elsa Hosk, explains how to care for dry skin in the winter and maintain a hydrated and healthy glow.
What are the underlying factors behind dry skin, especially in the winter?
Skin becomes especially dry in the winter for several reasons. The freezing cold prevents blood circulation to the outer layers of our skin, leading to damage at the cellular level. Insufficient blood supply adversely affects the functioning of the skin's tissue and cells. It slows down sebum production, an important part of the lipid shield that protects our skin and keeps the surface smooth and even. Therefore, a richer cream with shielding ingredients like grape seed oil is recommended to prepare and protect the skin while keeping it balanced during the cold winter months.
Since the cold also negatively affects other essential processes and functions in the skin, regenerative ingredients such as anti-oxidants and telomerase activating compounds are the key to an adequate anti-aging skincare regime during winter. In addition to cold air, our skin also faces a battle against dry heat which can worsen the skin condition further and cause an increased loss of valuable moisture. Hyaluronic acid that contains short-chained molecules can help the skin replenish moisture reservoirs in the deepest layers of the skin. Skin with a tendency towards dryness is more likely to suffer at a much faster rate under these conditions and needs special care.
What are the biggest environmental factors that amplify dry skin?
Dry air, whether hot or cold, can severely aggravate dry skin conditions. It's best to prep your skin before flying and avoid prolonged sun exposure without SPF protection. Other factors are environmental stressors like pollution, the use of skincare products that contain mineral oils or other aggressive and irritating ingredients such as glycolic or retinol acids.
What are some precautionary measures to combat dry skin?
It is important to drink a lot of water during the day and to treat your skin with a high-quality hyaluronic acid. Mild exfoliation removes dead and dry cells from the skin's surface and enables the moisture to be absorbed deeply into the skin. Regular cosmetic treatments, such as microdermabrasion and mesotherapy, combined with a deeply hydrating mask may help refill the skin's moisture depots. Try to prevent any sun damage by wearing broad spectrum, high-quality sunscreen. Adjust your regimen to seasonal changes and make sure to meet your skin's needs by using richer products during the winter season.
How do factors like water, food, and drink affect skin?
Eating habits can influence the skin's overall condition. An intake of too much salt, sugar or alcohol will have visible negative effects on the skin. It is recommended to drink tea and water instead of sodas and coffee. A diet rich in anti-oxidants, essential fatty acids and minerals provide our body with everything it needs to support and regenerate the skin.
How would you treat varying skin types when it comes to dryness?
It is important for every skin type to use products without mineral oils, aggressive acids, and other irritating ingredients. Dry or normal skin benefits from moisture and richer oils that protect and nourish the skin. Oily skin, on the other hand, needs more help to carefully and gently reduce sebum flow. Contrary to popular belief, oily skin benefits from added moisture. Aggressive treatments which focus on ridding the skin of excess oils only stimulate the skin to produce more oil than before. Cleansing products that use aggressive acids like salicylic acid only dehydrate the skin further. Sensitive skin greatly benefits from products that strictly refrain from any irritating ingredients such as perfumes, mineral oils, harsh acids or parabens.
When it comes to rich creams, oils and overnight masks, which products we should use during the winter season?
It is important to use products that are rich in high-quality oils, strong anti-oxidants and pure hyaluronic acid for moisture. During the winter months, you can leave my Face Mask ($160, bergdorfgoodman.com) on overnight and use the Super Anti-Aging Serum ($350, neimanmarcus.com) to supply your skin with extra anti-oxidants such as purslane, skullcap, and vitamin E. It is beneficial for the skin to avoid products that contain dehydrating ingredients, such as mineral oils. It is also good to sleep in a room that is not overly heated in order to prevent the skin from drying out during the night.
How should we layer our products to preserve the skin's moisture?
The skincare routine should always start with a gentle but thorough cleansing step that takes off all residues and pollutants. Then you can add a scrub two times a week to make sure your skin is properly exfoliated and to take off dry skin cells. After the cleansing steps, you should apply the Hyaluronic Serum or Super Anti-Aging Serum for added hydration and anti-oxidants. In the case of redness or irritation, this step can also be alternated with the Calming Serum. After applying serum, you should add the Eye Cream, followed by the Face Cream or Face Cream Rich depending on your skin type and climate. To finish off the regime, you can either use the Glow Drops for added radiance or the Sun Drops if you will be spending time in the sun.
What are the biggest skincare mistakes you see in clients when tackling dry skin?
The most common mistakes are to use aggressive acid peels which damage the cells and leave the skin without proper protection. Another very common mistake is to use too many different products with different ingredients, which irritate the skin and can cause perioral dermatitis. It is important to look at the ingredients and to make sure they are beneficial to the skin before using a product. The quality of the skin is strongly dependent on its regeneration process, which starts at 11 pm. It is highly recommended to avoid a lifestyle with too little sleep and a poor diet.
Related: Oily Skin 101: Everything You Need to Know About the Best Skincare Treatments from a Top New York City Aesthetician
Protect Your Scalp: 5 Nourishing Scrubs and Treatments for Anyone with Short Hair this Winter