Contrary to What You May Think, Rosie Huntington-Whiteley Says She's Not Blessed with Naturally Flawless Skin
Supermodel Rosie Huntington-Whiteley reveals her workout obsession, routine for the ultimate five minute face, and more beauty secrets.
---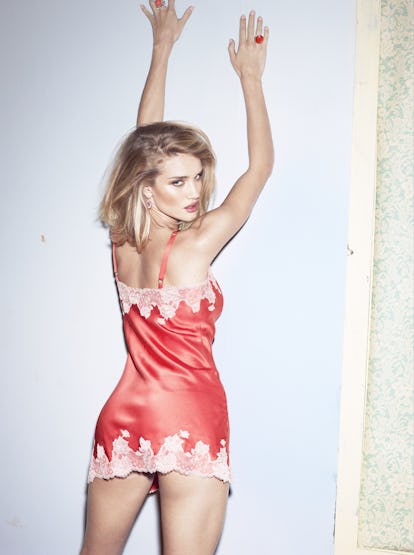 Photo by Mert Alas and Marcus Piggott, styled by Edward Enninful. W Magazine, August 2015
While model and actress Rosie Huntington-Whiteley may be the picture of perfection–both in the pages of magazines, including W, and on the red carpet, the British beauty insists that her aesthetic takes work. "I'm actually not blessed with perfect skin at all," she says. "I break out a lot, I have sensitive skin, and for me one of the things I found is finding those products that work and that your skin loves." After over a decade in the business, she's finally found what works for her–and earned a contract with Caudalie in the process. "It's always extra meaningful to me to align myself with brands that I'm authentically a fan of, or have used or worn and really believe in their philosophy," she adds. Here, Huntington-Whiteley reveals her skincare essentials, her workout obsession and her routine for the ultimate five minute face.
Your look in three words:
On the go.
Medicine cabinet snapshot.
I have maybe 20 different products, I have a couple different types of cleansers, a couple different of exfoliators, a few different types of moisturizers, deodorant, lip balm–I'm a big fan of the By Terry Baume De Rose, Bioderma for makeup remover, Cetaphil and Klorane Dry Shampoo is always in my cabinet.
Good skin starts with:
It's a number of different things. For me, good skin starts with a great skincare routine, having a facial as often as needed and staying out of the sun. Those are three things that I notice make a difference, in addition to eating well, sleeping well and a good diet.
Best advice from your dermatologist:
I think everyone is just always talking about the importance of staying out of the sun and how important SPF is. I'm English, so I love to get some sun and love a bit of tanned skin, but I can see it now the older the get after I come back from holiday, I can see the effects it has on my skin and it's not so good after the tan fades. So just choosing those times really carefully when you do want to be exposed to the sun, and making sure you are wearing SPF everyday, and a hat and sunglasses.
SPF of choice:
Institut Esthederm Adaptasun Body Spray is something I have been using lately and I love it.
Makeup miracles:
The Beauty Elixir from Caudalie. I discovered Caudalie backstage at a fashion show like 10 years ago, it's been one of those products that I've really kept with me ever since. It's a product you can use all day, everyday throughout your day. There's no right or wrong way to use it, and it just feels incredible. It's such a revival for the skin, it's a great way to set makeup, I love it use on the a hot day, or even just to have one in my handbag. It's brilliant for traveling, it's fantastic for keeping the skin supple and glowy and moisturized during flights and certainly great when you're landing after a long redeye. It's just one of those products I've not had be a part of my makeup bag.
Most underrated product:
For me, it would be a great makeup remover because I'm often wearing so much makeup and I find that if I don't take my makeup off with something really, really gentle, I'll break out or get really irritated eyes. Bioderma is a product, that again I discovered backstage at a fashion show, and it's just great for taking makeup off with water.
Never leave the house without: A little bit of primer. I've been using a primer from Dr. Barbara Sturm, she did a collaboration with a makeup artist and friend of mine, Monika Blunder, so after I've done my skincare routine I'll apply a little primer on my skin, which gives a lovely glow. Then I'll go in with a concealer. One of my favorite concealers is the Clé De Peau Concealer or YSL Touche Éclat, and I'll go in and get in any of those areas where there's blemishes or impurities or under the eye. And then I like to use a tinted powder, the one I've been using for a long time is from Guerlain, which mattifies everything and gives a little glow. I'll curl my eyelashes and give a little wash of mascara if I have time, I use Chanel, and then bronzer and little bit of brush. And that's usually it, that's my five minute face.
A good hair day starts with:
A good hair for me would start with having washed it the night before. Right now I'm using shampoo from Sachajuan, and then I'll blow dry my hair and flip my head upside down and take a big round brush and blow it out. You can do a very mini version of a hairdressing salon blow out that way. If I've got time, I'll run a tong through my hair, it's called the Beachwaver by Sarah Potempa and that's just foolproof, and I use the new Dyson hairdryer, which is an investment hairdryer, but it's amazing product and so easy to use. If not, one my favorite things is these Michel Maison headbands, and you stick them on top of your head and you roll your hair into it and you get this beautiful Grecian look. It's great if just need that quick, easy up do.
My hair colorist always says:
One of the products that I've recently discovered, which I can't stop raving about, is Olaplex, which is fantastic for colored hair and any breakage or damage that you might have in your hair. I use that about once a week for a deep treatment and I'll use it before I go get my hair colored as well.
Nails must be:
One of my favorite things is to get my nails done and it will be probably something I do until my last breath. My mom always had good nails and she liked getting her nails done, it's just one of those things I like. I stick to a pretty natural color, I use OPI Bubble Bath, it's my go-to color and I like my nails long and round.
Beauty from the inside out:
I read this book a few years ago called You're Not Sick, You're Thirsty! and it really changed a lot for me. It's a doctor talking about the importance of making sure we drink enough water and the benefits of drinking two to three liters of water of day, and if we don't drink that much we are incredibly dehydrated and that's often what leads to anything from bad skin, to being sick, and things like that. I started doing that and noticed the benefits immediately, certainly with my skin, my well being and energy levels. I drink a lot water when I am at home.
Exercise obsession:
Body By Simone. Simone De La Rue who's the founder and creator of Body By Simone, I've been working out with her for about three years and it's just completely changed my body. Everything is derived from dance, cardio and pilates, it's a really upbeat, fun, high energy workout. All of the teachers are professionals dancers and they do the whole workout alongside with you which is really fun. There's really no talking, no break, the music is blasting and you are going to sweat a lot, but it just feels so incredible when you are done. The environment is really pro female and upbeat, and I can't speak highly enough about it.
Drink of choice:
I make a smoothie pretty much every morning at home, it's often my breakfast if I'm on the go. Normally I'll put a frozen banana, frozen strawberries–basically any berries–a little bit of almond milk, a spoonful of butter, some flax oil, ice and a couple of spoonfuls of yogurt to get my probiotics and that's basically it. And I do love a green juice as well.
A woman should smell like:
One of my favorite fragrances is Gypsy Water by Byredo.
Appointment you'd love to nab:
I always think Serge Normant does such amazing hair, and really knows how to make a women feel and look sexy. I think anyone whose hair he does always looks so incredible, he's such a sweetheart and I've had the pleasure of working with him several times. And Christophe Robin, who is a colorist in Paris is someone who I've been dying to go as well.
Spa-cation at:
I would go to the Caudalie Spa in New York, it's incredible.
TSA-friendly essentials:
A travel-size Beauty Elixir and a travel-size dry shampoo, one of the ones I use is from Moroccanoil which I love, and just little bits of makeup. I often use the testers and things like that that you're given at the beauty counters in my TSA bag.
In-tub must-read:
I read a lot. I wouldn't say I've ever really read any book twice expect this one book called The Four Agreements. It's a spirituality book, but it's really beautifully written and it's just a great book when you're kind of feeling you need a little bit of guidance in your life.
Best advice from mom:
Always to enhance what you have, not to hide what you have. And I think what she meant by that when I was younger, was really focus on your favorite features, enhance those attributes that you have first as opposed to worrying about the things you don't like and I've always liked that idea. And her other great piece of advice is the importance of staying true to yourself. That's always been important to me especially in this industry.
Best-kept beauty secret:
For me, it would probably just go back to skincare and the importance of investing in the best kind of skincare you care. I'm actually not blessed with perfect skin at all, I break out a lot, I have sensitive skin, and for me one of the things I found is finding those products that work and that your skin loves and finding a facialist that you love and that can take of your skin, and again wearing SPF.
Definite doppelgänger:
I often hear from people, when I was younger I used to get told I looked like Juliette Lewis when I had darker hair. And Candice Swanepoel and I have always been told that we look like sisters.
Favorite look for the summer:
Summer for me is all about great gold jewelry, I love to wear black in the summer and I love a tan–and keep the makeup dewy, fresh and pretty natural.
How to Instagram Like Rosie Huntington-Whiteley
Watch: Rosie Huntington-Whiteley, Supermodels Talk About On-Camera Nudity