Want a Body by Simone? Get in Line
The fitness trainer Simone de la Rue has a cult following—and a Lucas Paw Paw obsession.
---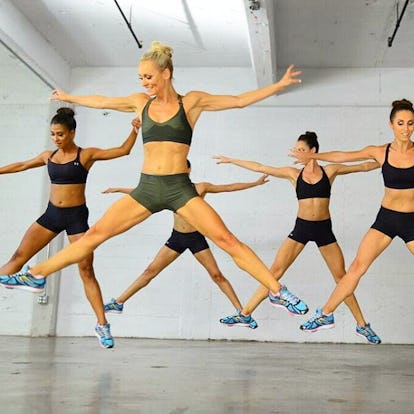 If you'd like to look like Amber Valletta, Rosie Huntington-Whiteley or Martha Hunt, book a class with Simone de la Rue. The former ballerina founded her fitness studio Body By Simone in 2011, quickly gaining the loyalty of Victoria's Secret models and A-list actresses like Sandra Bullock and Anne Hathaway. But the Australian has more than a penchant for sculpting bodies—she has an enviable beauty routine too. Here, de la Rue shares her favorite products, professionals and beauty hacks.
Jane Larkworthy: What's your first beauty memory? Simone de la Rue: Washing my face with Clinique facial soap. I was quite young and thought it was so cool that the soap had its own dish. I still remember my Mum explaining the importance of washing your face every night before bed. Thanks, Mum.
J.W.: What was your worst beauty blunder? S.R.: Ahhh, there have been a few, but looking back at old photo's and seeing the dark lip liner around the pale pink lipstick. Wow, I thought I was so cool! The lipstick would fade off and you would be left with this ring around your mouth! Ha! Not a good look!
J.W.: What beauty products are currently in your purse? S.R.: Mac pigment eye color in Copper, which I am currently obsessed with. Benefit Brow Zings brow shaping kit, Stilla convertible cheek and lip color. Mac studio sculpt spa 15 foundation. Lancome Hypnose drama mascara.
J.W.: What's your 5-minute morning beauty routine? S.R.: Splash the face with water, use Paula's Choice foaming cleanser, then apply Paula's Choice daily moisturizer with SPF 30.
J.W.: If you had an extra 10-15 minutes in your routine, how would you spend it? S.R.: Use a toner and exfoliant and a serum. And in the evening apply Shani Darden Retinol reform.
J.W.: What's your beauty hack? S.R.: I love Australian-made Lucas Papaw ointment. I use it for my lips, to highlight my cheeks and also on any cuts or burns or scars. Its miracle stuff!
J.W.: Which beauty trend do you just not get? S.R.: I just don't understand the lip enhancement. It often looks so fake, and is highly noticeable. Love the skin you are in!
J.W.: Which discontinued product or shade do you mourn? S.R.: The aforementioned Stilla convertible cheek color!
J.W.: Is there a beauty professional you can't live without? S.R.: Niki Lee at 901, Henry Zeegers from Fekkai, Shani Darden facialist, Merav Adler for make up.
J.W.: What are you currently obsessed with? (It doesn't have to be beauty-related!) S.R.: Currently obsessed with Alfred's coffee on Melrose, and anything British! Fashion, art, comedy and my man! 🙂
Photos: Want a Body by Simone? Get in Line