Christophe Robin on What Americans Can Learn From French Women About Hair
Plus, he reveals the secret to looking young: sun-kissed hair. Think of it as the no-makeup approach to hair color.
---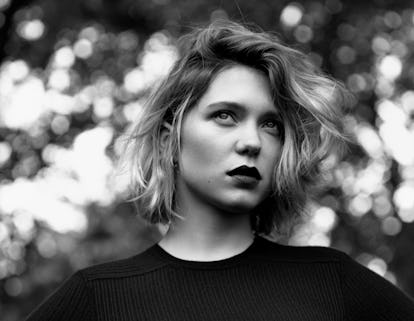 Louis Vuitton / Alasdair McLellan
French colorist Christophe Robin is as beloved for his eponymous product line, as he is revered for the coifs of the leading ladies he colors, everyone from Tilda Swinton to Léa Seydoux and Catherine Deneuve. Lucky enough for all Francophiles, Robin has set up a chic pop-up salon in New York City's TriBeCa (at 42 Hudson Street to be exact) that opens today. What's as enticing as the chance to meet the charming Parisian himself is the opportunity to test drive your own personal prescription of products chez Robin; he and his team are on-site offering free personalized hair care analysis and color advice. Just be prepared to handle your own blow dry. But with locks this loved, it won't feel like a chore. Here, he shares what he wishes Americans knew about hair, the secret to looking young while covering grays, and more.
So, what are the biggest mistakes that you see in hair care? The first one, whether you have colored the hair or not, is that you shampoo with silicones and condition it with silicones and to rinse them badly. It leaves a coat onto your scalp, your scalp can't breathe, and just wash your hair again and again and again. Most of the time, people never rinse their shampoo and conditioner enough. And they put the conditioner onto the scalp and it should be only put onto the ends.
It's true. Not everyone knows that. Your products are very, very high in naturals, why did you choose to do that? Because it's like for food, and for the vitamins you take, your body grabs better the natural ingredients than the chemistry, that's for sure. And you see that in vitamins. Everybody keeps much the good vitamins that you find in the food that you eat than in the pills that you take.
And so many of your ingredients are sourced in Morocco. What makes those… [Laughs] Because it's one of the country in the world where they have some of the best beauty secrets and ingredients. Look at argan oil, look at prickly pear seed oil, or rhassoul clay. There are so many great ingredients over there, and for me it's very close to Paris. You know, it's only two hours and a half flight, and as I go to around the country I discover a lot of beauty secrets. I remember when I found out about the prickly pear seed oil it was in the mountains, and they use it to heal scarring. And then when I got back to the lab in Paris and they said it's not produced anywhere yet and it's so expensive because it's a 1000 euro per liter. But we did it and it's one of our biggest successes.
I love that one. Why do you hate styling products? It's not that I hate, sometimes you need it, you know? The only one I like is Elnett Spray from L'Oréal because it's the only one that you can brush out, and it doesn't stick inside your hair. The problem with the styling products such as the dry shampoos is they stick to your scalp, so if it's only for one the night that's okay, but if you do that every day your scalp can't breathe after, you know, and if it can't breathe it's becoming greasy, and it's one of the first causes of hair loss. Because the styling products put a coat around the hair to give them body, or to fix them, or to texturize them, but when the hair is porous [from color] it grabs onto the hair and it's difficult to wash them out.
The Best French Girl Hairstyles Straight from the Paris Fashion Week Runways
Backstage at Isabel Marant Fall/Winter 2017 show, models display their effortlessly tousled swept back locks.

Photo by Getty.
At Christian Dior's Fall 2017 fashion show, models with voluminous, brushed out curls walked the runway wearing black berets.

Photo by Getty.
At the Celine Fall/Winter 2017 show, models wore their hair in sleek, natural waves that looked as if they were air-dried–to perfection.

Photo by Getty.
Models showcased a variety of hairstyles at the Lanvin show, some wearing their hair in natural waves, while other models sported the classic sleek side pony.

Photo by Getty.
Models at Louis Vuitton Fall/Winter 2017 show wore their tousled locks swept over in wild, natural curls. Like bed head, but better.

Photo by Getty.
And it seems like you made the perfect answer to what people are looking for when it comes to dry shampoo with your new rhassoul shampoo. Yeah, but dry shampoo, I'm not against them. The more raw they are, the more natural they are, the better it is. But it's only for one night. You should wash your hair the day after, but some girls to have more volume, they put dry shampoo every day. It's so toxic for the scalp at the end of the day because it can't breathe, it's stuck with mineral.
So it's for an emergency then? You use it one day and then when you can't wash your hair then the next day you do… Exactly, and only for one day or one night.
Everyone should start following that tip. And why do people so often not take care of their scalp? Because for a long time we didn't think of the scalp as an issue, we always treated the hair. But it's like a plant, if you don't take care of the roots, the plant won't be happy. The scalp issues and sometimes it's mechanic. Some girls because of the stress, their scalp is so tense onto the bone that the blood circulation is bad and sometimes the hair falls because of that, because you don't reactivate the blood circulation. I tell them give themselves a good massage and upside down every night before they go to bed for three minutes. And I tell them to relax, to do yoga, to breathe, because so many girls when they're stressed the scalp is to tense onto the bone, and blood circulation is very bad.
Well, I'm going to start doing that, too. What goes into getting really great color? How do you approach it? What I like is when I see a beautiful woman, not the beautiful hair color. I like it to be flattering for the skin tone, for the eye tone. I truly like when you don't see the color, but when you see a beautiful woman. What I want is healthy hair, comfort, low maintenance. I don't want to do something that makes you come to the salon every three weeks, you know? Because it's work for your hair at the end of the day.
Right. And so in that case do you turn people away when they ask to be blonde or something sometimes? No, no, no. There's some girls, look at Catherine Deneuve, that were not meant to the blonde, she's a light brown woman, but you create contrast. You know what you do? You don't do a plain color. You work with eye and nose to create contrast, and when the root grows it's not too obvious. But platinum blonde on a darker girl with dark skin, dark eyes… I don't do it, because I know then two months after she's going to stop doing that because it's too much for her hair. And of course it's going to be in trouble for six months.
And with getting that perfect blonde, is it all about the dimension of the high/low? Yeah, because when typically there is a blend of the natural color inside even if you go below there, when it grows it doesn't show.
And what do you think when you see a bad shade of blonde, if someone comes in for the first time and they have.. Yeah. That's often. [Laughs] I show them picture because words sometimes they don't understand. You know, a golden blonde for me might not be the golden blonde of a client. So I have a book with pictures and I show them a similar with their face and you have this type of skin, this type of eyes, and look at the results, do you like that or do you like this? Are you warmer, or colder, do you like to be more blondy or something else and I show pictures. That's the best way for the people to understand pictures better than the world.
Would you ever publish that book? No, because there are pictures I pick up in magazines. Some of them are my color I did, but some of them they are not mine, so I don't do that. But I published a book which is very successful in French and Belgium. It's a book only for colorist, it is for education. I made it to try to answer different questions like: Why is the color turning red? Why are the grays not well-covered? What to do when you want to do a radical change? There are no pictures, only words and recipes.
Well, maybe if you add pictures it would be consumer friendly. And when do you choose single process over highlights? Yeah, it depends. I like highlights sometimes to create contrast on flat hair, but on dark hair when you highlight like that I never liked it so much. But sometimes if it's only one shade of different [between the base], it makes you look like you have more hair. And for single process, why not? But I don't like the only single process because in natural hair color it's never too flat. You know, there is always a little bit of dimension, so I will always add a little something of a single process.
So, even your single process gets a little bit of highlight? Yeah. But even it's just five minutes, you know, but just to break it a little bit so it not be uniform. I always try to make it look like it was a real natural color. And that's how it looks young. You think of girls like Juliette Binoche or Kristin Scott Thomas, when you start to cover your grays a lot, and just do it so many times, it becomes very dark and it turns mahogany. All that it features is that you're old because you're covering your grays. What I try to do is to make it look like if it was your own natural hair, and like this doesn't look old, it doesn't look like you're covering your grays.
Do you prefer to paint or do you use foil? Never foil, never foil, only to the gray hair for men or movies or things like that, but never foil. For 25 years I forgot the foil. I left the foil on the side because the foil, it's too uniform. You have one dark, one light, one dark, one light, and you can't create the contrast. When you have a natural sun kissed effect it's fine on the roots and becoming thicker onto the ends. You can't do that with the foil. And the problem with the foil is that it's very difficult to touch only the regrowth. If you have only two centimeters or two inches of regrowth, with the foil you're going to be asked to put some product on what you've done two months before maybe and it'll ruin your hair.
What do you think are some of the biggest differences between American and French women with hair color? I believe in America you do a lot of gloss every five minutes. You wash your hair so many times, and you oxidize your hair so many times, that it's like putting more makeup, more makeup on the dry skin, you know? A French woman is going to spend time on the weekends taking very good care of her hair to have very low maintenance with hair color.
Christophe Robin Pop-Up Boutique, 42 Hudson Street, New York, New York. Call 646-902-9335 for more information. Open from April 7 to April 21, Monday through Saturday, 10:00 a.m.–7:00 p.m., and Sunday, 11:00 a.m.–5:00 p.m.
Watch all of W's best videos, here:
Keira Knightley, Lover of Messy Hair and a Smoky Eye, Is a Master of Effortless Red Carpet Beauty
Arriving at the London premiere of Love Actually in 2003, Knightley loosely pinned her hair back.

Getty Images/WireImage
Knightley rocked an edgy, tousled blond bob and golden smokey eye at the Pirates Of The Caribbean 2: Dead Man's Chest premiere.

Getty Images/WireImage
Wearing her auburn locks in tousled up do, Knightley glowed with dewy skin, full lashes and a glossy red lip at Pirates Of The Caribbean 2: Dead Man's Chest premiere in 2006.

Getty Images/WireImage
Knightley attends the Toronto International Film Festival in 2007 with a '70s-inspired look, complete with big soft curls and a heavy smokey eye.

Getty Images
Dewy skin, a neutral eye with a simple bun was all that was needed for this elegant look at The Duchess world premiere in 2008.

Getty Images
Attending the 5th International Rome Film Festival in 2010, Knightley wore her newly chopped locks in a wavy bob with a fresh face and a pink lip.

Getty Images/WireImage
Knightley kept her look simple and sleek with a slicked back up do and a dark smokey eye at the 55th BFI London Film Festival in 2011.

Getty Images/WireImage
At the world premiere of Anna Karenina in 2012, the starlet keeps her brunette locks in a messy up do with a dramatic eye and a nude lip.

Getty Images
With loose curls framing her face, Knightley wears a smoky purple eye and a babydoll pink lip at the "Can A Song Save Your Life?" Party in Toronto. (2013)

Photo by Getty.
Knightley attended the 18th Annual Hollywood Awards in 2014 with her hair in big soft curls.

Getty Images/WireImage
A simple, side-parted bun with sun-kissed skin and a satin pink lip was Knightley's look at The Imitation Game New York film premiere. (2014)

Photo by Getty.
Knightley attended the 2015 Writers Guild Awards with softly tousled hair, rosy cheeks and a pink lip.

Getty Images/WireImage
Embellishing her twisted up do with a floral hairpiece, Knightley wears a light contour on her cheekbones with a berry lip at the 72nd Annual Golden Globe Awards in 2015.

Photo by Getty.
At the 21st Annual Screen Actors Guild Awards in 2015, Knightley radiated natural beauty with her hair loosely pinned back and smokey eye.

Getty Images/WireImage
Attending the Culture CHANEL exhibition opening in Venice in 2016, Knightley wore her loose, tousled up do with a nude pink lip.

Photo by Getty.
At a Chanel Fine Jewelry dinner in 2016, the actress had sun-kissed skin and wavy hair.

Patrick McMullan via Getty Image
At the Chanel Cruise 2017/2018 Collection in Paris in 2017, Knightley wore a deep brown smoky eye with her long brunette locks in polished waves.

Photo by Getty.